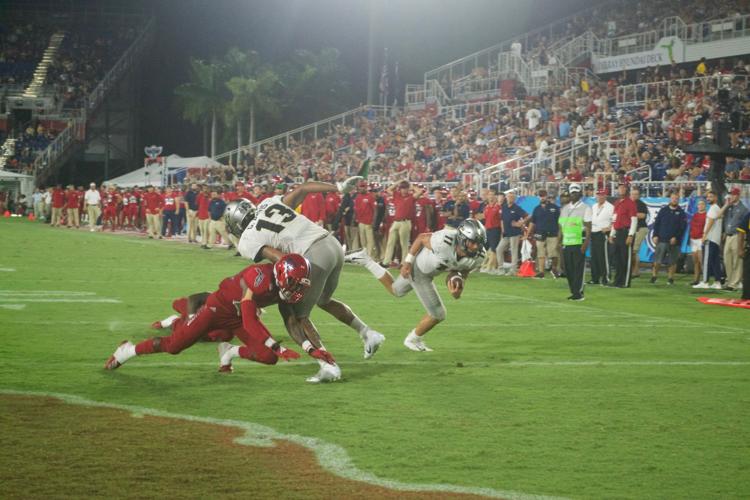 In its first road test of the year, No. 18 UCF showcased a complete run game Saturday night as they put away the Florida Atlantic University Owls 48-14 in front of a record-breaking crowd of 30,811 in Boca Raton, Fla.
A week removed from his three-touchdown performance versus Florida A&M, UCF (2-0) freshman QB Dillon Gabriel received the last-minute nod for his first career start for the Knights. UCF head coach Josh Heupel previously said on Thursday redshirt senior Brandon Wimbush would be the starter Saturday night. 
"He did some things really well," Heupel said of his freshman quarterback."[FAU] changed the coverage a little bit from what we had anticipated in the course of the ball game. He took a couple shots in the pocket.
"I thought he was steady throughout it. [Gabriel] had a great look in his eye and ultimately made enough plays to give us some balance and allow us to win this football game." 
The former Gatorade Player of the Year set the tone early, launching a 57-yard touchdown strike to senior wide receiver Jacob Harris in the second offensive drive of the game.
Gabriel finished the night with two touchdowns, 245 passing yards and a rushing touchdown. 
Despite the excitement of his first career start, Gabriel said he felt comfortable as ever navigating the offense. 
"It felt great," Gabriel said. "Coming out, nothing really changed, it was just getting another snap. Didn't really take it to heart, I just came out there and did the best that I could.
"When I'm ready and my names called, I'm going to be there. Whatever the team needs is what I'm going to do."
Despite an efficient attack in the first quarter, Gabriel and the UCF offensive passing game hit a wall at the start of the second quarter. FAU's defense forced the Knights into three-straight 3-and-outs, limiting Gabriel's mobility in the pocket with constant pressure.  
UCF senior running back Adrian Killins Jr. provided the spark plug to lift UCF out of its second quarter slump with a powerful 11-yard rush for his 28th career touchdown.  
"[Killins] went from a running back that was really fast and dynamic to becoming a guy who has understood the game and is doing the little things at a really high level," Heupel said. "I'm really proud of what he's done."
On the defensive side of the ball, UCF utilized its rotating linebacker unit in the first half to force 10 tackles for loss and four sacks. Senior defensive end Brendan Hayes got off to another strong start. Setting the tone early, Hayes forced a crucial third-down sack to force an FAU field goal, his second sack of the season.   
Heupel emphasized containing the quarterback to his defenders. Ultimately, he decided to give the game ball to the defense for their complete effort. 
"I thought they changed the line of scrimmage," Heupel said. "They were harassing the quarterback all night long. They were relentless."
Following an offseason of quarterback competition and national media spotlight, perhaps UCF's running back group deserves the most attention after Saturday's performance.  
The Knights' deepest and most versatile position combined for 195 yards in the first half, with running backs Killins Jr., junior Greg McCrae and junior Otis Anderson all getting on the board before the second half began. Sophomore running back Bentavious Thompson also found the end zone early in the fourth quarter for his first career rushing touchdown.  
Gabriel connected with Killins Jr. for a 74-yard play-action pass with 7:47 left in the third quarter. The touchdown moved to Killins Jr. to 4th all-time in touchdowns scored for UCF.  
Killins Jr. finished the game with 37 rushing yards, 74 receiving yards and a rushing and passing touchdown. 
"I play with a lot of toughness simply because I am not a big guy," Killins Jr. said. "All my life I've played with a chip on my shoulder being one of the smaller guys out there. I have a lot of heart and I know I can play any level of football at any time.
"This game is all about heart and effort."
Filling in for injured redshirt junior cornerback Brandon Moore, junior cornerback Tay Gowan put together an all-around game. Gowan recorded his first career interception to cap off an impressive defensive performance on the night. 
UCF's supposed starter, Brandon Wimbush, was sidelined with an undisclosed injury. Heupel said he told Gabriel he would start on Thursday with Wimbush being available only if needed. 
"We're in a unique situation at the QB position," Gabriel said. "Every guy has the talent to play."
With the win tonight, the Knights earn their 26th consecutive regular season win and conclude their home-and-home series with FAU. 
Next up, UCF will face No. 23 Stanford (1-0) at home next Saturday. It's the Knights' first ranked opponent since losing 40-32 to LSU in the Playstation Fiesta Bowl on New Year's Day. Coach Heupel declined to comment on whether he will start Wimbush or Gabriel next Saturday, but said he will make a "day-to-day" evaluation of the position.