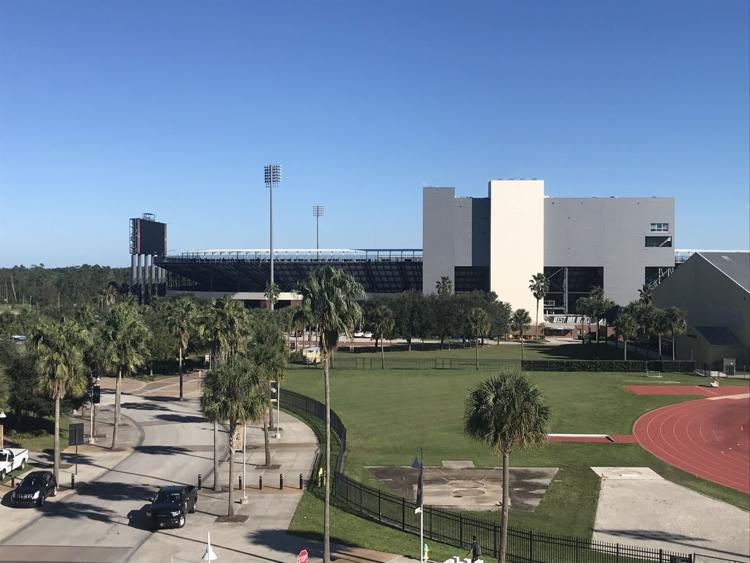 The smell of barbecue fills the air as many people laugh and enjoy the company of friends and family, while playing cornhole and tossing the pigskin.
This is the scene of a typical UCF home gameday, but this is no ordinary season. This year, the Bounce House is only allowing 25% of its usual 44,000 capacity of fans and not allowing tailgating on campus, according to the UCF Knights Gameday A-Z Guide.
UCF alumnus Jerome Little has been supporting the Knights since 1998 when he tried to walk on the team. He was invited back for spring tryouts and injured himself before the opportunity. Little said he has been a season ticket holder going on five years.
"I'm a football junkie, I need to see the whole thing from the pre-game until the end, I love the whole atmosphere of it," Little said.
Little said he has not attended a game this year in the interest of keeping his parents and in-laws safe. Little participated in the first Bounce House live at home experience, where he was part of the super fans being live streamed on the jumbotron from home. Little is known on Twitter as UCF EditZ by Rell, where he makes photo edits of the recruits and current players.
Little said while he is glad everyone is staying safe, he does miss football gamedays on campus.
"It's priceless, going back and literally seeing everybody, catching up with people you don't otherwise keep in touch with," Little said.
Ryan Preston, a recent UCF alumnus as of spring 2020, is a long-time fan of Knights football. He said while he does think the COVID-19 precautions are a necessity in these times, he thinks it makes a difference in the way the team plays.
"It makes a difference in the game having a loud crowd," Preston said. "I know we had one of the best home records in college football for a while, so that energy we bring when we have games definitely makes a difference."
Preston never missed a home game during his time as an undergraduate student, and even attended each bowl game at the end of the season.
Preston said this season he has been going to one of his friend's houses to watch the games. He said they set up a tailgate tent in the back yard and it is a smaller group with social distancing.
Both Preston and Little said they remain optimistic gamedays will be back to normal next season.
"I think we may still be dealing with some lagging issues but I do think we will be back to full stadium capacity by next season," Preston said.