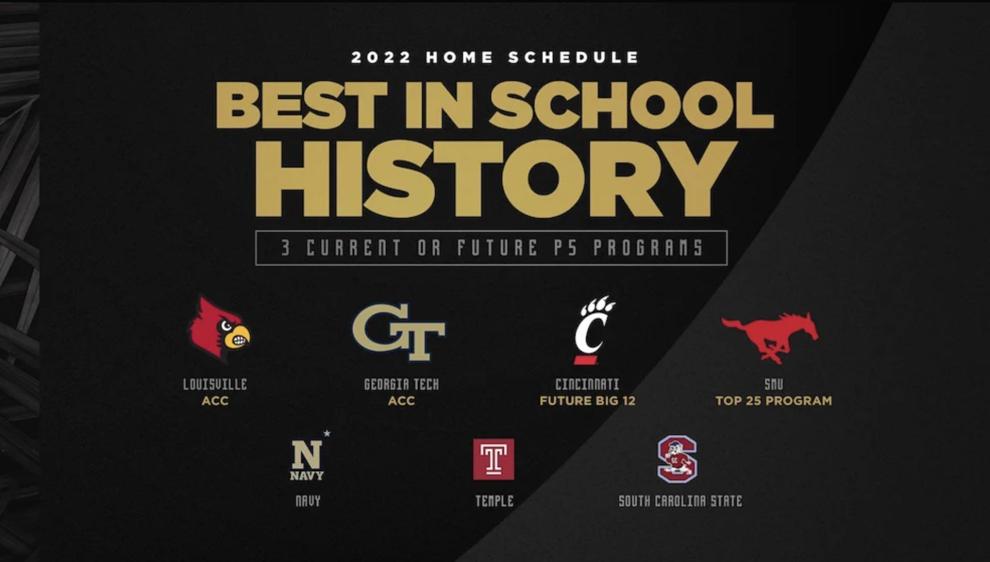 In an email sent to UCF Football ticket holders Tuesday, a slate of seven home games have been announced for the 2022 season, finalizing the program's 12 opponents for the season.
As UCF continues on the road toward the Big 12, the Knights are bringing in two Power Five schools and a prospective Power Five school into the Bounce House next season. The Knights are welcoming two Atlantic Coast Conference programs early next season. The Knights will take on the University of Louisville Cardinals on Sept. 10, 2022, in hopes of avenging a heartbreaking, last-second 42-35 loss from earlier this season, as well as the Georgia Institute of Technology Yellow Jackets on Sept. 24, 2022.
UCF will host current AAC and future Big 12 adversary, the University of Cincinnati Bearcats, who are currently ranked fourth in the nation, according to the College Football Playoff rankings. The Knights will face Southern Methodist University, the United States Naval Academy and Temple University in AAC conference play, as well as South Carolina State University.
UCF will have a couple of away games in Florida, traveling to Boca Raton to take on Florida Atlantic University on Sept. 17, and heading out west to take on the University of South Florida for the War on I-4. The Knights will play nine of their 12 games next season in Florida. The Knights will travel to East Carolina University, the University of Memphis and Tulane University for the remaining away games and AAC conference play. 
The finalized dates for the Knights' 2022 schedule will be announced at a later date.