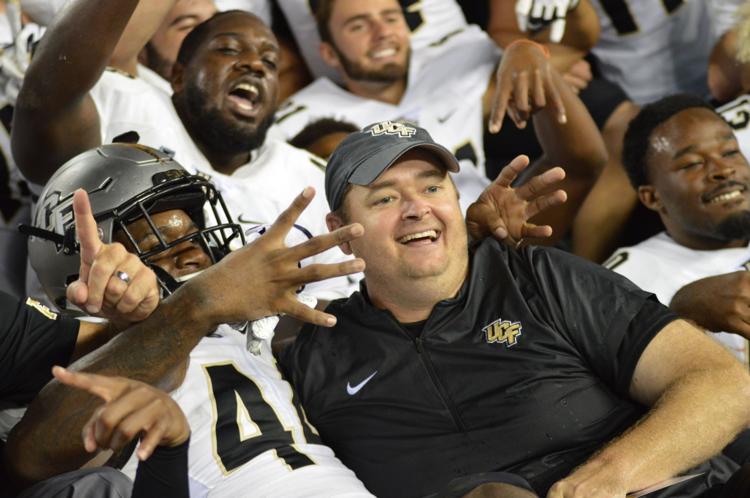 With the addition of 25 new faces to UCF football's roster, head coach Josh Heupel said he is "confident" about the culture that is coming to and staying at UCF this upcoming season at a press conference on Wednesday morning.
Seventeen of these players signed during the early signing period in December but eight more were added on Wednesday — National Signing Day.
The Knights added depth and diversity to all position rooms, giving them the fourth-best recruiting class in the American Athletic Conference and No. 69 in the nation, according to 247Sports.com.
But as important as stats, talent, footwork and tapes are, Heupel said traits like the importance of football, mentality, leadership — and the ability to continue develop those things — are just as important off the field as they are on the field.
"It's important for us that we have great talent — obviously we see it and recognize it in recruiting — but I think those characteristics and traits are extremely important to continue to add and have a championship culture inside of your locker room," Heupel said.
Who will be QB1 next season?
The Knights added one more quarterback to its roster, adding more depth to the QB room that already features Dillon Gabriel, Darriel Mack Jr., returning Quadry Jones and injured McKenzie Milton.
Milton, still in the process of bouncing back from a devastating leg injury, has just switched out of a restrictive knee brace and into one that allows more functional movement.
"Those are great moments in the mountains that he's had to climb from when this whole thing started," Heupel said.
One thing that Heupel said he looks for in new talent for the Knights is heart.
"You're trying to find out what their heart is, man," Heupel said. "KZ is one of the greatest to play here inside of this program…his heart, I think, is a thing that draws everybody in, and that's true of a lot of guys sitting in that QB room right now."
Parker Navarro, a new addition to the quarterback pool, is a 6-foot pro-style quarterback out of Arizona who fits the "culture" perfectly. He possesses winning characteristics, confidence, leadership and the ability to blend in "extremely well" with the other guys, Heupel said.
"Kid that cares greatly about being exceptional, works at it every single day," Heupel said about the Arizona QB. "Those are all traits that you have to have inside of the quarterback room."
Navarro threw for 2,749 yards, 29 touchdowns and six interceptions, according to Max Preps. He also hurt teams with his legs, rushing for 959 yards and 11 touchdowns.
QB from AZ!! Let's #Go1and0 @pwnavarro13! #2020KnightVision pic.twitter.com/qO58oPzpur

— Josh Heupel (@coachjoshheupel) February 5, 2020
Quadry Jones is also officially back on the UCF roster, Heupel said Wednesday. Jones entered the transfer portal in early December and played at Alabama State until he decided to rejoin the Knights.
"He felt like this was home," Heupel said about the redshirt sophomore QB. "This is the best place for him."
The O-line gets deeper
Heupel also said he was confident about the additions to the offensive line with Clearwater offensive guard Mike Lofton, Key West-native offensive lineman Patrick Barnett, German-born offensive tackle Paul Rubelt and offensive tackle transfer from the University of Tennessee, Marcus Tatum.
"I feel like each and every class we've added, the type of body, skill set and mentality that we want to have and play with up front and I think we've got great depth," Heupel said.
With the departure of offensive lineman Jake Brown, Heupel said he wants Tatum to come in, compete and "go earn the job." The 6-foot-6 redshirt senior from Daytona Beach attended the same high school as former UCF running back Adrian Killins Jr. and started three games in 2019 for the Tennessee Vols.
Rubelt will add some depth — and height — to the O-line. Standing at 6-foot-10, he is the No. 1 football recruit from Germany, according to 247Sports.com.
After visiting UCF this past weekend, junior college tight-end Zach Marsh-Wojan joined the Knights on Monday night. The 6-foot-5 transfer from California adds diversity in the position group, Heupel said.
He caught 36 passes for 502 yards and three touchdowns in his sophomore season at Sacramento City College, earning him the second-highest rating in UCF's 2020 recruiting class, according to 247Sports.com.
Heupel said he "has the ability to do multiple things — play out in space, play in the box, use him in the run game — but also use him as a pass receiver and a weapon there."
Another tight end with a familiar name signed with UCF in the early signing period in December. Jordan Davis, brother of former UCF wide receiver Gabriel Davis, received six other offers from schools including USF, Pitt and Kentucky before choosing to continue family ties in Orlando.
Attacking the football in the defensive backfield
On the other side of the ball, redshirt sophomore defensive back Brandon Moore is "on track" from recovering "really well" from his torn ACL and should be ready to make a comeback as the end of the summer approaches as he's able to move his lower body around more, Heupel said.
The Knights' defensive backfield welcomes three new players: junior college commit Emmanuel Appiah-Takyi and Broward County cornerbacks Quadric Bullard and Justin Hodges.
Heupel said Appiah-Takyi's speed and ability to attack the ball is what will give UCF a scoring edge.
"He's got hands like a wide receiver," Heupel said about the 6-foot-1 junior from New Jersey. "With where we're at, the number of guys we found the last couple of classes in the DB room felt like he was a great add for us in the defensive backfield."
UCF also scored its first 2021 commit on Tuesday: 6-foot-4 defensive end Noah Collins from Grayson High School in Loganville, Georgia. Collins picked the Knights over other Power Five programs including Florida, LSU, Miami and Notre Dame.
Let's #Go1and0 @GarrettFrench19 @max_holler @_stephen_martin @Riley_stephe!! #2020KnightVision pic.twitter.com/3x7AZJIHOO

— Josh Heupel (@coachjoshheupel) February 5, 2020
Early returns of new recruits
Nine players have already enrolled at UCF as of the start of the spring 2020 semester. Conditioning and spring ball prep started this week and Heupel said he's happy with the results.
"They've been great. They've done a fantastic job in the weight room," Heupel said about the new recruits.
As the start of spring football approaches, Heupel said the main focus is to work on strength and speed.
"It's a game of inches," Heupel said. "There's a lot of inches to be made up this time during the offseason before we get on the field in spring ball. But, our kids are competing the right way right now in that position room."
For the brand
When hopeful recruits visit UCF, it's important they notice one thing: the brand.
"Nationally, our brand, our logo, is recognized of playing an elite level of college football," Heupel said. "And as kids come out here, they get a chance to see that as good as we are on the field, it's even better academically and what we're gonna be able to do for kids long-term in their life."
Heupel also emphasized the need for a UCF college experience — one that allows players' parents to be a part of it all, one that allows a student-athlete to thrive with a world-class education, one that allows players to create a network when it's time to put down the ball.
"It's what college football should be," he said.
But at the end of the day, with all the new incoming talent, the only thing that sets a player apart from another can be dwindled down to just one thing: competition.
"It's true at every position," Heupel said. "The best players are gonna play. You gotta go prove it and earn it every single day."
Here is the complete list of UCF football's #2020KnightVision class:
CB Davonte Brown: American Heritage High School, Fort Lauderdale, Florida
CB Devunte Dawson: Coffeyville Community College, Hurst, Texas
CB Corey Thornton: Booker T. Washington Senior High School, Miami
DB Emmanuel Appiah-Takyi: Monroe College, Oradell, New Jersey
DB Quadric Bullard: Chaminade-Madonna College Preparatory, Hollywood, Florida
DB Justin Hodges: Western High School, Fort Lauderdale, Florida
ILB Keenan Cupit: Jefferson Forest High School, Forest, Virginia
ILB Quade Mosier: Fayetteville High School, Fayetteville, Arkansas
OG Mike Lofton: Calvary Christian Academy, Clearwater, Florida
OL Patrick Barnett: Key West High School, Key West, Florida
OT Paul Rubelt: Frankfurt-Oder Red Cocks American Football Club, Berlin, Germany
OT Marcus Tatum: University of Tennessee, Ormond Beach, Florida
PK Riley Stephens: Dr. Phillips High School, Orlando
QB Parker Navarro: Desert Vista High School, Phoenix
RB Johnny Richardson: Lake Wales High School, Lake Wales, Florida
SDE Kervins Choute: Deerfield Beach High School, Deerfield Beach, Florida
SDE Joshua Celiscar: Winter Haven High School, Winter Haven, Florida
SDE Kendrick Wilson: Miami Norland Senior High School, Miami
TE Jordan Davis: Seminole High School, Sanford, Florida
TE Cornelius Forrest Jr.: Sandalwood High School, Jacksonville, Florida
TE Garrett French: Venice High School, Venice, Florida
TE Max Holler: Trinity Preparatory School, Winter Park, Florida
TE Zach Marsh-Wojan: Sacramento City College, Vacaville, California
WR Ja'Cyais Credle: Carver High School, Columbus, Georgia
WR Stephen Martin: Bishop Moore Catholic High School, Orlando