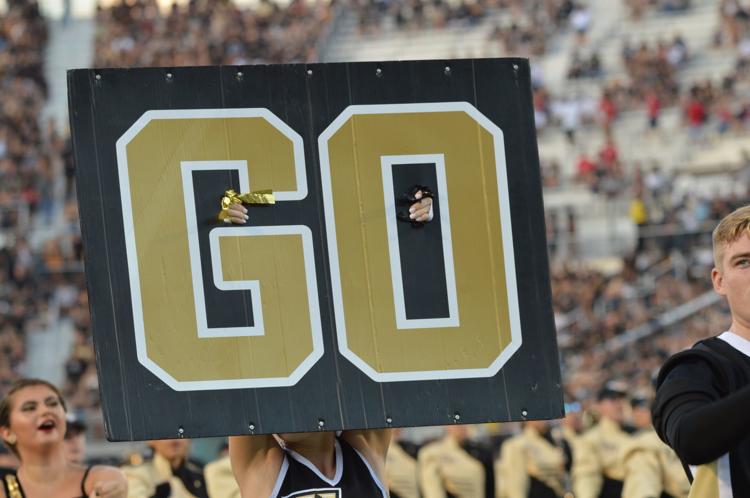 Coming off a dominating win over Florida A&M University last Thursday, No. 18 UCF is gearing up for its first away game Saturday against the Florida Atlantic University Owls.
The Knights (1-0) routed FAMU (0-1) 62-0 in their season opener. Redshirt senior quarterback Brandon Wimbush started the game for the Knights and finished with 168 yards passing and two touchdowns.
Freshman quarterback Dillon Gabriel also had an impressive first game, passing for 127 yards and three touchdowns after coming on for Wimbush toward the end of the first quarter.
"Those guys have handled the competitive side of it inside the room in a really, really good way," UCF head coach Josh Heupel said. "They are the other guys' biggest cheerleader. They high-five when they come off the field and when they make a play. It's unique. That doesn't happen a lot."
Heupel said that the strength of one position doesn't need to come from only one guy. He intends to play both quarterbacks on Saturday at FAU (0-1).
In last season's matchup at UCF's Spectrum Stadium, the Knights defeated FAU 56-36 behind senior quarterback McKenzie Milton's three passing touchdowns and three rushing touchdowns.
The Knights look to repeat that same success, but on the road this time.
Despite last week's seemingly easy win, Heupel said he sees room for improvement this weekend.
"You're never happy or satisfied. Did we do a lot of good things week one? Yes," Heupel said. "We're gonna need to take a big jump this week though."
FAU senior tight-end Harrison Bryant stands out as a player who may pose a threat to UCF, Heupel said. 
"He's a special player," he said. "[FAU] do a good job of finding ways to isolate him in an advantageous passing situation. We gotta do a good job of covering him up."
As far as UCF's defense is concerned, Heupel said that they must force FAU into third and long situations, and tilt the scale in their favor on third downs.
"You do that by creating some negative plays, and then in the passing game you gotta play tight coverage," Heupel said.
Hurricane Dorian didn't seem to phase UCF going into this week's game. Even with the loss of one practice, the players are excited about the opportunity to play, Heupel said. 
"The veterans have been through hurricane type situations and have missed games, I think three straight years now," Heupel said.
Heupel said his Knights compensated for the loss of practice by spending more time on Thursday's walkthrough at practice. The extended walkthrough helps get the players in a position where they're mentally ready to play.
Heupel didn't seem to be worried about the location of the game. He said that away games aren't much different from home games.
"You know offensively you gotta handle the crowd noise a little bit, although I anticipate us having a large contingency down there as well," Heupel said. "At the end of the day it's 11 on 11, play the next play free of what happened with the previous one, and play an aggressive way." 
UCF will take on the Owls Saturday at FAU's stadium with a 7:00 p.m. kickoff. The game will be broadcast live on CBS Sports Network.