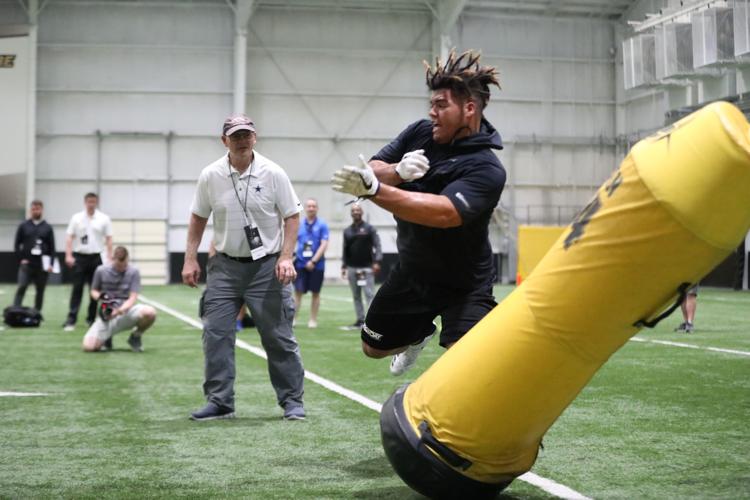 Over 30 professional football scouts gathered at UCF's Nicholson Fieldhouse Tuesday afternoon to watch former Knights football players showcase their skills during the annual UCF Pro Day.
Twenty former UCF players at various positions were able to participate in hopes of improving their NFL Draft stock. The Jacksonville Jaguars, Indianapolis Colts, Kansas City Chiefs and Tennessee Titans were among the NFL teams represented.
The day started in the weight room, where the athletes showed their strength with the bench press. Former UCF linebacker Pat Jasinski did 27 reps of 225 pounds on the bench press.
The players then moved indoors to the Nicholson Fieldhouse to conduct on-field drills. Several players ran the 40-yard dash, including wide receiver Dredrick Snelson. He clocked in 4.42 seconds, according to this Twitter account.
4.42! Yeah we fast fast over here https://t.co/zO6m1gnlNv

— Dredrick Snelson Jr. (@D_Snelson5) March 26, 2019
The 40-yard dash was then followed by drills that involved agility and acceleration with cones. Dallas Cowboys defensive coordinator Rod Marinelli was one of the coaches leading the drills. Former UCF defensive lineman Trysten Hill participated in Marinelli's drills, drawing high praises from the coach with over 20 years of experience in the NFL.
Hill was invited to the NFL scouting combine in late February, where he ran a 5.04-second 40-yard dash and a 4.38-second 20-yard shuttle run.
According to Lance Zierlein of NFL.com, Hill has a "chance to become an NFL starter" at his position. In his junior year at UCF, Hill played in 12 games, totaling a single-season career-high of 36 total tackles. He also recorded a career-high three sacks on the season.
Hill, who turned 21 recently, said it's a blessing to able to play more football after his career at UCF.
"Everybody that's left here [has] always, you know, really put on for UCF [and] really represent it well," Hill said. "I'm honored and blessed to be able to do that."
Former UCF offensive lineman Wyatt Miller said the thing that he thinks about the most is the journey and knowing where he came from.
"Obviously, the past two years were beyond amazing," Miller said. "[I think about] what it took to get to where we are, and for us to go 0-12... For us to turn that around and to get where we are today."
Since 1987, 40 UCF players have been drafted into the NFL, including four first-round selections. The highest a UCF player has ever been drafted is third overall in 2014, when the Jacksonville Jaguars selected quarterback Blake Bortles.
In 2018, four UCF players were drafted, tying the program record set in 2003. The 2018 draft class for UCF included linebacker Shaquem Griffin and cornerback Mike Hughes.
UCF defensive lineman Titus Davis, who graduates in May, said he had to work as hard as he could in school on top of preparing for pro day.
"I mean, it's just balancing those two out and trying to make it happen," Davis said. "This is my opportunity to just showcase what I had, and I feel like I did a pretty good job,"
The 2019 NFL Draft starts Thursday, April 25 and runs through Saturday, April 27.