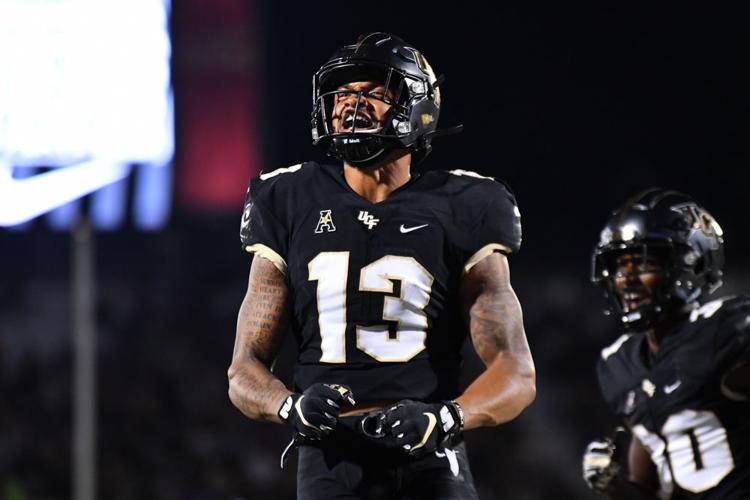 With the NFL 2020 Draft around the corner, Gabriel Davis and Nevelle Clarke look to make their transition into professional football.
Davis spent three years as a wide receiver at UCF before forgoing his senior year to enter the 2020 draft. He shared that decision via social media in December.
Thank you UCF for Everything! #ChargeOn ⚡️⚔️ pic.twitter.com/QR7vBYFlMd

— Gabriel Davis (@DavisGB1) December 4, 2019
Clarke was a cornerback on the UCF football team for five years and entered the draft after satisfying all of the NCAA eligibility.
Over time, Clarke and Davis became key parts to the UCF offense and defense. Both came to UCF as freshmen and dedicated their collegiate careers to the UCF football program.
In the span of three years, Davis was able to record 152 catches for 2,447 yards and 23 touchdowns. His 23 career touchdowns are ranked second in school history, according to UCF athletics. During his freshman year in 2017, he successfully received an 80-yard pass, his longest while at UCF, according to the Knights' 2019 Football Roster.
Davis' junior season put him on the NFL map. He had 72 catches and a UCF single-season record 1,241 yards and 12 touchdowns, according to UCF athletics.
After spending his freshman year on the scouting team for UCF football, Clarke played out his full eligibility.
During his four years of playing, he recorded 108 total tackles and five interceptions. Of the 108 total tackles, 92 were solo tackles.
Clarke's best season was his senior year when he was second in the American Athletic Conference with 13 passes defended and was an honorable mention for the All-AAC team.
Clarke finished with 29 career pass breakups. That made him tied for ninth in UCF football all-time records.
Before being able to transition to professional football, collegiate players around the nation come together in a skill showcase to prove that they have what it takes to go pro.
The 2020 NFL Combine took place in its usual host city of Indianapolis from Feb. 27 to March 1.
Clarke finished among the top players at ninth place in the three-cone drill exercise by completing the drill in 6.88 seconds and had a broad jump of 10.5 feet.
Davis completed the 40-yard dash exercise in 4.54 seconds and had a broad jump of 10.3 feet.
Overall, Davis received a prospect grade of 6.25 which the NFL defines as a "good backup who could become a starter," according to the NFL website. Clarke received a prospect grade of 5.47 which is defined as a "priority free agent," according to the NFL website.
Because of COVID-19, the National Football League has made the decision to shift the draft into a virtual format for the first time in NFL history, according to the NFL website.
There are 11 previous Knights who find themselves in the NFL. The most recent draftee was Trysten Hill in 2019, according to UCF athletics.
The 2020 NFL Draft is the gateway to professional football and the goal for many players across the country. The seven-round draft will begin on April 23 and conclude April 25.