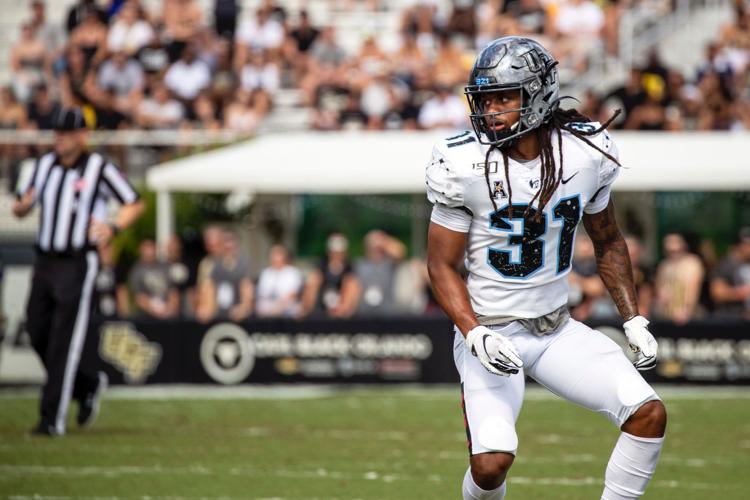 Aaron Robinson took the field for his first kickoff coverage as a UCF Knight to open the 2018 season, but his debut after 635 days of sitting out due to transfer rules was not what he had hoped.
A collision with UConn wide receiver Keyion Dixon just seconds after kickoff left then redshirt sophomore defensive back Robinson curled up and motionless on the UCF 11-yard line during the Knights' opener against the UConn Huskies in Connecticut.
Robinson, who spent his freshman year with the Alabama Crimson Tide, was going in for a tackle as Dixon attempted to return the ball.
After several minutes of waiting, his feet twitched and Robinson raised his thumb. The crowd at Rentschler Field gave out heartfelt cheers and claps as he was carted off on a stretcher.
Robinson was taken to Connecticut Health Medical Center where he said he was diagnosed with a serious concussion. He would not return for 37 days before the Knights faced the SMU Mustangs on Oct. 6, 2018.
"It was pretty tough, but I feel like my teammates, family, medical staff, coaches were behind me 110%," Robinson said. "They kept me in their arms, letting me know everything was going to be fine."
The Deerfield Beach, Florida, native said he pushed through recovery with the help of his coaching staff and teammates. His mom, however, is still his biggest support and his injury terrified her.
"Thinking back on the injury last season, it scared her to death — being able to bounce back from an injury like that, it definitely makes her proud," Robinson said.
Robinson, who is in his redshirt junior year, said everything he does is for his mom and that he is living out his dream to show her everything he worked for growing up is coming true.
"I'm doing it so that I can make my family proud, make my mother proud, so I can keep a smile on her face," Robinson said.
Robinson said he and his mom, Norma Cartagena, are very close. His mom tries to make it to every game, but will watch it on TV if she can not make it in person. He said they talk to each other before and after every game. Robinson said he even called her from the hospital in Connecticut after his injury.
"I love watching him play but it's scary," Cartagena said. "I hurt for him. He cries; I cry. It was a very scary, very emotional time."
Robinson said not playing in a game is never what an athlete wants, but he took the time to heal and cheer the rest of the team on from the sidelines.
"All you can do is just root for your team and be that cheerleader, be that helping hand, that coach to just keep them on their toes and help them the best way you can from the sideline," Robinson said.
He ultimately finished the 2018 season with nine total tackles, eight of which were unassisted, and a broken up pass.
It's great to see 3️⃣1️⃣ back on the field after what happened on the opening kickoff of 2018.@humblearob talks about his return to game action vs. SMU 👇 pic.twitter.com/8TOmF9M0MP

— UCF Football (@UCF_Football) October 9, 2018
"I definitely wasn't in a rush for him to go back, but I'm glad he did," Cartagena said. "He bounced back."
Robinson said it was hard to be out of the game he has played since he was 5 years old, but marking his first full season back, he said it has been great running plays with his teammates and getting back to the stadium atmosphere.
"That adrenaline definitely rushes for 60 whole minutes," Robinson said. "It's pretty exciting, a shocking feeling going through your whole body when you're out there making plays and the fanbase is going crazy."
Robinson has bounced back with 41 total tackles on the season, 30 of which were unassisted. He also leads the Knights' defense with three interceptions this season.
"I feel like I'm making up for lost time," Robinson said. "I feel like it's always got to be 110%, even more than that when I'm on the field playing just to kind of make up for that lost time."
Behind the picks and tackles, Robinson is known to friends and family as "Humble Arob" — at least that's what his Twitter and Instagram handle read. Cartagena described her son as being just that, humble.
"He's very, very humble — he would help anyone in need," Cartagena said. "He'd give you the shirt off his back and then some if he could."
Fellow teammate and redshirt sophomore defensive end Stephon Zayas said Robinson is a unique individual who carries himself like he is already a professional. Zayas said he and Robinson grew up together so watching his comeback was incredible.
"To play beside Aaron is like playing beside another coach," Zayas said. "He'll tell you when the play is coming, he'll tell you anything that comes his way."
Even during a loss, he still keeps pushing forward. Robinson said his teammates and mom remind him everyday why he keeps playing: it's for his family.
"I feel like I'm playing for a reason," Robinson said. "Everybody has their own 'why'. I got my 'why' with my family back home."