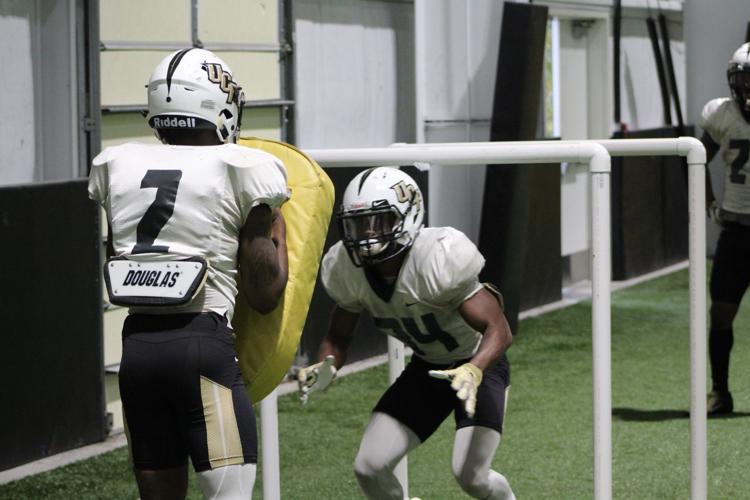 The UCF football team is set to return to Spectrum Stadium Saturday afternoon for its annual spring game, marking the first time it has seen action since losing the PlayStation Fiesta Bowl to LSU on New Year's Day.
Knights head coach Josh Heupel said the practices throughout the spring have all been building up to Saturday, which is a chance for the team to see its growth.
"I think it's a great opportunity for the young guys in particular to see how they are going to handle game day," Heupel said. "They've been in the stadium, but what's different is that there's people in the stands and they get a little bit of sense of what game day is going to be like."
The biggest story of the spring is the quarterback battle between redshirt sophomore Darriel Mack Jr., redshirt freshman Quadry Jones, freshman Dillon Gabriel, and senior transfer Brandon Wimbush.
Heupel said he hasn't decided on the rotation of the quarterbacks for Saturday, but he expects to see them all manage and handle the game.
"The most important thing we do is take care of the football and learning how not to get your team beat is the first step of becoming the starter," Heupel said. "[I] want them to make plays when they present themselves, but really just operate and manage the game."
This is Heupel's second season as UCF's head coach. He said he was able to accomplish more this spring than he did a year ago due to his first season being unique.
"Your players don't know what's going to happen the day they walk into the building. They have a sense of it – you try to tell them what it's going to be like – but there's always some stress as far as the unknown," Heupel said. "Since we've gotten back, I feel like cohesively as a team, [we're] trusting coaching, taking coaching in a really positive way and taking that and implementing that into your game."
Junior running back Greg McCrae echoed the same sentiment as Heupel and said that this spring is easier because it's the team's second year in the system.
"Last year was more of a learning phase," McCrae said. "We were trying to learn plays while also learning the coaches, what they wanted. This year, we have a better understanding for the coaches of they want and how they want it to look and now we're adding more wrinkles to the little things that we're doing."
Once Saturday's spring game is over, McCrae said the goal is for the team to continue to grow in the summer before fall camp begins.
"Grow as a team, continue to build a type of bond," McCrae said. "We're a very tight team, but we still want to keep it going, continue to improve in the weight room, to get bigger, faster and stronger and to continue to improve on the offense and on the defensive side."
Kickoff for Saturday's game is set for 2:30 p.m. at Spectrum Stadium.