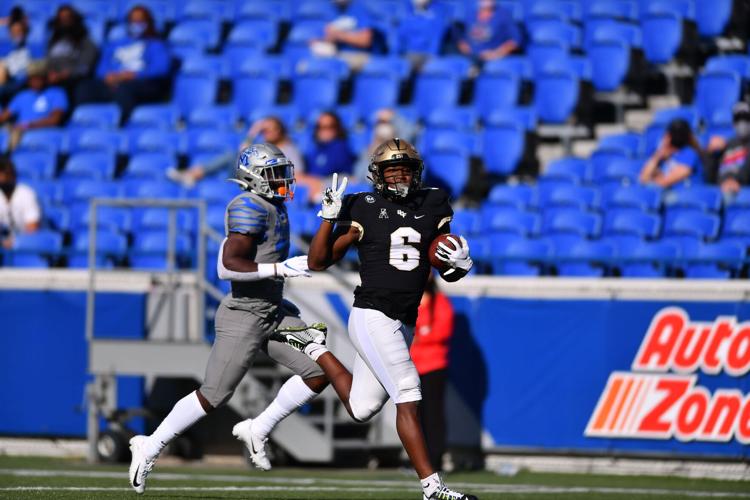 Memphis entered Saturday's tilt against UCF without a win over the Knights in 13 consecutive games dating back to 2005.
15 years of heartbreak, 15 years of close, but no cigar. That all changed when UCF kicker Daniel Obarski missed a 40-yard would be game winning field goal wide left with 19 seconds remaining in the game. 
Just before that, Memphis quarterback Brady White hit wideout Calvin Austin lll for a three-yard score to give the Tigers a 50-49 lead that they would not relinquish. The 50-49 win completed a 21-point comeback for Memphis (2-1), the largest comeback win in program history and UCF's (2-2) second consecutive blown lead in a second half.
"For our young men, I told them what occurred on that field tonight will carry over for the rest of their lives," Memphis Head Coach Ryan Silverfield said.
With the defeat to Memphis and the loss two weeks ago against Tulsa, UCF has now lost back-to-back games for the first time since 2016. 
Memphis came back from a 21-point deficit in the 3rd quarter to beat UCF 50-49. Both teams combined for 1,501 yards, the most ever in an AAC game. That is the 2nd most combined yards in a game over the last 5 seasons, trailing only Oklahoma-Texas Tech in 2016 (1,708). pic.twitter.com/t8FJFuRAtY

— ESPN Stats & Info (@ESPNStatsInfo) October 18, 2020
In a game featuring two of the top three offenses in the AAC, both teams flexed their muscles, combining for over 1,500 yards of offense. The 703 yards surrendered by the Knights was the most they've given up in a game since 2018 against Temple. 
Despite the yards, UCF Head Coach Josh Heupel said it didn't matter since the Knights were not plus one in the scoreboard at the end of the game. 
"I mean this when I say it: just want to win," Heupel said. "You gotta find a way to be plus one."
601 of the 798 yards for the Knights came from the arm of Dillon Gabriel. Gabriel broke his own UCF passing record, throwing for 601 yards and five touchdowns on 35/49 passing. 
Dillon Gabriel in 2020:122/188(65%) - 1,756 yards with 14 TDs and 2 INTs26 carries for 108 yards and 1 TDDG is averaging 466 yards/game and 439 yards passing/game.DG is a sophomore at UCF and has 3 more years of eligibility. He is going to win 2 Heismans before he leaves.

— Mike (@MDKnight2016) October 18, 2020
Not to be outdone, White set his own personal best for passing yards with 486, to go along with six touchdowns on 34-50 passing. 
The most instrumental of White's completions came with 1:24 remaining in the fourth quarter, a shovel pass to receiver Tahj Washington that gashed the UCF defense for 52 yards. That play set up the aforementioned game winning-score to Austin. 
Damonte Coxie is gone, but Memphis fans have to feel good about the receivers after the UCF game. Calvin Austin: 9 REC, 151 YDS & 2 TD's Tahj Washington: 7 REC, 131 YDSJavon Ivory: 4 REC, 88 YDS & 1 TD Young receivers stepped up in a very big way.

— Christian Fowler (@cfowler247) October 18, 2020
With two games on Memphis' original schedule being cancelled (Sept. 12 at Purdue) and (Sept. 25 at UTSA), the Tigers came into Saturday's matchup having played only two games in over a month. It was their first game at home since the season opening win against Arkansas State on Sept. 5.
"We've had so much adversity and so many ups and downs this year," Silverfield said. "And it's been 30 years since we beat UCF."
White connected with Austin nine times for 112 yards and two scores. For Austin, it was a career high in receiving yards for the junior hometown wideout.
UCF receiver Ryan O'Keefe entered Saturday's tilt against Memphis with 123 career receiving yards. 
O'Keefe surpassed his career mark by recording 175 yards on four receptions and a touchdown. O'Keefe is the latest receiver to feature in Tre Nixon's absence, who missed his third consecutive game due to injury. 
O'Keefe found the pay dirt for the first time in his UCF career, taking a screen pass from Dillon Gabriel for a 93-yard score that extended the Knights' lead to 41-29. 
Ryan o'keefe at UCF has wheels. 93 yd td off a bubble screen 🤦🏽‍♂️. Please keep eating and go the league sir

— Lindell Watkins (@WatkinsLindell) October 17, 2020
O'Keefe was one of three UCF receivers to surpass 100 yards, joining Marlon Williams and Jaylon Robinson. 
Williams was UCF's leading receiver, hauling in 13 receptions for 191 yards and an 85-yard score that put the Knights up 20-7 in the the second quarter. Robinson continued his potent start to his UCF career, catching 10 balls for 173 and two touchdowns. 
UCF managed to run for 197 yards a team, 78 coming from Greg McCrae and 70 from Otis Anderson. Memphis countered with 217 of their own, with Rodrigues Clark garnering 21 carries for 112 yards. 
While neither defense will take away much with the number of yards given up, Memphis was able to block an Obarski extra-point attempt that prevented the Knights from going up 21-7. The one point proved to be costly, preventing the game from potentially going to overtime. 
Despite the extra-point block and the missed field goal, Williams said that the loss was not on Obarski.
"There was way more mistakes, way more other things that went wrong in the game," Williams said. "That one play don't define the game and if anybody says something, hey, you need to say something to me."
After Richie Grant was able to jar the football loose on Memphis' first drive, Antwan Collier recovered the ball to stall an offense that was inside the UCF ten yard-line. Despite the early takeaway, the Knights failed to record another and were only able to sack White twice. 
UCF has six sacks through four games, ranking them in the bottom half of the FBS. 
After leading the FBS in penalties, including 37 combined in the last two games, UCF was penalized 10 times on Saturday, but notably had zero pre-snap penalties which has plagued them all year long.
UCF has 410 penalty yards on 55 penalties this season. They are officially the most penalized team in college football. @coachjoshheupel do something to get your guys in order. You've beat yourself two weeks in a row.

— CFFInsiders (@InsiderCff) October 18, 2020
"Our kids have had that around them or have been hearing about it for two and a half, three weeks here," Heupel said. "You know, the ability to make a change, get better, it helped us stay in rhythm, helped us play in tempo, helped us play ahead of the chains."
UCF will look to bounce back at the Bounce House next Saturday when they take on Tulane (2-3) at 2:00 on ESPN2. 
Now 1-2 in AAC competition, UCF faces a reality of now being virtually eliminated from the AAC championship. Despite this, Williams said they can still control one thing every week.
"Win. I don't think nobody on our team like to lose regardless if we're going to be playing for a championship or not," Williams said. "We wanna win you feel me, like that has nothing to do with it."