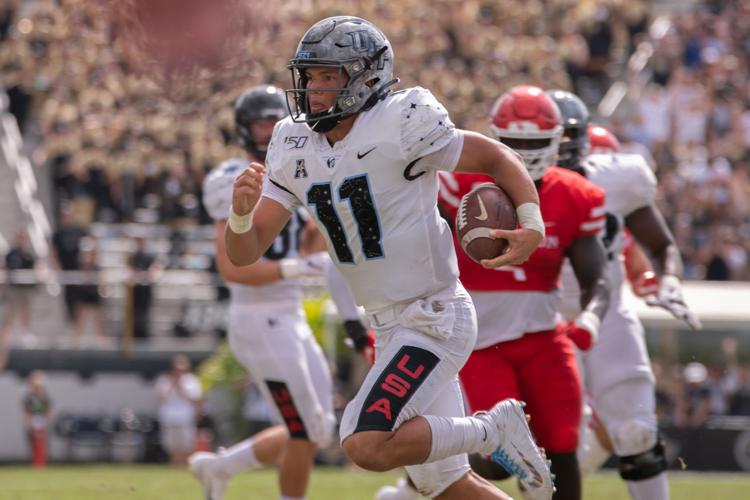 The UCF Knights defeated the Houston Cougars 44-29 Saturday at Spectrum Stadium after a big defensive turnaround in the second half of play. 
UCF (7-2, 4-1 AAC) had a defensive performance that could be described as night and day from the first half to the second.
In the first half alone, the Knights gave up 206 rushing yards, surpassing their previous season-high for rushing yards in a full game. The prior high was 196 rushing yards against Pittsburgh. The defense found its footing in the second half, allowing a mere 34 yards on the ground despite an impressive outing by Houston Cougar senior running back Mulbah Car. 
The game started on a positive note with injured UCF quarterback McKenzie Milton taking the toss as a team captain. 
Houston (3-6, 1-4 AAC) scored a total of 17 points in the first quarter. This was the most UCF has allowed in the first quarter all season.
"You know us as players; we were kind of embarrassed," UCF senior linebacker Nate Evans said. "You know that wasn't our ball. We kinda let them in the game, we kinda didn't play to our level of playing."
The Knights offense also had a rather slow start to begin the game. After punting the ball on the first two drives, UCF scored their first touchdown after freshman quarterback Dillon Gabriel connected with wide receiver Marlon Williams for a 6-yard score with four minutes left in the first quarter. 
"I think we just started slow, mostly on my part," Gabriel said. "We got to get completions. You know, obviously getting first downs is huge."
As the Knights approached the end of the first quarter, redshirt junior wide receiver Tre Nixon caught a 32-yard pass in the endzone. The quarter ended with the Cougars up 17-14.
In the second quarter of the game redshirt senior quarterback Brandon Wimbush ran for 32-yards in a designed run that produced a first down for the Knights.
PHOTOS: UCF VS Houston Space Game 11/2
UCF Knights take charge against the University of Houston Cougars for the #UCFinSpace game at Spectrum Stadium on Nov. 2. The Knights defeated the Cougars 44-29.
"I think it's great; obviously, he's a great runner," Gabriel said. "He made a huge play and changed the momentum for us, which was really huge."
Immediately following Wimbush's big gain, redshirt sophomore quarterback Darriel Mack Jr. checked in and completed a six-yard pass to junior running back Otis Anderson.
Gabriel then came back in and ran a 22-yard touchdown off of a run-pass-option, putting the Knights ahead 21-17. This was Gabriel's third rushing touchdown of the season.
Gabriel broke UCF's record for single-season passing yards by a freshman. He passed Ryan Schneider, who previously held the record at 2,334 yards.
"I'm not too worried about that," Gabriel said. "I appreciate that, but you know we got Tulsa next week, and that's my main focus."
Houston kicker Dalton Witherspoon kicked a 41-yard field goal putting Houston back in the lead before time expired in the half.
UCF's offense took off in the second half, beginning with a 43-yard touchdown run by redshirt sophomore running back Bentavious Thompson. This was Thompson's longest run of the season. The Knights scored a total of 23 points in the second half.
"I would say we did a good job on offense when it comes to playing as a whole," Nixon said. "You know o-line, running backs, receivers blocking for each other. We started out a little slow too, but we got back on track and handled business."
UCF's defense also gave Houston 4 yards of total offense in the third quarter. Houston only had 62 yards and 6 points in all of the second half.
"I don't think schematically there are major changes that have happened at half time," UCF head coach Josh Heupel said. "I think as much as anything our kids have settled into the game. They've gotten their eyes in the right place and played with great technique." 
Late in the fourth quarter, Houston managed to cut UCF's lead down to 42-29 after their quarterback, Clayton Tune, completed an 8-yard pass to receiver Jere Singleton.
Despite cutting down on penalties, committing four less than they had during their last game against Temple, Heupel emphasized the costliness of penalties. 
"There's some post-whistle penalties that just can't happen," Heupel said. "Not pleased with that at all. We can't do that; we can't hurt the team."
This coming week will be a short one for the Knights as they will play Tulsa at the Chapman Stadium Friday at 7 p.m.