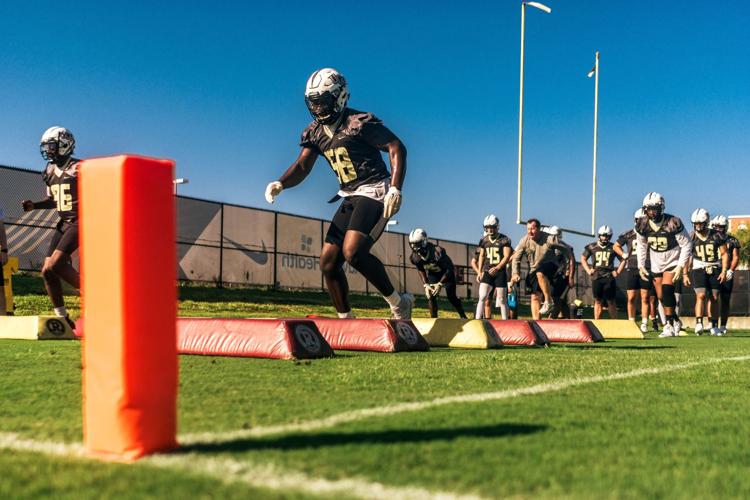 The UCF football team is looking to improve on the defensive side of the ball this spring.  
Statistically, the Knights were one of the worst defensive teams in college football last year, finishing 95th out of 129 teams in total defense. After Monday's scrimmage, sophomore defensive lineman Randy Charlton said he feels that the defense has a long way to go. 

"We got a lot of things to work on," he said. "But one thing I did see is that we had a good vibe with the defense." 
Charlton, who is coming off a back injury, said one of the things the team wants to improve on from last year is the overall communication.
Sophomore linebacker Eriq Gilyard also said communication is something that the defense needs to improve on, but he did like the bend-don't-break attitude that the group showed throughout the scrimmage. 
"Some things I did like was that we played hard a lot," Gilyard said. "Throughout the whole scrimmage, we kept each other up and sometimes we [bent] but didn't break. I liked that." 
Gilyard said communication is one of defensive coordinator Randy Shannon's demands for the unit. He said Shannon believes if you get the small things right, the big things will take care of themselves.
In addition to communicating better, Gilyard said the defense is working on becoming more aggressive. He said there was some passive play at certain points during games last year and the team is working on staying consistently aggressive.
"At times, we kind of relaxed and took plays off, but this year we got to stay on it," Gilyard said. 
The Knights are looking to replace the production from players such as defensive lineman Trysten Hill and linebacker Pat Jasinski, who are both gone in 2019.
Regardless of who fills those vacant positions, Gilyard said the goal is still to be the top-ranked defense. 
"I feel like we can be the No. 1 defense in the conference, nation – everything," Gilyard said. "So, we just got to go out and put it on the field."