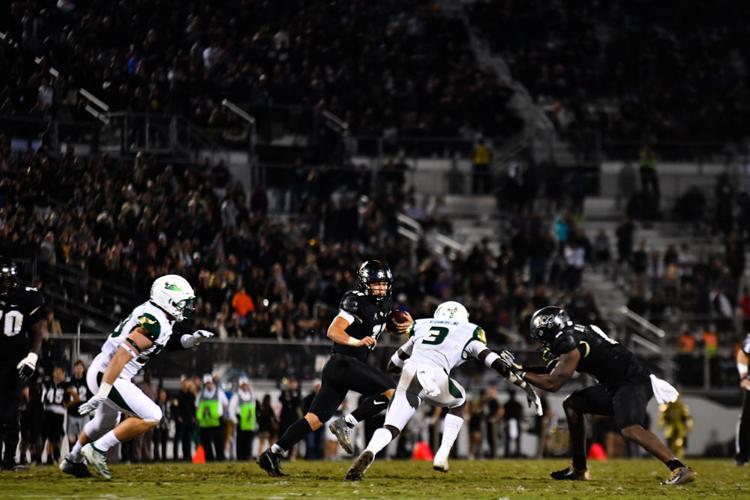 The UCF Knights dominated the USF bulls 34-7, completing its third undefeated home season Friday.
This season UCF (9-3, 6-2 AAC) suffered three losses, all of which were away games.  
"Those three days where we weren't good enough, those were three close ball games," UCF head coach Josh Heupel said. "There are some things that we did that we didn't control the right way, but our kids kept coming back. We got a young football team, and they've grown throughout the course of the season, there's still a lot of growth left."
USF (4-8, 2-6) couldn't contain junior wide receiver Gabriel Davis. Davis led the Knights with 106 receiving yards. 
Davis caught two touchdowns during the game, both from freshman quarterback Dillon Gabriel. The first one was a 19-yard pass at the beginning of the first quarter. The second one was a longer 32-yard pass that happened toward the end of the second quarter.
Davis' two touchdowns placed him at a second-place tie with Bret Cooper for career receiving touchdowns.
"It was good; it felt great to be able to score a couple of touchdowns and put us up early," Davis said.
Senior running back Adrian Killins Jr. led UCF's offense in his final game in the Bounce House. Killins set a new season-high for rushing yards, 115-yards off of 14 carries. Killins also ran in a 35-yard touchdown at the beginning of the second quarter.
Killins finished his regular college football career with 34 touchdowns and 2,459 rushing yards.
"I can't believe I'm a senior now, that was my last game in the bounce house," Killins said. "The moments I've cherished out there with my brothers, I'm never going to forget it."
Gabriel moved into fourth place for single-season passing touchdowns after completing his 27th passing touchdown of the season. He totaled two touchdowns and went 23-of-39 for 270-yards. 
The game was riddled with penalties. Both UCF and USF had 11 penalties in total throughout the game. 
Late in the second quarter, a fight broke out on the field after Killins was pulled down to the ground. Both teams responded by throwing punches.
The fight resulted in 4 personal foul penalties, two for each team, which subsequently offset themselves.
"Every time someone plays there rivals, there's always gonna be a bunch of chippiness going on here and there, but we just don't want to get any stupid penalties like we did," Killins said. "At the end of the day with rivalries, we're gonna have pushing and shoving and whatnot, but we have to put our emotions aside and play smart football so we don't put ourselves in negative positions."
UCF redshirt senior kicker Dylan Barnas hit a 50-yard field goal in the second quarter, setting a new career-high for himself.
After the game, senior linebacker Nate Evans gave his thoughts about being a part of the group who went three seasons undefeated at home — saying they really did something with the program.
"You got young guys looking up to you; you have coaches who know what the standard is, young guys know the standard here," Evans said. "You just have a sense of calmness and happiness knowing that when you're gone, they're gonna do the same thing, they have an expectation to live up to." 
The Knights' next challenge will be their bowl game. When and who they play has yet to be announced. This marks UCF's fourth straight bowl appearance, the first time the program has been to four consecutive bowl games.