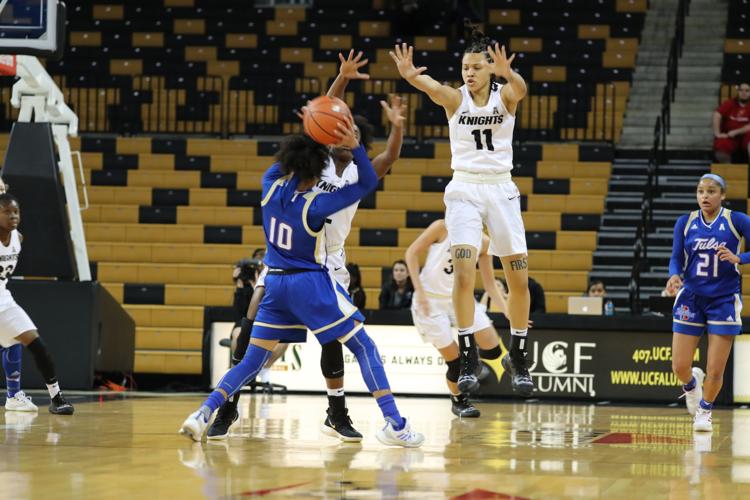 After trailing a few points with just minutes left in the first quarter, the UCF women's basketball team rallied to defeat the Tulsa Golden Hurricane 60-44 on Wednesday night at CFE Arena.
The victory marks the first home win against Tulsa (9-8, 3-1 American Athletic Conference) for the Knights (15-2, 4-0 AAC) since Katie Abrahamson-Henderson took over as head coach of the UCF women's basketball team in 2016.
"They were 3-0, we were 3-0, so somebody was leaving with a loss," Abrahamson-Henderson said. "We didn't want it to be us since this is our home court, and we want to protect home court."
In a fast-paced fourth quarter, the Knights forced four turnovers, giving them control of the ball for most of the game's final stretch.
"Getting the steals that we did in the fourth quarter really helped us pick up the energy," said UCF senior guard Jamesha Paul.
Fellow senior guard Kayla Thigpen contributed to the energy with a layup after a half-court steal from Tulsa's freshman guard KK Rodriguez in the middle of the quarter.
Throughout the game, Tulsa gave in to the Knights' pressure. Abrahamson-Henderson said UCF's heavy pressure helped force Tulsa into numerous turnovers.
Photos: UCF defeats Tulsa with defensive effort
"Our press is really big for us, we like to press the whole floor and just wear people out," UCF junior guard Kay Kay Wright said. "I think it showed. [Tulsa] wasn't able to hit some shots and we stuck with it and wore them out in the fourth quarter."
When asked about the importance of this game from a conference standpoint, Wright said this game was a boost of confidence.
"We now know we can play with anybody," Wright said. "We saw a lot of people get to play and get to score. We're very confident going into games in the future."
Wright ended the night with 18 points, five rebounds and seven steals.  
By knocking off the previously undefeated Golden Hurricane in conference play, the Knights and the UConn Huskies are the only remaining teams with undefeated conference records.
UCF will look to extend its winning streak to six games as the Knights take on the SMU Mustangs at 2 p.m. Saturday at CFE Arena.