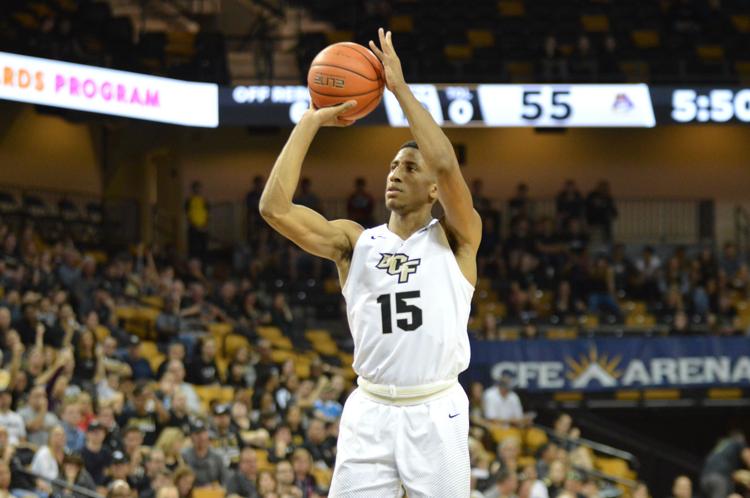 The UCF Knights men's basketball team faced an unanticipated level of physicality as they hung on to defeat the Eastern Carolina University Pirates on Sunday by a final score of 76-65.
Despite offensive aggression from both teams that resulted in 50 fouls overall (ECU 31, UCF 19), the Knights capitalized with their offensive strategy and defensive efficiency, bringing their record to 13-2 (3-0 American Athletic Conference).
The Knights' offense claimed 16 offensive rebounds in this game, allowing UCF redshirt junior guard Aubrey Dawkins and senior forward Chad Brown to expand the lead.
"The biggest thing about rebounding is it's an effort and energy set," Brown said. "It doesn't take amazing skills or anything like that, it's just heart and effort. That's something that we put a stamp on and that's something that we focused on this week."
The Knights were able to get 17 second-chance points due to 16 offensive rebounds, which resulted in a steadily aggressive Pirates defense.
"You have to give them credit," Brown said. "They came out and they fought and competed and, as a competitor, you love that. You want to play against teams that are going to bring it and give it their all, so for us to respond to them and be able to finish it out with a win, I was proud of our guys."
Both the Knights and the Pirates were outwardly frustrated after several fouls brought them to the free throw line, a result of the matchup's physical nature.
UCF head coach Johnny Dawkins met the penalties in stride, taking note of the fact that his athletes responded to the calls with maturity.
"The game was physical, and so there will be a lot of fouls called and you just have to adjust to it and, fortunately, I think we have a mature group," Dawkins said. "We didn't shoot the free throws as well as I would've liked, but the fact that we got to the line that many times is a positive so I was really proud of that."
Reflecting on the victory over ECU, Aubrey Dawkins said the team's ability to build momentum and not give up as conference play progresses is key in meeting aggressive teams with clean play.
"This is conference play," Dawkins said. "Teams fight, but nobody is going to give up out there. As long as that clock's ticking, there's a game to be played, and [we] are not going to give up till the final buzzer."
The Knights will travel to Kansas and face the Wichita State Shockers at Charles Koch Arena on Wednesday, Jan. 16, with tipoff at 10 p.m.