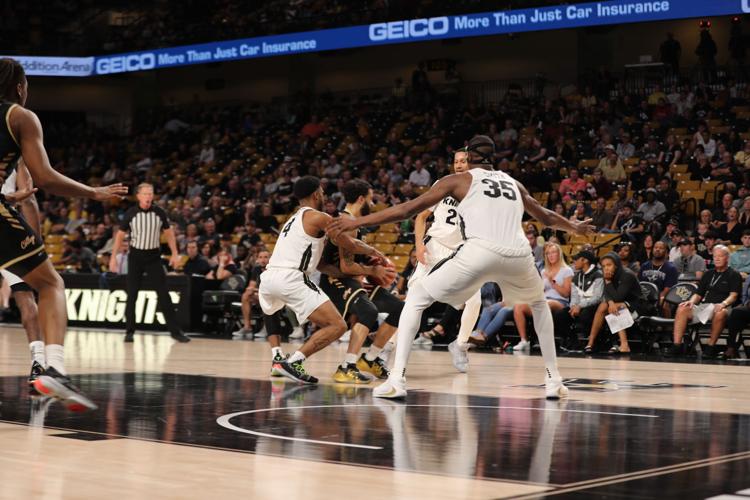 The UCF men's basketball team extended its winning streak to three games after defeating the New Jersey Institute of Technology 78-65 in a non conference matchup, Saturday at Addition Financial Arena.
The Knights (6-2) continue to produce wins after going 2-1 in the Wooden Legacy tournament in Anaheim, California last weekend.
Redshirt junior guard Ceasar DeJesus lead the Knights finishing with 17 points, on 8-of-10 shooting from the field. DeJesus, who battled a foot injury last season, is beginning to once again find his groove within this UCF team.
"I think he's settled in to knowing who he is out there on the floor," head coach Johnny Dawkins said. "He is all about winning. I'm happy to see him have the success he's been having."
Redshirt senior guard Dazon Ingram added 13 points and a team high of five rebounds. Redshirt junior forward Collin Smith, freshman guard Darin Green Jr., and redshirt freshman guard Dre Fuller Jr. all added 11 points to the total, putting all starting five Knights in double digit scoring for the first time this season.
"We try to play unselfish, that's one thing we're big on," Green said. "We look to feed the post first, and then work our way inside out."
Dawkins also commented on the five starters in double digits scoring.
"I don't know how many times that's happened in my career here, but it doesn't happen too often," he said.
UCF came out of the gates strong, leading 17-8 with 12:40 left to play in the first half. After back-to back three pointers from Dejesus and redshirt senior guard Matt Milon, NJIT head coach Brian Kennedy took a timeout to regroup his players.
The Highlanders responded to the timeout by switching from a 2-3 zone defense to a man to man. Their offense also made some adjustments, outscoring the Knights 14 to three over the next four minutes, with junior guard Zach Cooks leading the way.
Cooks leads NJIT in scoring this season, averaging nearly 24 points per game.
"He's a terrific scorer," Dawkins said. "His job is to try to win the game at all cost and I give the young man a lot of credit for fighting until the very end."
Cooks scored 15 of his 26 points in the first half, while his team trailed 41-30.
Both teams went bucket for bucket for the first couple of minutes of the second half, however UCF soon found its rhythm on offense once again.
UCF's lead jumped to 76-51 after outscoring NJIT 35-21 in the second half with four minutes remaining. Fuller and Smith lead the Knights' charge, both scoring nine of their eleven total points in the second half.
"I just focus on the defense. The energy, deflections, and steals," Fuller said. "I know offense is going to come. Offense you go out and make shots."
NJIT did not go down without a fight, closing out the game on a 14-2 scoring run. Despite these efforts the clock struck zero on the Highlanders, sending them home with their fifth straight loss.
"Depth is a strength of ours," Dawkins said. "I was really pleased by how we started the game, that was one of our best starts of the year."
The UCF men's basketball team will look to continue their winning streak at home in the Addition Financial Arena Tuesday night at 8 p.m., as they take on the University of Green Bay Phoenix (3-5). UCF Students will also have the chance to receive a free UCF holiday t-shirt after the game.