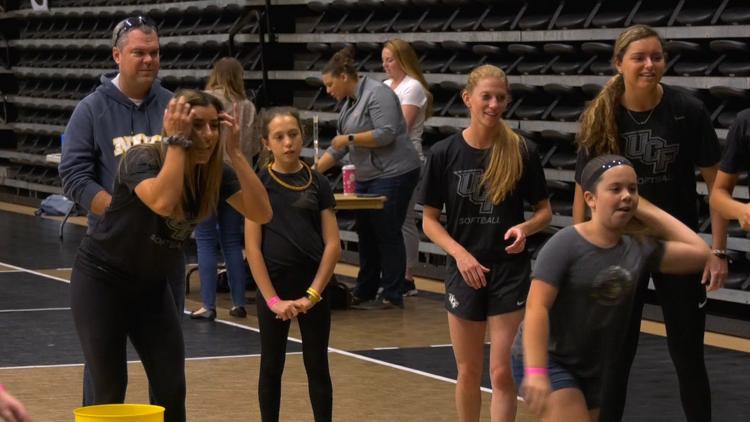 February is about a lot more than candy grams and boxed chocolates.
The first week of the month is nationally recognized as the time to celebrate women in sports.
In 1986, the U.S. Congress and former president Ronald Reagan made a joint resolution to have a specific "National Women in Sports Day" in the hopes of boosting equality and morale in women's sports.
Student athletes and coaches within UCF's women's sports — and even Knightro — showed up to The Venue at UCF for the second-annual free children's sports clinic on Feb. 1. Children ages 14 and under got the chance to try various sports, such as volleyball, soccer, softball, rowing, basketball, tennis and cheerleading.
According to the Women's Sports Foundation, National Women in Sports Day, aka "National Girls and Women in Sports Day," originally brought together leading sports organizations and elite female athletes to shine a light on the promise and potential of women in sports.
The WSF also states that the 1987 celebration was in memoriam of Olympic volleyball player Flo Hyman, who championed women's equality in sports and died the previous year of Marfan syndrome, a genetic disorder of the body's connective tissue.
To this day, there are still many events this time of year that pay homage to women who have a love for the game, no matter the game.
Tiffany Roberts Sahaydak, the UCF women's soccer head coach, who is also an Olympic gold medalist and 1999 FIFA Women's World Cup champion, attended the event and said this kind of recognition is great for both young girls and the players, as well as for building the UCF family through sports.
"I think it's just a great opportunity for the community to get together and really focus on the girls and the women in sport and expose little girls to new sports maybe that they've never tried," Sahaydak said.
Some female athletes like Olympic sabre fencer Mariel Zagunis have gone public about facing and overcoming the stigma of playing "like a girl" during their rise to the top.
This stigma has gone so far in the past that menstrual hygiene brand, Always, launched its #LikeAGirl campaign in 2014 to promote confidence in women and girls everywhere.
"7 out of 10 girls feel they don't belong in sports," Always said on its website. "And as they're pressured to conform to societal expectations, it's no wonder that at puberty girls' confidence plummets and half quit sports. Yet sports are exactly what help girls stay confident."
UCF volleyball right-side hitter Anne-Marie Watson said that not only participating in these nationwide events, but taking the time to motivate girls, helps to crush the stigma and give inspiration to future players.
"I love just kind of being able to give back," Watson said. "To show what I know and get girls to love the sport that I love and why I fell in love with it, and hopefully they'll fall in love with it too and they'll want to continue it as well."
This is not to say that fellows can't get in on the fun.
Representatives from UCF Athletics at the event said that not including other genders would be unfair and would take away from the importance, meaning and overall spirit of National Women in Sports Day.
As for the children who participated in these festivities, they say they were taught a lot more than how to throw a mean curve ball or how to dunk a basketball.
Sisters Savannah, 5, and Kayli, 9, said they love volleyball and softball and that getting a chance to play with the "big girls" in these sports gave them a real-time example of what it means to have girl power and work as a team.
"You play hard, but you can also have fun with your friends," Kayli said.