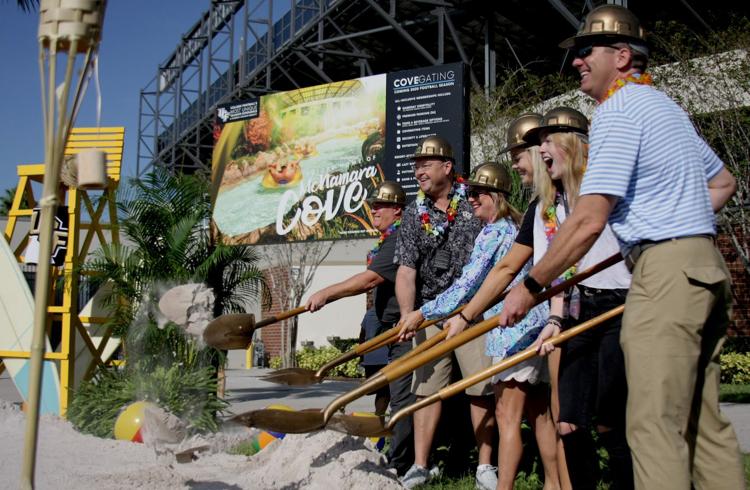 Knights fans can officially start counting down the days until McNamara Cove opens after groundbreaking the site of the future amenity Saturday morning.
McNamara Cove, located between the Wayne Densch Center for Student Athlete Leadership and the Garvy Nutrition Center, will include a lazy river, two pools, two volleyball courts, food, drinks, bathrooms and more. 
"We started back in February of 2017 trying to build a vision of developing an athletics village that attracts and retains championship caliber student athletes and coaches," said Mark Wright, deputy athletic director for championship resources. "And today is the next step towards that."
After the groundbreaking today, construction will begin soon after this year's football season and will open at the start of the 2020 football season.  
UCF alumni Tom and Stacey McNamara, who graduated from UCF in 1988 and 1989 respectively and met at a football game in 1988, donated $1 million to UCF Athletics in 2018 for the amenity. 
"Athletics in general has been an integral part of our relationship with UCF," Tom McNamara said.
McNamara Cove will serve as a place where student athletes can congregate and recover after training during the week. On football game days, it will serve as the most unique tailgating game day experience in the country, Wright said. 
UCF Athletics will offer season-long packages for $2,500 to 250 people for an all inclusive tailgating membership at McNamara Cove that UCF is calling "Covegating." 
"Covegating will be an all-inclusive membership, every single game of the season for all you can eat, all you can drink, hang out with high end barbecue,"  UCF Director of Athletics Danny White said. 
According to a UCF Athletics news release, the $2,500 membership will include: 
Exclusive access to McNamara Cove's lazy river, pool and sand volleyball courts, lounge chairs, bocce ball green, service cabana, lockers and changing rooms

Premium parking in Lot E6 

Food options, including sides and appetizers 

Drinks including water, soda, lemonade, beer and wine cocktails 

Covegating items such as Cove-themed towels, inner tubes and giveaways

Security and lifeguards

Entertainment and music

McNamara Cove will open three to four hours before kickoff and close at kickoff
So far, White said over a quarter of the memberships have already been purchased and he expects them to sell out very quickly. 
White also said he views McNamara Cove as an extremely advantageous recruiting tool as well as a huge revenue generator for UCF Athletics. 
McNamara Cove will also be available for single day rentals throughout the year for social and corporate events. White said McNamara Cove is 100% privately funded.