The UCF Athletics Department broke ground on its $3 million expansion of John Euliano Park, home of the Knights baseball team, Saturday.
"It's a really exciting time for UCF with everything that's going on," Athletic Director Danny White said. "But nothing [is] more exciting than what this facility is going to do for our baseball program. We feel like we can build a top five athletic department across the board, and we certainly have a baseball program with limitless potential."
The expansion plan includes a new home plate tower, which will feature a 300-seat premium club section with indoor and outdoor seating.
"It's a big occasion," said head coach Greg Lovelady. "A big deal. I think anytime you can have something like this, it's a program changer; to know that the future is going to be a lot brighter with a lot of different things. But, this is going to be a big part of it, and I'm really excited about the future."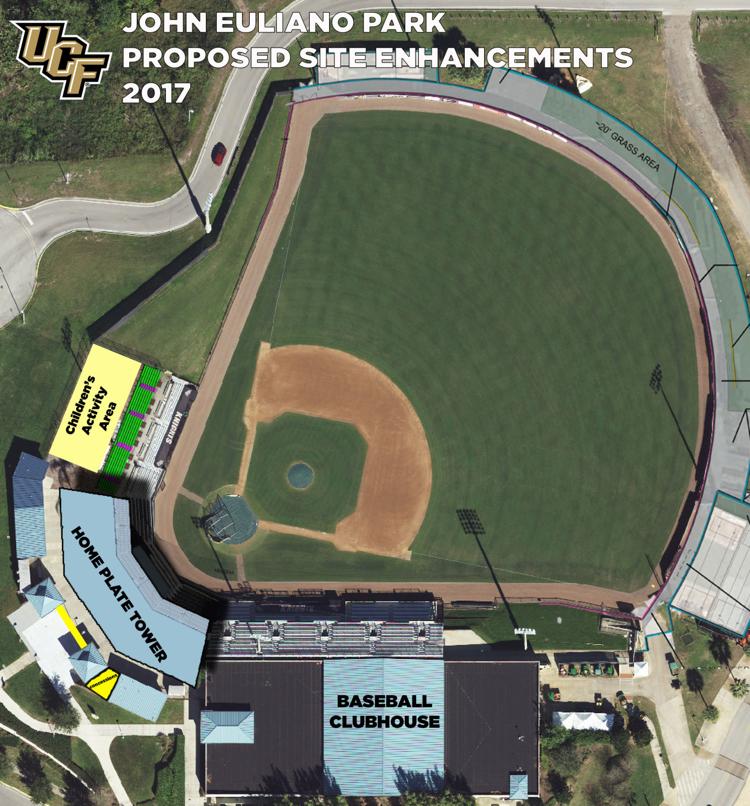 Vice Chair of the UCF Foundation's Board of Directors John Euliano donated $1.5 million to the expansion and spoke at the groundbreaking ceremony. Euliano's son graduated from UCF and his daughter is a current student. 
"I've always been a baseball fan, athletics fan in general," Euliano said. "But getting to know some of the people in athletics, it becomes easier and easier to support."
Lovelady said the expansion of the ballpark will allow the student-athletes a place to be comfortable in, chase their dreams of playing professional baseball and will enhance their college experience.
"When this project is completed, it's going to benefit our program in three ways," said senior catcher Logan Heiser. "First, it's going to enhance the game day atmosphere. Second, our coaches will be able to show off this stadium to recruits to help ensure the future success of UCF baseball. Third, we'll be able to give back to you, the fans."
The expansion is expected to be completed before the start of the 2018 season in February.