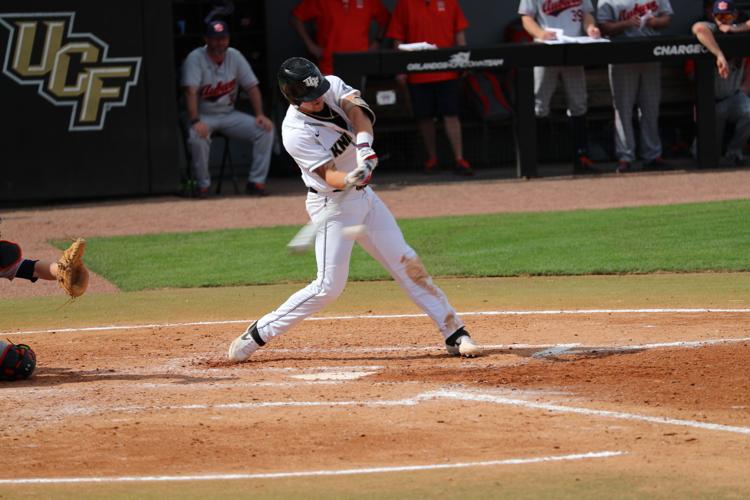 UCF baseball faces off against Penn State this weekend in a three-game series at John Euliano Park.
After playing a 13-inning game against the Ball State Cardinals on Wednesday — with temperatures in the 50s — UCF improved its record to 9-3 on the season. 
The Knights got off to a slow start both offensively and defensively against the Cardinals.
UCF redshirt junior right-handed pitcher Tom Cheshareck was pulled after walking the first three batters after opening the game for the Knights. UCF also struggled to get bats swinging in the first few innings of the game. 
Meanwhile, the Cardinals were busy playing small ball gaining one run at a time giving the team a 4-0 lead going into the bottom of the seventh inning. 
The Knights got the offense going in the seventh inning, scoring four runs to tie the game.
After some missed opportunities and back and forth scoring from each team, junior outfielder Pedro Castellano hit a single to right field allowing UCF to defeat Ball State 9-8 in 13 innings.
UCF looks to keep its momentum going into the weekend series against Penn State.
On offense, the Knights will rely on redshirt senior infielder Tyler Osik, redshirt junior outfielder Ray Alejo, junior catcher Dallas Beaver and senior outfielder Chandler Robertson, who has been a reliable designated hitter for the Knights.
UCF head coach Greg Lovelady said he hopes the team takes away what they learned during Wednesday's game for games in the future.
"We got to remember that and remember why we were able to be successful tonight and just be able to duplicate that in situations when they come up again," Lovelady said.
The Knights are looking for their second sweep of the season and will have to do it short-handed in the bullpen with several key pitchers out with injuries.
Right-handed pitchers freshman Zack Hunsicker, senior Garrett Westberg and sophomore Jack Sinclair are expected to step up and take the mound for the Knights during the series. 
Castellano said he optimistic going into the series after his big hit to win the game on Wednesday.
"I feel good," Castellano said. "I feel confident after this and we are just going to do our best."
First pitch of the series will be on Friday at 6 p.m. at John Euliano Park.