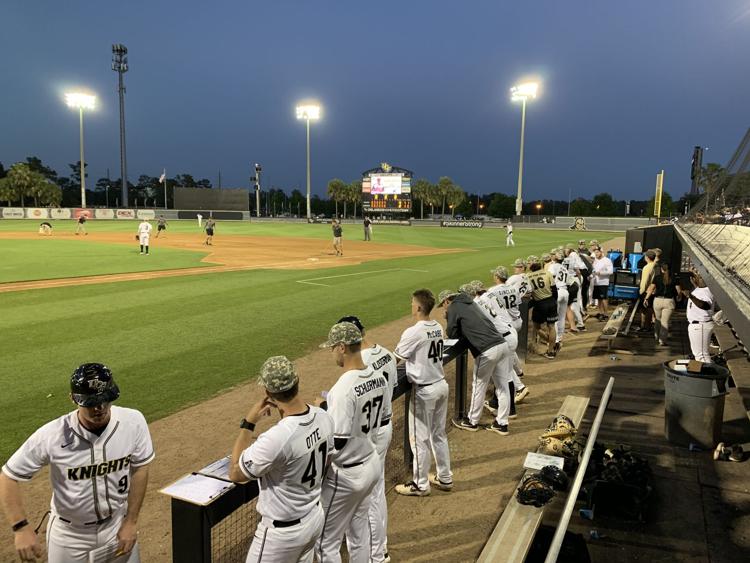 The 21-15 UCF baseball team is set to continue American Athletic Conference play this weekend against the league's newest school, the second-year Wichita State Shockers. 
The series marks the Knights' first visit to Wichita in program history. 
UCF is coming into the series with just a 4-8 record in conference play, leaving them in seventh place out of nine. The Knights will be looking to sweep the series away from the Shockers in Kansas to help gain some ground. 
Last year, the two teams faced off in Orlando, where the Knights took two out of the three games from the Shockers.
This series is just as crucial for the Shockers. They come into the series with an overall record of 18-18 and a 3-6 mark in conference play, putting them in the eighth place.
UCF is coming off a 5-3 loss to FAU Tuesday night, which marked the end of the team's unbeaten streak in midweek games. UCF led early thanks to senior pitcher Jordan Spicer, who went five innings without allowing a run. But the Knights bullpen struggled late, giving up four runs in the top of the sixth, putting them in a deficit that the offense could not come back from.
UCF head coach Greg Lovelady said he is hoping for his pitching staff to pick it up in the latter half of the season, despite many injuries in the bullpen.
"I'll probably leave [the starter] as unknown on Sunday and try to win Friday and Saturday," Lovelady said after Tuesday's game.
Redshirt junior center fielder Ray Alejo said there is still a lot of time left in the season for the Knights to gain some ground in the AAC standings.
"There's no reason to freak out. The season's not over," Alejo said. "We still got a lot of games left and everyone's just got to stay positive."
First pitch of Thursday's series opener is scheduled for 7 p.m. at Eck stadium in Wichita, Kansas.