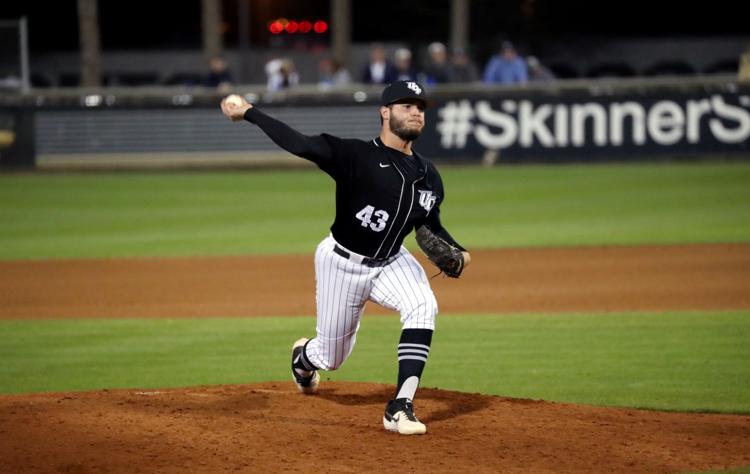 The UCF baseball team snagged a midweek series finale victory on Wednesday night in an 8-1 win over the Yale Bulldogs at John Euliano Park.
UCF redshirt junior left-handed pitcher Jaylyn Whitehead's ability to dominate the mound led the Knights to an almost scoreless game. The Bulldogs didn't score their sole run of the game until the top of the eighth inning.
Whitehead pitched for five innings, where he threw 39 strikes, struck out three batters and allowed three hits before freshman right-handed pitcher Zack Hunsicker took the mound in the top of the sixth. 
UCF head coach Greg Lovelady said Whitehead gave the Knights the motivation they needed to be able to build off of for the rest of the game. 
"Jaylyn gave us a great start, we needed it," he said. "He was able to throw strikes and mix speeds."
Whitehead said he credits his success during the five scoreless innings to his pitching style and his ability to focus.
"My fastball was moving a lot tonight and my change-up was good as usual," he said. "I was really hitting spots, I was locked in."
Lovelady said Wednesday's performance was night and day for the pitching staff after the Knights were outpitched during Tuesday's series opener.
"All the pitchers got ahead and threw more strikes today," he said. "It was just amazing how much different the game is when you do that."
The Knights also played a successful offensive game, batting seven RBIs throughout the night. Three of RBIs came from sophomore shortstop Adams Torres during the second and fifth innings.
Torres hit a single into center field allowing sophomore third baseman Griffin Bernardo and senior pinch runner Chandler Robertson to score.
A single hit to right field by UCF senior second baseman Matthew Mika brought in Torres to bring the Knights up to seven runs to end the fifth inning. 
UCF junior right-handed pitcher Liam Silvagnoli took the mound in the eighth inning to relieve Hunsicker. Silvagnoli closed out the game for the Knights, striking out four batters and allowing a run and three hits. 
With the win, the Knights are 12-5 on the season while the Bulldogs fall to 3-9.
The Knights will go up against the VCU Rams for a three-game series beginning at 6 p.m. on Friday at John Euliano Park.