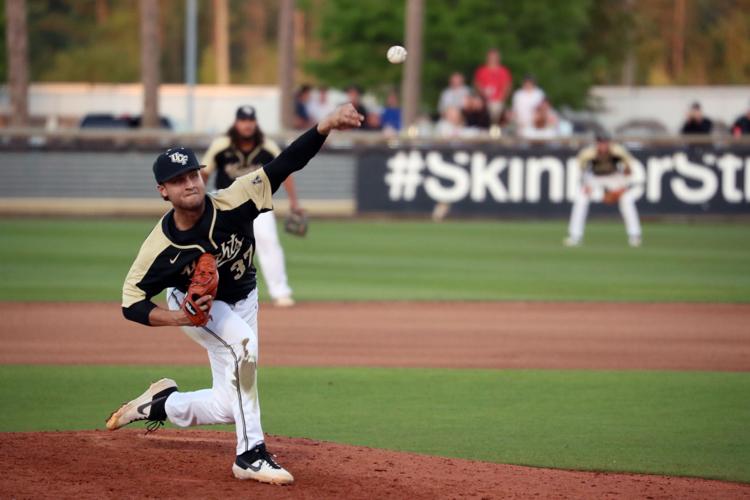 The War on I-4 rivalry series returns this weekend as the UCF baseball team hosts a three-game series against South Florida. 
The Knights are coming off a big 13-4 road win against the Stetson Hatters on Tuesday night. The 13 runs were a season-high, and head coach Greg Lovelady said there is plenty that he wants his team to carry over into the weekend.
"Laying off elevated pitches, being able to walk more, being able to — especially early in the count — get pitches that we can do damage on and use the big parts of the field," Lovelady said. 
UCF hasn't gotten off to a hot start in American Athletic Conference play, getting swept by East Carolina before losing two of three to UConn last weekend.
However, after the big win against Stetson, the team still has high hopes about the season.
"Obviously we want to get back on track," senior outfielder Chandler Robertson said. "It was a tough first couple of weeks, but there's a lot of confidence in that locker room right now that we're going to come out and be ready to play USF and take hopefully two or three games from them."
Both UCF and South Florida are sitting at the bottom of the conference with a 1-5 record in AAC play.
The Knights have a slight advantage this weekend, as they own a 15-8 record at home, while the Bulls have struggled away from Tampa. They own just a 1-6 record in away games this season.
Despite the bad start to conference play, Lovelady is still optimistic about the rest of the season.
"I just think it's the next series on the schedule, obviously we're both not playing as well as we want to in conference but there's still a lot of games to be played," Lovelady said. "We just need to worry about trying to do what we can do and put ourselves in the best situation to be the highest seed possible and just played better."
First pitch for Friday's series opener is set for 6 p.m. at John Euliano Park.