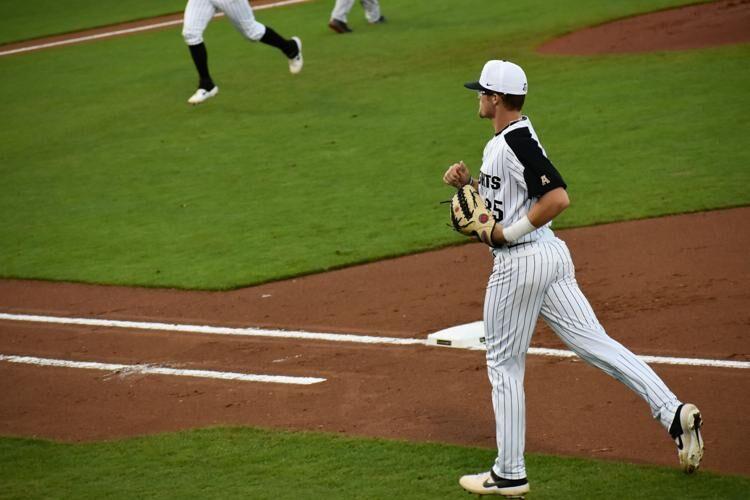 UCF baseball's most important day of its upcoming season is today.
The most important day of the season is also tomorrow. And the next day.
UCF redshirt senior and star power hitter Jordan Rathbone said that lesson about the importance of everyday is instilled countless of times by head coach Greg Lovelady, teaching them to take the season day by day.
"We just try to focus one day at a time and just know that today's the most important day of the season," Rathbone said in a Feb. 16 press conference.
Last season, the Knights did take it one day at a time, and they did it at a high level. According to UCF Athletics, UCF was ranked No. 12 in the country by D1baseball.com, riding a 15-3 record halfway through the 2020 season.
Another weekend sweep bumps us up a couple spots in the @d1baseball poll #ChargeOn ⚔ pic.twitter.com/c2mSIApJSL

— UCF Baseball (@UCF_Baseball) March 9, 2020
However, just like the rest of UCF's spring sports, baseball was cancelled for the remainder of the season due to the coronavirus pandemic. But even with a shortened season, Lovelady said he saw a drive from the team he hadn't seen before, setting them on a path to compete with the best.
"There was this excitement, but a drive to want to be great, to put this place on the map," Lovelady said. "We felt like we had started on that path."
This year's team will continue down that same path as Lovelady said he saw signs of last year's drive. However, standing in the middle of that path is a tough slate of opponents, including No. 6 ranked Ole Miss and No. 25 ranked East Carolina, according to D1baseball.com.
The Knights are ranked No. 24 themselves in Baseball America's preseason rankings, but still face one of the toughest schedules they have seen with games against FAU, North Florida, Jacksonville and Liberty.
"Definitely a huge challenge, but at the end of the day, I love challenging our kids, especially in our conference," Lovelady said about the schedule.
Challenging themselves in the AAC won't be hard as No. 25 ranked ECU was picked as favorites to win the conference for the third straight year, according to the AAC.
Even more challenging, the Knights will have to take on ECU and others without last season's leading hitter in junior outfielder Dalton Wingo. Lovelady said Wingo decided to retire from baseball after the 2020 season was cut short.
The Knights will also be without their best relieving arm in right handed pitcher Jeffery Hakanson. Hakanson led UCF last year with six saves and gave up zero earned runs in 8.1 innings pitched.
His stellar season was rewarded with a fifth round selection by the Tampa Bay Rays in the 2020 MLB Draft, bringing the Tampa Bay native back home.
Hak's headed home! 🏠@jhakanson18 picked by @RaysBaseball in the fifth round 🙌#BuiltByUCF ⚔ pic.twitter.com/eXX7Fkwdve

— UCF Baseball (@UCF_Baseball) June 12, 2020
However, even without their best hitter and reliever, the Knights will have help taking down the AAC juggernaut with new bats and old ones. One of those new bats is freshman infielder Alex Freeland who took home D1baseball.com's Preseason AAC Freshman of the Year honors.
𝗣𝗿𝗲𝘀𝗲𝗮𝘀𝗼𝗻 𝗔𝗔𝗖 𝗙𝗿𝗲𝘀𝗵𝗺𝗮𝗻 𝗼𝗳 𝘁𝗵𝗲 𝗬𝗲𝗮𝗿 ⬇️ @alexfreeland10 // @UCF_Baseball 🔗 https://t.co/WBCTsBaJNI pic.twitter.com/9mg1NWcd4T

— D1Baseball (@d1baseball) February 8, 2021
Rathbone, who is one of the old bats, said there is a lot to like from young players like Freeland, and praised all of the newcomers for being exactly what UCF is looking for.
"We're all literally best friends just trying to go after our goal, after our mission and be the best we can be, so I think they fit into that nicely," Rathbone said. " They just want to be a part of a special program that we're trying to build."
There is a lot to like from Rathbone as well, who led last year's team with three home runs and 17 runs batted in. Joining Rathbone's hitting talent is sophomore outfielder Gephry Peña, who was second on the team in hits last year, pairing that with a .314 batting average, according to UCF Athletics.
With this, UCF has both experienced and young bats to lead its offense, and talented arms to lead its defense.
According to the AAC, UCF's redshirt sophomore starting pitcher Colton Gordon and junior relief pitcher Jack Sinclair were named to the AAC Preseason All-Conference Team. Lovelady said Gordon has been their best guy, striking out 24 batters last year and earning the first start of this season against FAU on Feb. 19.
UCF's next man in the starting rotation isn't an experienced arm, but rather a young, developing one.
Coming into his second year on the team, Lovelady praised the growth that he has seen from sophomore Hunter Patteson. Patteson noticed his growth too and said he feels like he can throw with the best of them.
"I definitely think my mentality changed. I definitely think I've grown my confidence," Patteson said. "Last year, I wasn't the biggest, baddest guy on the mound."
"This year, I feel like I'm a top guy," Patteson said.
Redshirt junior relief pitcher David Litchfield also praised Patteson and his growth. He said Patteson went from a smaller role to one that requires big shoes after starting pitcher Trevor Holloway left the team.
"He's jumping right into the Saturday role, which was Trevor Holloway's role last year who was arguably one of our best pitchers," Litchfield said. "I'm excited to see what he does with that role and that opportunity knowing he has pretty big shoes to fill."
Litchfield also praised last year's team and said they felt like they were the best in the country. Rathbone believes that too, and said UCF's opponents are going to have a rough time facing them this season. He said he and the team are ready to go and ready to prove their worth one day at a time.
"I just think it's going to be tough for anybody to come in and beat us," Rathbone said. "If they beat us, they're going to have to earn it. We're ready to prove to the country that we're a real time baseball team."
"We're not just some little brother in Florida," Rathbone said.