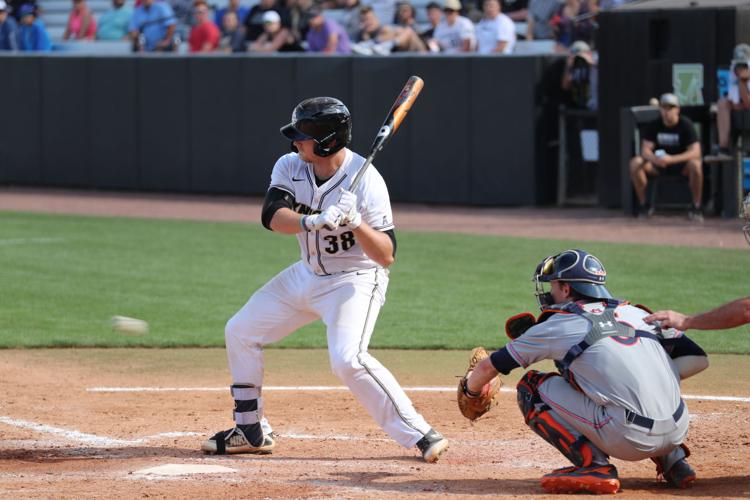 The UCF baseball team took its second loss of the season in a 13-9 slugfest against Auburn Sunday at John Euliano Park.
"You look at this and this should give us something to strive for, knowing that we played toe-to-toe for three games against these guys and had opportunities to sweep them," UCF head coach Greg Lovelady said. "We've got to be able to use that and motivate us just to get better."
The Knights fell short against the Tigers in the final game of the three-game series, after losing their first game of the season to the Tigers on Friday and turning the series around to defeat Auburn on Saturday.
The series finale against the Tigers – a Southeastern Conference team – ended with a total of 26 hits, 22 runs and seven home runs.
"I thought we played a great game today but just had a few balls that didn't go our way," UCF junior catcher Dallas Beaver said. "[Auburn] made a few more great plays, we didn't botch balls or anything, but they made great plays that turned the game around."
UCF sophomore right-handed pitcher Jack Sinclair took the mound straight out of the dugout to replace injured redshirt junior right-handed pitcher Zack Helsel in the top of the fourth inning. Lovelady said he had not yet been updated regarding Helsel's injury.
The Tigers took advantage of the situation and scored four runs, bringing their lead to 9-6.
UCF redshirt senior Tyler Osik fired back in the bottom of the fourth with a home run to left field, bringing it to a one-run game.
"Offensively, for the first six or seven innings, I thought we did a really, really good job," Lovelady said. "I thought we pressed a little bit late, like trying to do too much in some at-bats where we had some chances … but there's guys that crushed balls in the seventh, eighth and ninth innings and that's just the game of baseball."
Beaver hit a home run in the bottom of the sixth inning to score the Knights' last run of the game.
"Friday was a pitch or two here, today was also a pitch or two here, and at the end of the day, we showed that we can compete," Beaver said. "That's what we're out here trying to do, we're trying to compete with the best in the country and with our schedule."  
The Knights will travel to take on the Florida Gators on Wednesday at 6 p.m. in Gainesville, Florida.