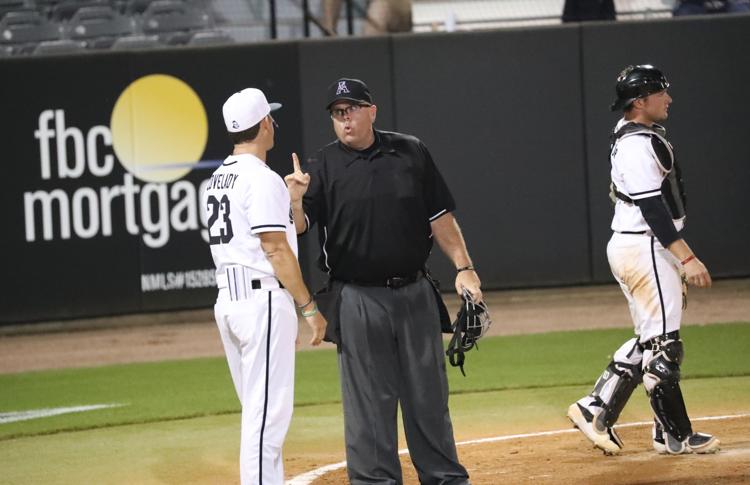 The UConn Huskies defeated the Knights 3-1 in extra innings in the second game of the series on Saturday at John Euliano Park.
The Huskies utilized situational hitting at the top of the 11th inning, getting two runners on base with bunts and earning two RBIs to take the 3-1 lead and win the game.
The home plate umpire made a call that changed the game after UCF senior right-handed pitcher Garrett Westberg pitched a ball that UConn junior first baseman Chris Winkel appeared to have half swung at.
UConn senior outfielder Michael Woodworth took advantage of what the umpires agreed was a wild pitch and tagged up on third and ran home to score, bringing the Huskies up 2-1 at the top of the 11th inning.
UCF head coach Greg Lovelady quickly took to home plate to discuss the ruling, arguing the ball was hit by the half-swung bat in Winkel's at-bat and was a foul ball, not a wild pitch. The umpires did not agree.
"I thought I heard two noises," Lovelady said. "It's just frustrating."
UCF redshirt senior Chris Williams pitched a season-long seven innings for the Knights. The right-handed pitcher took the mound to start the game and allowed one run, two strikeouts and five hits.
Williams said although the loss was hard, it only motivates the team to make improvements for the next game.
"This one obviously hurts especially in a game that was so close," he said. "Just a few pitches here and there and we could have taken the win pretty easily so it definitely stings a little bit but we need to come out tomorrow and take it serious."
The Huskies took the lead in the second inning, but UCF quickly tied it up in the third when senior outfielder Chandler Robertson hit a single to left field to bring in senior shortstop Brandon Hernandez.
Hernandez made it home after reaching first due to a fielding error at third base at the top of the third, swiping second and reaching third thanks to a sacrifice bunt from junior pinch hitter Pedro Castellano.
The game went scoreless into the ninth inning, leading to extra innings, where UConn came away with the win.
After leaving nine players on base through the 11-inning game, Lovelady said the team struggled offensively.
"Pitchers did a great job, kept us in the game for all that time," he said. "[Chris Williams] was awesome, bullpen guys did their jobs. We were just bad offensively."
With the victory, the Huskies improve 16-9 on the season, while the Knights fall to 17-10.
The Knights will play the Huskies again for the third game of the three-game series at 1 p.m. on Sunday at John Euliano Park.