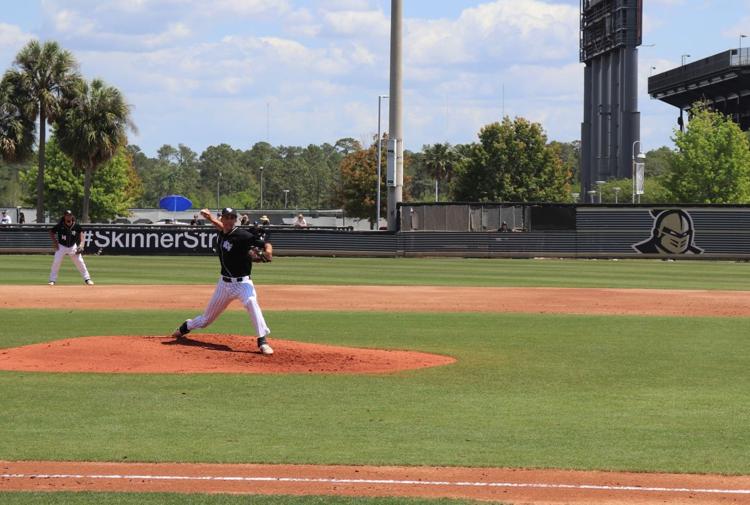 In the final game of their weekend series, the Knights were defeated by the UConn Huskies 10-0 on Sunday at John Euliano Park. 
After the Knights were unable to get a run on the board, the game ended after the bottom of the seventh inning due to the 10-run rule.
UCF head coach Greg Lovelady said after winning the first game of the series on Friday night, he wasn't expecting to lose the series but said he noticed a change in the team's energy after Saturday night's loss.
The Huskies came on strong in the top of the third inning when senior catcher Thad Phillips and junior shortstop Anthony Prato hit home runs.
The home runs allowed junior first baseman Chris Winkel, freshman designated hitter Kyler Fedko and senior outfielder Michael Woodworth to also score.
The five runs by the Huskies brought the score to 8-0. The Huskies scored their first run quickly in the top of the first inning and another two runs during the top of the second.  
After the five runs from the third inning, the game was scoreless until the top of the sixth when UConn scored another two runs, bringing the overall score to 10-0.
Lovelady said he knows players go through rough patches, but was frustrated by the loss after the Knights went through five pitchers in seven innings.
UCF redshirt junior left-handed pitcher Jaylyn Whitehead started the game and was relieved by sophomore right-handed pitcher Jack Sinclair in the top of the third in an attempt to slow the Huskies early momentum.
The Knights' brought in junior right-handed pitcher Liam Silvagnoli after Sinclair gave up two back-to-back hits to start the inning. Still in the top of the third, Silvagnoli gave up five runs and was relieved by redshirt senior pitcher Luis Ferrer.
UCF freshman right-handed pitcher Zack Hunsicker was brought in during the top of the seventh inning after UConn scored two runs off Ferrer in the top of the sixth.
"I'm just frustrated. We didn't pitch well enough today," Lovelady said. "[We] just couldn't put the innings away."
The loss brings UCF's season record to 17-11 and the Huskies to 17-9 on the season. The Knights play their next game against Stetson University at 6:30 p.m. on Tuesday in Deland, Florida.
Lovelady said the team is going to focus on hitting and pitching during Monday's practice to get prepared for Tuesday's game.
"We just have to grind and get better and figure out a way," Lovelady said. "Good things don't happen to guys who just sit around and hope — hope is not a game plan."