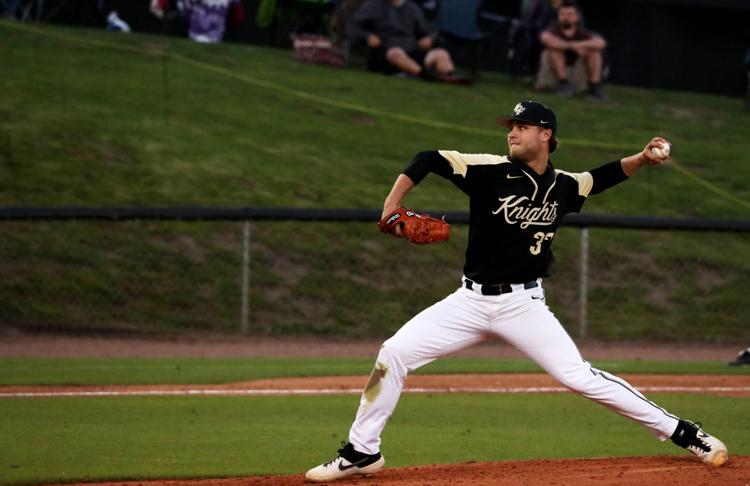 After shutting out the North Florida Ospreys on Wednesday, the UCF baseball team defeated the UConn Huskies 2-1 in the first game of its weekend series on Friday at John Euliano Park.
UCF left-hand pitcher Grant Schuermann threw a complete game as the series starter. The redshirt senior allowed four hits and one walk in the nine innings he was on the mound. 
"It feels good just trying to do everything I can to keep my team in these games and get some wins," Schuermann said. "Especially on a Friday night." 
UCF head coach Greg Lovelady said he's happy with Schuermann's performance throughout the game.
"We knew it was going to be a challenge," Lovelady said. "It's huge that [Schuermann] got up there and matched them pitch for pitch and gave us a chance."
The Knights scored the first run in the bottom of the first and the Huskies wouldn't respond for three innings. Redshirt junior outfielder Ray Alejo hit a double to left field and advanced to third after senior second baseman Matthew Mika grounded out to second base.
Alejo took advantage of a wild pitch by Huskies junior left-handed pitcher Mason Feole and scored the Knights' sole run of the inning.
UCF kept the lead until the top of the fifth inning when UConn freshman outfielder Kyler Fedko hit a solo home run, tying the game 1-1.
The game remained tied until the bottom of the eighth when a single hit by Mika brought home Alejo, scoring the Knights' second and last run of the game. 
After the ECU Pirates swept the Knights in last weekend's three-game series to mark the first the American Athletic Conference series of the season, Lovelady said the win is what the team needed to recover from the weekend loss. 
"It was a huge Friday win," Lovelady said. "We needed it just to feel better probably about ourselves from last weekend."
The game marked the first conference win for the Knights, bringing their season record to 17-9. The Huskies are 15-9 on the season. 
"I'm proud of the guys and how we played tonight," Lovelady said. "Hopefully we'll take this momentum through the rest of the weekend."
The Knights play their second game of the series 6 p.m. Saturday at John Euliano Park.