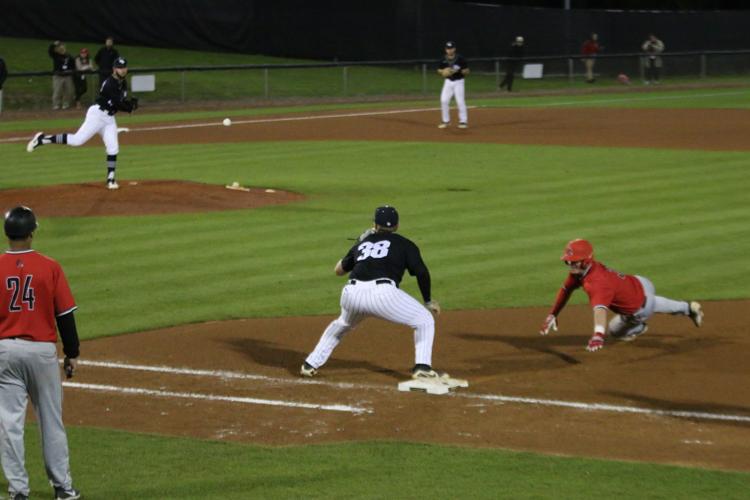 The UCF baseball team played a close game against the Ball State Cardinals on Wednesday night with a 9-8 win in 13 innings.
After trailing 8-6 heading into the bottom half of the inning, junior infielder Pedro Castellano singled to right field and drove in redshirt senior Luis Ferrer the game winning run in the bottom of the 13th.
Offense struggled to make a run in the first six innings but quickly beefed up by the seventh, leaving senior Matthew Mika to turn up the heat, scoring two runs.
Playing in below 50 degree weather, Knights head coach Greg Lovelady said he knew the boys weren't used to the cold like he is and it might have affected the game.
"This is the weirdest game I've ever had," he said. "I was really proud of the offense, it could have been easy to just lay over and die after we missed a couple opportunities when we give up the run and score back, but overall we didn't."
The Cardinals pushed through the top of the ninth inning, leaving junior outfielder Aaron Simpson an opportunity to steal second.
UCF countered with freshman catcher Ben McCabe's single bunt to second on a throwing error. Mika advanced to third while sophomore outfielder Dalton Wingo scored, but the point was unearned.
Cardinals scored two runs in the twelfth to take the lead but the Knights tied up the score by getting two runs and forcing the game to go into the thirteenth.
Junior infielder Pedro Castellano said although he sat on the bench for twelve innings, he's always ready for anything to happen. 
"As a team we keep hitting, we do what we know and trust our abilities to come back from whatever runs." he said.
Castellano gave Ball State a run for its money as the nail-biting inning ended.
"I hope they remember this [referring to the team]," Lovelady said. "Every time we're down to nothing we get up and fight back, and those are the type of approaches we have to take sometimes."
UCF will start a three-game series against Penn State on Friday. First pitch is scheduled for 6 p.m. at John Euliano Park.