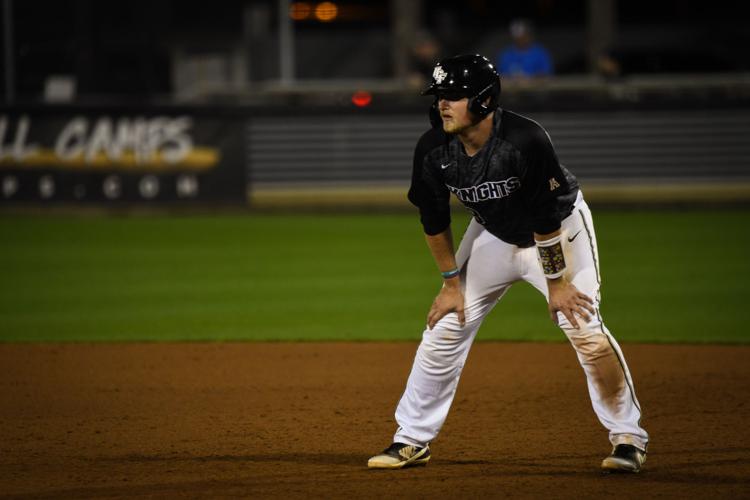 The UCF baseball team clinched its opening weekend series on Saturday night with a 5-1 victory over the Siena Saints at John Euliano Park.
For the second straight night, the Knights found themselves in a pitchers' duel with the Saints. They scattered eight hits throughout the first six innings, but only had one run to show for it.
It wasn't until the seventh inning that the Knights got their offense going, scoring four runs to get some separation before the back end of the bullpen shut the game down.
"We did better [offensively]," head coach Greg Lovelady said. "Just some of those guys that I thought were a little bit antsy yesterday, I thought settled in a little bit more [tonight]. I thought we had better at-bats."
UCF's seventh-inning rally got started with a single by senior infielder Tyler Osik.
After Osik stole second, sophomore infielder Griffin Bernardo drove him in with a bloop double to give UCF a 2-1 lead. The Knights then added some insurance with a three-run home run by sophomore outfielder Dalton Wingo.
"[I was] just trying to get the ball into the gap and score Griff [Bernardo] from second. [I'm] just trying to help the team win, that's all," Wingo said. "Honestly, I didn't think I got it. I thought I got it deep enough to move him to third. I really didn't expect that one to go out."
After UCF took the lead, sophomore right-handed pitcher Jack Sinclair — who got the Knights out of a two-out jam in the top half of the seventh inning — went on to work a scoreless eighth inning. He was credited with the victory.
Redshirt senior Kyle Kemp then worked a 1-2-3 ninth inning to finish off the victory.
The success of the pitching staff in the first two nights of the season is something that Lovelady said comes as a byproduct of the tone that pitching staffs of the past set in their time with the program.
"It is a culture that the pitchers have that was started by the Juan Pimentels, the Robby Howells and the Drew Faintichs," he said. "They just came in here and worked, and they get better and they want to compete. [The pitchers] have carried it over every single year, and those guys have really bought in."
Junior right-handed pitcher Trevor Holloway got the start for UCF, working through four scoreless innings. He allowed just one hit, but walked five to run his pitch count up. That led to an early exit in his UCF debut.
"I thought I threw well," Holloway said. "I didn't have my fastball command like I normally have, so [I was] just learning to get guys out with what you have and keep pounding the zone."
He was relieved by redshirt senior left-handed pitcher Luis Ferrer, who allowed an unearned run in the fifth inning to tie the game.
UCF picked up the game's first run in the third inning on back-to-back doubles by redshirt junior outfielder Ray Alejo and junior utility player Dallas Beaver.
From there, the Knights missed a number of opportunities. They left two men on base in the fourth and fifth innings before leaving the bases loaded in the sixth.
"We've got to be able to hit with runners on and runners in scoring position," Lovelady said. "We knocked out 13 hits and we scored [five] runs, with [three] of them being on a three-run homer. I felt like we should've put some more runs on the board."
Despite those wasted opportunities, UCF managed to break through when it mattered most. With the victory, the Knights improved to 2-0 on the young season and gave themselves a chance to finish off a sweep of the weekend series on Sunday.
"We win the series, and that's huge. That's what our goal is every weekend," Lovelady said. "Now, we can tell the guys we've got to find a way to sweep. When you get chances to sweep teams, you've got to take advantage of it and pick up games in that situation."
First pitch for Sunday's series finale against Siena is scheduled for 1 p.m. at John Euliano Park.