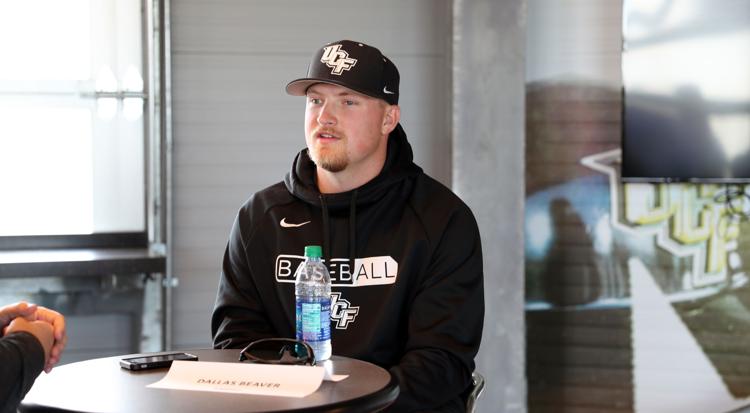 In his two years on the UCF baseball team, junior catcher and infielder Dallas Beaver has been a reliable force for the Knights on the baseball field.
As a freshman, he appeared in 20 games for the Knights. Last year, he made the American Athletic Conference Second Team as a utility player. 
All the while, he graduated with a degree in criminal justice. Nowadays, he is working on a dual degree. He's in the process of getting a master's in public administration and another master's in criminal justice at UCF.
When it's all said and done, Beaver will have three degrees and be one step closer to his goal of working for the FBI. 
"I've never had anyone work in law enforcement in my family, so I don't know where that spark came from, but it's something that I feel led to do," he said.  
Beaver said that he's always felt a call to serve and admitted that he thought about going into the military, but baseball changed his plans.
Even with the change of plans, he still wants to heed to the call that he has to serve others. 
"I think it's really important that we get good law enforcement officers, and it's something that I want to have some kind of influence in and if that works out, maybe run for local office one day, so we'll see," Beaver said. 
Beaver, who attended Osceola High School for his senior year, committed to play baseball at UCF in ninth grade while at Heritage Christian School in Kissimmee. He took dual-enrollment classes through Valencia College, which allowed him to earn two years of college credits while still in high school.  
"I was fortunate that UCF allows something like that, and I'm also fortunate that the baseball team saw me that early so I had time to figure it out," he said. "If it weren't for that, I probably wouldn't be able to do it." 
Redshirt junior outfielder Ray Alejo and Beaver are roommates and best friends. It's still a mystery to Alejo how Beaver can finish all of his schoolwork in a timely manner. 
"Dallas [Beaver], he's different," Alejo said. "He does school like really fast. I don't know how he does it ... He works hard at it ... He's always doing his homework and making sure everything is on time and to the best of his ability." 
Beaver said he likes to keep his personal goals to himself, but he has high hopes for the baseball team and in the classroom. 
"We want to win our conference," he said. "It starts there. We have higher goals than that. We want to make regionals and have a shot to play for a championship." 
As difficult as balancing the rigors of baseball and the demands of school might be, Beaver said he doesn't want sympathy because he knows it will be worth it in the end. 
"Don't feel bad for me over here in my corner," he said. "You just have to bite the bullet and do it."