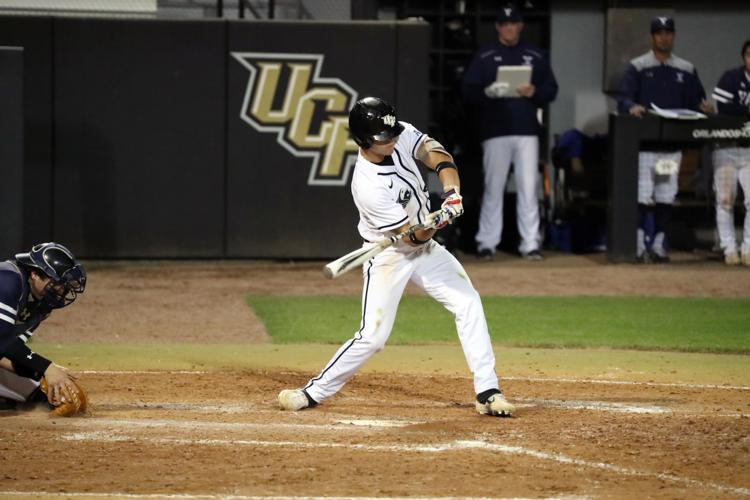 The UCF baseball team came out on top 7-5 against the Yale Bulldogs Tuesday night in a nail biter off the strength of a stellar four-run first inning from the Knights' offense.
The Knights were looking to rebound after losing two games during the three-game series over the weekend to Penn State.
UCF head coach Greg Lovelady said the win would not have been possible without the critical offensive and defensive plays of sophomore outfielder Dalton Wingo and redshirt junior outfielder Ray Alejo.
"Our MVPs of that game were Wingo and Alejo, [for] their catches in the outfield," Lovelady said. "I think they made four or five amazing catches that really saved the game for us."
Wingo hit a home run to left field in the bottom of the fifth inning — marking his second home run of the season. The sophomore recorded three RBIs in the game.
"I was just seeing the ball really well tonight," Wingo said.
The UCF pitching staff found themselves in a couple of tough situations against Yale's batters.
UCF senior right-handed pitcher Jordan Spicer started the game for the Knights and pitched through the top of the fifth inning. Spicer allowed three hits, three runs and struck out two batters before being relieved by sophomore right-handed pitcher Jack Sinclair.
Sinclair gave up two runs in the three innings that he pitched, bringing the Knights lead down to one run by the top of the seventh inning.
"We have to pitch better, get ahead more," Lovelady said. "We're wasting too many pitches."
UCF right-handed pitcher Kyle Kemp came in at the top of the eighth inning to relieve Sinclair. The redshirt senior didn't allow a single hit or run in the one inning he was on the mound. 
Kemp faced a 3-2 count with two outs and a runner in scoring position when he struck out Yale senior pinch hitter Tim Degraw. 
"We trust our stuff and we're going to utilize that until proven that we can't," Kemp said.
The Knights' offense continued to excite as redshirt senior first baseman Tyler Osik stole second base and freshman outfielder Gephry Pena stole third, allowing senior Matthew Mika to pop a fly ball into left field to bring in Pena for the decisive seventh run in the eighth inning. 
UCF sophomore right-handed pitcher Jeff Hakanson took the mound in the ninth inning and closed out the game for the Knights, but the Bulldogs went scoreless from the seventh inning on. 
With the win, the Knights are now 11-5 on the season including a 10-5 home record while the Bulldogs fall to 3-8 on the season.
The Knights will face the Bulldogs in the final game of the two-game series Wednesday at 6 p.m. at John Euliano Park.