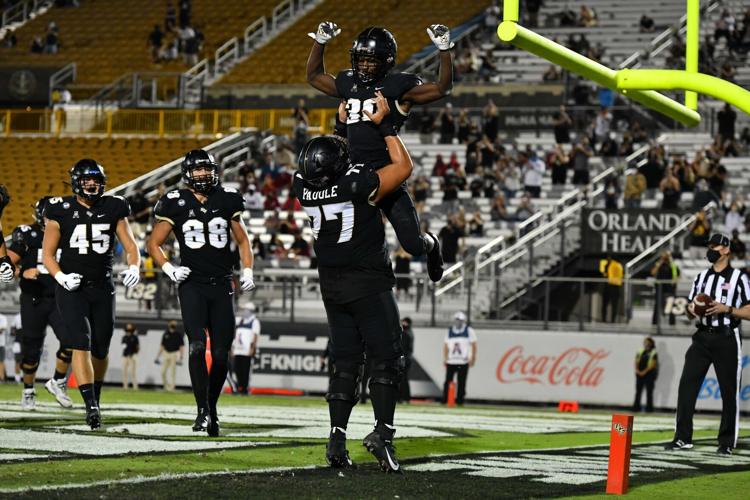 Strength meets strength when the number one offense in the AAC meets the number one defense on Saturday. 
UCF (5-2, 4-2 AAC) comes into the matchup against No. 7 Cincinnati (7-0, 5-0 AAC) averaging 44 points per game, fresh off a 38-13 victory over Temple last Saturday. The Bearcats come into the Bounce House giving up 12.4 points per game this season, after a 55-17 victory over East Carolina last Saturday.
The two teams will kick off in Orlando at 3:30 p.m. on ESPN.
UCF head coach Josh Heupel said it will be a huge test for his offense but stressed that they have to find a way to be plus one.
"These guys are playing as good as anybody in the country defensively," Heupel said in press conference on Thursday, "and a lot of their skill players are guys on that side of the football I should say have, you know, we've been matching up with them for a couple of years so, our guys have familiarity with them and are looking forward to the matchup."
UCF opens up as a six-point underdog versus Cincinnati. The Knights will be an underdog for the first time since the 2019 Fiesta Bowl against LSU, a 20-game span. 
Leading the way for the Cincinnati defense this season has been linebacker Jarell White. White comes into Saturday leading the Bearcats in tackles with 65, adding two sacks and an interception. Heupel said that White has an ability to make plays and be physical, often having an impact on the final score of the game. 
The Bearcats defensive success has been aided by a knack to force turnovers. They come in at fourth in the FBS in forced turnovers with 16. Sitting in first however, is UCF. 
The Knights were aided in the Temple game by two forced turnovers in the first quarter that helped them jump out to a 21-0 lead. 
Standing in the way of the Bearcat defense will be quarterback Dillon Gabriel and the Knights offense. While Gabriel threw for "only" 268 yards and two scores against Temple, he is still second in the FBS in yards with 2,774 and second in touchdowns with 23. 
Entering the toughest challenge of the season, Gabriel said it will be a great opportunity for the offense to see how they match up.
"It's just another opportunity, like I said they're a great team and they play really hard so it's gonna be a tough deal on Saturday," Gabriel said in a press conference on Monday. "But you know, we're gonna prepare as hard as we can and then you know, we're going to go out and do our thing as well so, we're excited for the opportunity. You know, lot of the guys are focused like always and we're gonna attack this week like we do every single week."
In addition to throwing to the FBS' second leading receiver in Marlon Williams, as well as Jaylon Robinson and Ryan O'Keefe, Gabriel could be joined by Tre Nixon for the first time since the first half against Georgia Tech on Sept. 19.
Nixon has been out injured for the last six games for UCF. Nixon recently returned to practice and Heupel said on Thursday the doctors will look at him at the end of this week and they will make a final decision on his availability for Saturday. 
While the Knights have the ability to sling it, a complimentary run game has helped keep the balance, with running backs Otis Anderson and Greg McCrae leading the pack. 
Cincinnati head coach Luke Fickell said UCF's ability to have big plays in the run game is what makes them dangerous. 
"I think they have done a really good job of kind of refining a little bit of their run game, really sticking to it and they have made bigger plays," Fickell said in a press conference on Tuesday. "Everybody knows about the shots down the field, everybody knows about the quarterback and the wide receivers, but their ability to make some big plays in the run game to me is where they're different offensively in all that I've seen from them in the last three years."
UCF will hope it can continue to make more plays in the run game against the top rushing defense in the AAC, allowing only 112 rushing yards per game. 
While the defense grabs the headlines for Cincinnati, the offense brings enough punch to down any opponent. 
At the helm is quarterback Desmond Ridder. Ridder has been much improved as a passer in his junior season, completing 66.7% of his passes, throwing for 1,483 yards and 14 scores. 
Ridder also brings a propensity to run the football, despite running it less than he had during his first two seasons. On the year, Ridder has 469 yards and nine touchdowns. Ridder's rushing input is only surpassed by running back Gerrid Doaks, who has run for 563 yards and seven touchdowns.
The two lead a rushing attack that paces the AAC with an average of 247 yards per game. UCF defensive line coach Shane Burnham said the number one focus of the defense will be to stop the run game and said that Ridder's improvement has made him even more dangerous. 
"I think Desmond does an unbelievable job extending plays with his feet," Burnham said in a press conference on Tuesday. "He's hurt people, I can go back to his freshman year watching tape coming into that game thinking, 'Oof, this guy's going to be a handful,' and all he's done, you know, like most quarterbacks is he's got more natural with his progressions and his throw game, how he gets from one receiver to the next."
For any sense of the contrast between the two teams, look no further than the matchups against Memphis this season.
For UCF, it was a night time shootout where the two teams amassed over 1,500 yards of total offense. Memphis would defeat UCF 50-49 after place kicker Daniel Obarski missed a 40-yard field goal to win the game. 
Cincinnati blended its stout defense with an efficient offensive display to down the Tigers 49-10 on a Halloween rematch of the 2019 AAC Championship Game.
Things have changed for UCF recently, as the defense has played its best football in last two games, giving up a combined 34 points. Amid the dismissal of four defensive starters, defensive lineman Cam Goode and linebacker Tatum Bethune have been thrust into starting roles and have shined down the stretch. 
Goode leads the team with three sacks, while Bethune is fourth on the team in tackles with 33. 
Looking back on the recent memory, Saturday's matinee will be the latest installment of perhaps the two most talented teams in the AAC. 
In 2018, there was the grandeur. College Gameday was in town and the Knights responded to the moment with a 38-13 victory to keep their unbeaten streak alive. 
In 2019 however, there was the letdown. The Bearcats upset the Knights 27-24 to announce themselves to the college football world, signaling a shift in the AAC. 
Saturday's game could potentially mark the last home game in the careers of players such as McCrae. For the senior, McCrae said he wants to be known for his work ethic when it's all said and done.
"I want to be remembered as a hard worker," McCrae said in a press conference on Wednesday. "You know, every game that I played in since I've been here, you know coaches they give out these bands that's called 640 club member or a game ball, and basically that's just meaning that when you're out there every single play, you're playing as hard as you can for every snap, from whistle to whistle and there's never been a game that I haven't been a 640 club member or a game ball member."
Despite the matchup against a top ten opponent, Heupel said that the preparation remains the same, but the players are amped up for the game. 
"Really good football team that's playing at a high level, all three phases of the game, highly ranked," Heupel said. "Cincinnati's got our full attention and we'll be ready to play."