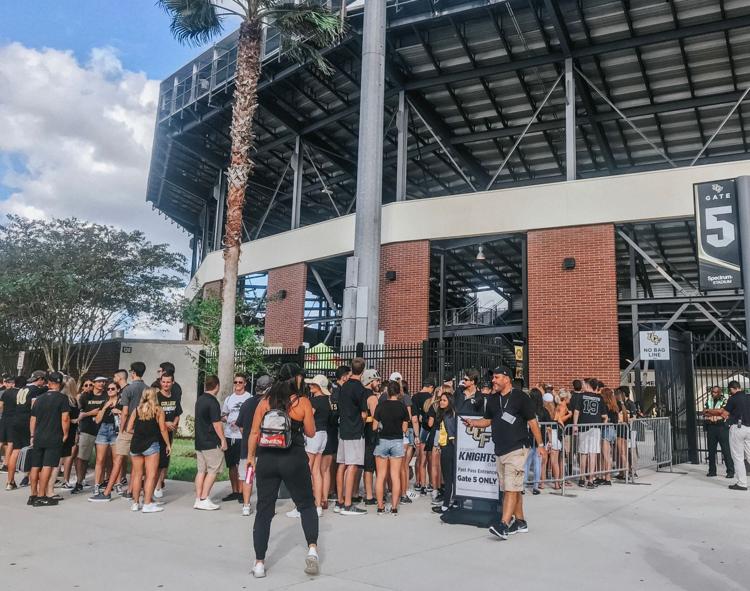 As the largest public university in Florida and with a winning streak of 28 games in back-to-back regular seasons, UCF has created a massive turnout for games in recent years. 
One downside to the growth of the UCF fan base has been the lack of available seating for dedicated fans. Student Knights Club recently introduced Fast Passes into football games to enhance the experience of fans entering Spectrum Stadium.
Fast Passes allow SKC members to enter through a separate gate, avoiding the crowd and long waiting period at the regular student gates.
Before the UCF vs. Stanford football game on September 14, the official Instagram account for SKC and the Knightmare student section, @knightmare_ucf, advertised this additional benefit to students for a $30 membership fee.
The need for a Fast Pass system became apparent after the opening home game this season against Florida A&M University which caused hoards of students to be turned away with an hour left to kick off; these Fast Passes were a perk and solution that UCF Athletics introduced.
Caleb Perez, graduate assistant for Championship Resources, is a coordinator for SKC as well as an overseer for donor and booster giving. It's these donations that enhance the student athlete experience, according to Perez, a former student athlete. 
Since the Instagram post, there has been an exponential growth in donations coming through new SKC memberships, with more than 350 new students and counting.
"Student Knights Club allows students to be a part of something bigger than themselves," Perez said. "It's a 'stay to the end, no time left on the clock' community of dedicated UCF fans."
The money gained from new memberships go completely towards student athlete resources. The Student Athlete Welfare & Development Department puts these donations from Student Knights Club towards academic resources; this includes tutoring, networking opportunities and workshops to promote their professional development. 
With all the effort that is put into helping the athletes, UCF has one of the highest Academic Progress Rates (which measures overall GPA and graduation rate for athletes) with a score of 984 out of 1,000. This puts UCF at the highest Academic Progress Rate for football in the state of Florida as of last season.
With all the recent commotion around the Fast Pass, it's easy to think that is the only benefit of Student Knights Club, but members also get early access to guest tickets, bowl game tickets and benefits with baseball and basketball games later this year.
Melody Halpert, sophomore computer science major, is one student who has experienced this first hand as a new SKC member. As someone who stays from kickoff to last whistle, she saw the Fast Pass as assurance of getting into the game before the stadium hit capacity.
"It was great. We get there early and get good seats," said Halpert. "[You] might get hit with a couple footballs."
It's the dedicated fans like Halpert that Student Knights Club caters to, making it a high priority for UCF to figure out how to make the line and seating process go smoothly for all guests. 
Social media has been a prominent influence in fans finding out about new perks to Student Knights Club and other sports' announcements. It's through these outlets that students can learn about new special incentives, such as one this past week where the first 100 students attending the soccer game received express vouchers for football games.  
Brooke Morris, sophomore advertising and public relations major, knows the importance of these announcements as a social media intern for the official Instagram account of UCF athletics. 
She has seen first-hand how social media can help. Whether it's answering questions about tickets, gates, tailgate or showcasing exclusive deals to the first students in line, social media gets the word out.
It is through this accessibility that students' game day experience can be enhanced, especially with news regarding Fast Passes or new line-up times.
"Danny White, I know, is very on board with having a large student section," Morris said. "It's important to him that students get involved and go to the games since they're so passionate."
These Fast Passes are only the beginning to UCF's solution. As of Wednesday, UCF announced that there would be changes to game day lines and entry. 
UCF's efforts to accommodate the increased turnout this season has been implemented with six extra student gates, more staff on-hand, an earlier line-up time and food and water available for sale in line.
Danny White, vice president and assistant director of athletics, tweeted after the game against University of Connecticut, "Appreciate the passion of our students! I'm happy to see our adjustments to get them in the stadium quicker seem to be working!"
Through all its efforts to accommodate the large and growing student body, UCF has been addressing these issues and concerns of fans.  The effort pays off by selling out its season tickets and having numerous games this season already sold out to a stadium packed with dedicated fans.