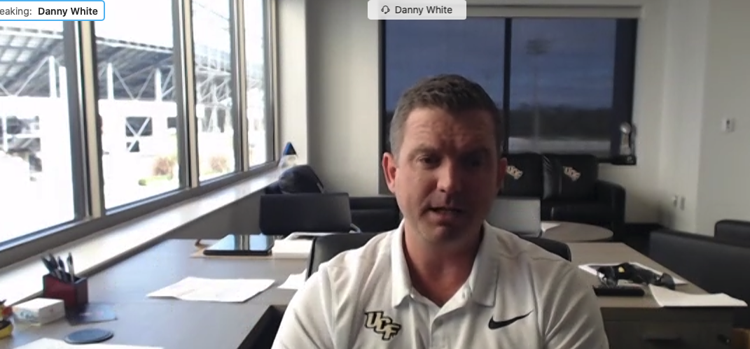 UCF's Athletics Association has been struggling to pay bills due to the impact COVID-19 has had on its finances, forcing it to ask for millions from the Board of Trustees. 
"It will be a reputational hit to us and it would be very difficult to remain optimistic if we didn't get this support," said Brad Stricklin, executive associate athletics director and chief financial officer for the UCF Athletics Association. "We have to travel, our teams have to compete, unless we made the decision to stop then we would have a number of sports not compete in the spring, it would be that drastic."
The UCF Athletics Association asked the Board of Trustees at the Finance and Facilities Committee meeting on Nov. 19 for deferment of loan payments for two years, temporary support from the UCF Foundation for a $3 million dollar loan and an increase for the Athletics Association's line of credit of $3 million dollars. 
"We are scrutinizing every expense that does come through and we have gone through two different budget cuts," Stricklin said. "I even got a request from our golf coach for a $30 dollar annual planner, and I wondered if he really needed that." 
The association estimates it has a $4-5 million shortfall due to the pandemic despite cutting budgets by $4.3 million in September. 
"I don't want to say anything in a public meeting like this to suggest doomsday, but we were already drastically understaffed compared to the level we are competing in nationally," UCF Athletics Director Danny White said. "When you have a skeleton crew operation going into a year where we were supposed to grow with a significant new TV deal and sponsorship deals we have been able to get." 
The Athletics Association still owes UCF over $5.19 million to be paid by June 2025 from a loan it received from the university from 2004-2008.  
The Athletics Association budgeted for $5.1 million to account for the lost revenue it anticipated the pandemic would bring, however, the loss of three football home games, reduction in stadium capacity to 25%, testing protocols and additional cleaning and quarantining expenses created a larger shortfall in cash than initially thought possible. 
This comes as the Board of Trustees anticipates a 3% budget cut from state funding used to help run the university. The Finance and Facilities Committee will bring budget reallocation plans to President Alexander Cartwright, which will generate $25 million dollars that can be used to offset possible state budget cuts or to support academics in the event the state doesn't issue university budget cuts, said Joe Trubacz, UCF interim chief financial officer. 
Every 1% cut from the state is equivalent to about $3.2 million dollars, Trubacz said.
The increased line of credit and temporary support for the Athletics Association was approved by the Finance and Facilities committee in the Nov. 19 meeting.
"This is not just a UCF issue," said Alex Martins, Orlando Magic chief executive officer and UCF Board of Trustees member. "This is an issue for the entire state university system, as well as for collegiate athletics around the country."