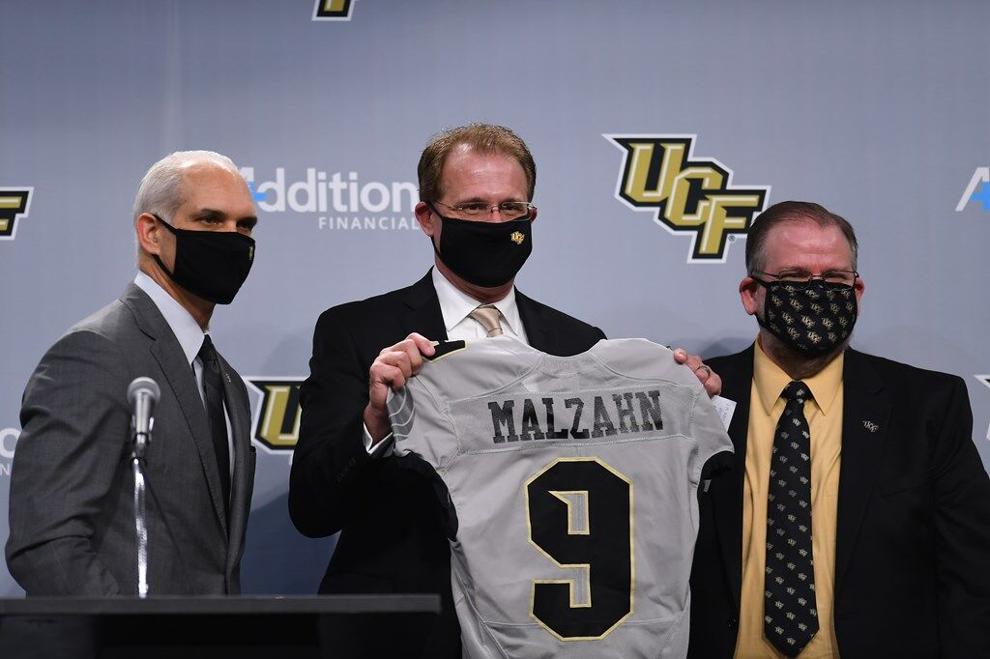 UCF sent shockwaves across college football Monday when it announced the hiring of Gus Malzahn as its new head coach.
BOOM‼️Let's #ChargeOn, @CoachGusMalzahn

— UCF Football (@UCF_Football) February 15, 2021
UCF brought in a proven winner in Malzahn, who had a 68-35 record in eight seasons with Auburn and led the Tigers to the National Championship Game in 2013.
The hire was met with positivity from UCF and college football fans, who are eager to see Malzahn's winning ways come to Orlando.
UCF not only makes a home run hire in #GusMalzahn; it's a grand slam home run!!! Is it safe to say the Knights now have the most accomplished college football coach among the state's Big 4? Here's my column: https://t.co/EAB8WEYQDk pic.twitter.com/8dtQa0vPwM

— Mike Bianchi (@BianchiWrites) February 16, 2021
With (potentially) Gus Malzahn we will:-always compete for the conference-not lose games due to bad clock management-not kick a field goal down 28-probably always win 10 games Just saying'

— b naes (@ucf_problems) February 15, 2021
Honestly, this was the best hire UCF could make in Malzahn. He won 67% of the games he's coached in, went to a national championship, beat Nick Saban 3 times, can recruit Florida and runs a successful offensive system. Plus, he'll come cheaper, given the AU buyout. Smart hire.

— Ryan Bass (@Ry_Bass) February 15, 2021
It seemed to be a match made in heaven for UCF. Malzahn had planned to take a break for the 2021 season, but his mindset changed when the UCF job became available.
Gus Malzahn: "Until this job came open, I was ready to sit out a year.'When this job came open, I told my wife this is one we're going to be very interested in."When they offered the job, I was in."

— Josh Vitale (@JoshVitale) February 15, 2021
After speaking with the players, UCF athletic director Terry Mohajir realized that Malzahn was the right person for the job. Malzahn also expressed his excitement for getting to work with the Knights in his introductory press conference on Monday.
In announcing the hiring, new #UCF athletic director Terry Mohajir said it became quickly clear Gus Malzahn checked all the boxes for what the Knights were looking for. pic.twitter.com/RTir5LiPfa

— Jon Alba (@JonAlba) February 15, 2021
Malzahn set the bar high for the Knights in his introduction, claiming that the program will earn its first College Football Playoff berth in short time.
The claim drew mixed reactions from Twitter users. Some embraced it with open arms.
"I truly believe we will be in the final four in a short period of time" GUS MALZAHN FOREVER

— jeremy taché 😷 (@jeremytache) February 15, 2021
Others scoffed at the idea of a Group of Five team qualifying for the playoff.
The entire nation to Gus malzahn pic.twitter.com/Mp2H53o7oi

— Scar (11-5) (@Scar0096) February 15, 2021
Malzahn replaced former UCF coach Josh Heupel, who left to take the same position at Tennessee on Jan. 27. Some users said that the Knights upgraded at head coach despite Heupel getting poached by the Volunteers.
Josh Heupel ends up at Tennessee.Gus Malzahn ends up at UCF.How about that?

— Jon Alba (@JonAlba) February 15, 2021
Gus Malzahn would be a great hire for UCF. Tennessee should've hired him instead of Heupel.

— 12th man stan account (@12th_man_stan) February 15, 2021
Malzahn's hiring caught the attention of two prominent head coaches in the state, Jeff Scott of USF and Dan Mullen of Florida. Both praised Malzahn and are excited to coach and recruit against him.
Scott on new #UCF head coach Gus Malzahn: "I think it'll add more fuel to the fire to the War on I-4. We battled as one of the best in the SEC and one of the best in the ACC, so to be able to bring that down here to Florida will be really exciting." @therealBeede

— Will Turner (@WTurner247) February 16, 2021
Mullen says he's happy for Gus Malzahn. They're friends and go back a ways. Everybody at #UCF should be excited for him to come in, Mullen says.

— Matt Baker (@MBakerTBTimes) February 16, 2021
As UCF ushers in a new era, the hiring of Malzahn serves as a reminder of just how far the program has come.
UCF's signing of Gus Malzahn speaks volumes about the staying power of UCF's national brand. When we talk about the G5/AAC , UCF - Cincinnati are your two best brands and what is the only rivalry with national appeal. Houston and Memphis added in.

— DrewBelani (@DrewBeeNYC) February 16, 2021