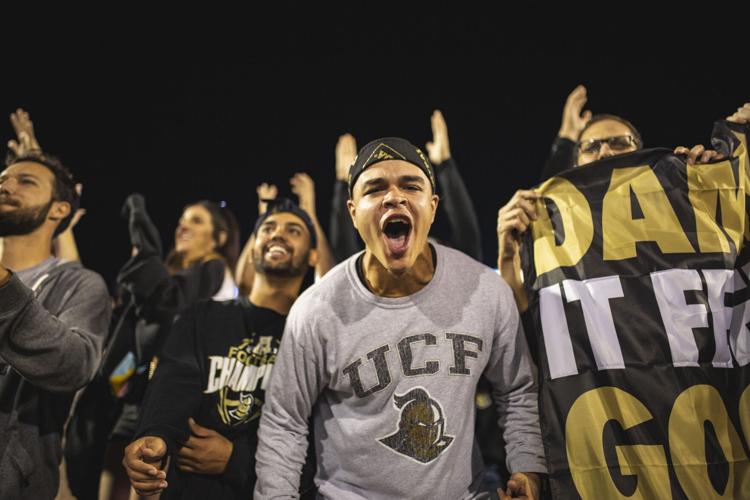 After 13 wins in a row against Memphis, UCF fans thought history would repeat itself.
We'll show Memphis who the real Tiger King is today 😤 GAME DAY pic.twitter.com/xRRXB4cjtY

— Dani 🍕 (@daniellanmedina) October 17, 2020
And for a moment, it almost did.
The ball was at the 40-yard line for Daniel Obarski with 24 seconds left to play.
The sophomore kicker prepared to take his first and only field goal of the night with the hopes of giving a win for UCF.
I hope Daniel Obarski has kept his leg warm. #UCF hasn't used him all game, going for it on fourth down a handful of times. But they might need him here. We'll see.

— Brian Murphy (@Spokes_Murphy) October 17, 2020
And he kicked.
HE MISSED IT. HE MISSED IT. MEMPHIS SNAPS THEIR 13 GAME SKID vs. UCF. Tigers win in a thriller 50-49. pic.twitter.com/xp99dObQje

— Grind City Media (@grindcitymedia) October 17, 2020
After 30 years, the Tigers finally defeated the Knights, only their second win in the history of the series.
"In athletics and sports, you want to try and ensure it goes the right way when you get that opportunity," UCF head coach Josh Heupel said in a post-game press conference. "The reality in sports is that it doesn't always go your way."
Heupel said his message to Obarski was that the kicker can look to his teammates in the face and know that he did everything he could to put the Knights in the best position to win.
Following the end of the game, social media came to action to mock UCF.
It started with the claim made by quarterback Dillon Gabriel earlier this season that UCF was the best team in Florida.
BEST TEAM IN THE STATE LOST AGAIN HUH??? 🤔😂 @UCF_Football pic.twitter.com/HhbH9DNs2Q

— CANES 4-1 (@_kingdavid) October 18, 2020
Then, Twitter decided it was the perfect time to revive an old controversy.
Love to relive the colley pic.twitter.com/GEklaeZqXm

— stardog champion (@lv_teacher) October 18, 2020
Junior offensive lineman Samuel Jackson said in a press conference after the game that the missed field goal by Obarski should not be looked as the key play that defined the loss because UCF failed to score in many drives.
Senior wide receiver Marlon Williams said UCF committed many mistakes other than the final play.
"We gotta get the job done and, right now, we're not," Williams said in a post-game press conference.
Twitter seems to agree that Obarski should not be the one to blame for the loss.
@daniel_obarski Please don't put this guilt on yourself. It wasn't your fault, it shouldn't have come to that. Put the blame on Shannon and defense.

— kenna (@kennaallison_) October 18, 2020
Defensive coordinator Randy Shannon was considered responsible for the loss by many people after UCF gave up 36 second half points. In addition, the Knights allowed the Tigers to go 5-5 on fourth downs and were outscored by 20 rushing yards.
UCF Defense Points Allowed per Game by Half,1st - 11.82nd - 21.52nd Half Randy has disappeared guys.

— Mike (@MDKnight2016) October 18, 2020
But Shannon was not the only one blamed by Twitter.
Name a worse close game HC than Josh Heupel. I'll wait

— Taylor Knight (@What_A_Knight27) October 17, 2020
After two losses in a row where UCF had the lead entering the fourth quarter, Heupel seems to be in a hot seat for the Knights in the eyes of the fans and shouldn't have much time left in Orlando.
Heupel end of this season pic.twitter.com/l8ykJwBIDr

— Matthew Ewert (@MatthewEwert7) October 17, 2020
Twitter also criticized Heupel saying that he lost control of the locker room and that each year since former UCF head coach Scott Frost left, the Knights are getting slightly worse.
This is the quintessential Heupel Era video. https://t.co/dvj9qn08BK

— J.P. Gilbert (@jpgilbert) October 17, 2020
The Knights will now return to the Bounce House to face Tulane on Oct. 24 for the team's homecoming game and, based on what the players like senior running back Greg McCrae had to say, it will be with a victory.
Im so hurt dawg. I played my heart out. We gone bounce back. Believe that ! ⚔️ 🖤💛

— Greg McCrae (@NikeheadGreg) October 18, 2020
Despite multiple winning streaks coming to an end and UCF's best days staying in the past, it seems there will always be black and gold fans who will support the Knights no matter how they are doing on the field.
The great years we have are special and we appreciate them as fans because we stuck through the rough and tough years like this one, that's what it means to be a true fan, don't turn your back on the team don't quit on them and believe in them, they'll respond to you eventually.

— NFLBucs (@CFBKnights) October 18, 2020