In true freshman McKenzie Milton's first career start, UCF (1-2) lost in heart-wrenching fashion to Maryland (3-0) 30-24 in double overtime on Saturday night.
With 3rd and goal at the five-yard line in the second overtime, Milton prepared to call a play that could have given the Knights a victory over an undefeated Big Ten opponent, and would have sent Bright House Networks Stadium into hysteria.
As Milton rolled to his right, the pocket collapsed around him with a team of Maryland tacklers bearing in on the 18-year-old Hawaii native. He tried to get rid of the ball, but it slipped from his grip and sailed backward. Maryland's Kingsley Opara pounced on the loose ball and recovered it for the Terrapins with no one in his vicinity. The Knights thought the ball was incomplete, and so did the fans as boos rained down from the Bounce House.
The play was reviewed, but the call stood and Maryland used the short field to score on a 24-yard run by Terrell Pigrome on his lone carry of the night to finish off the game, leaving a majority of the crowd of 43,197 people to go home unhappy.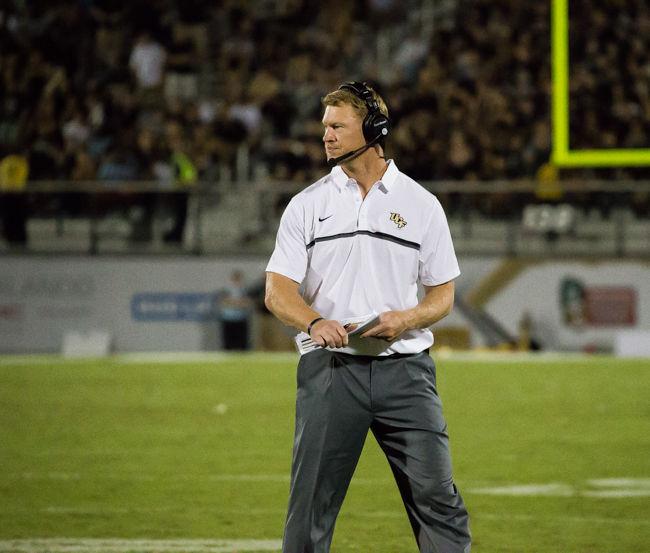 "We had a lot of chances to finish it and score early to make it a different game and I'm heartbroken for our kids that we didn't get it done," UCF head coach Scott Frost said. "The difference between now and seven months ago is night and day, and that's why I'm so heartbroken for these guys. I'm proud of our football team and I wish we could have done more."
Milton performed admirably in his first career collegiate start as he finished 21-for-36 with two touchdowns and an interception, but the turnovers were what ultimately cost him and cost UCF as the 5'11, 170-pound signal caller lose three fumbles, and fumbled six times overall. 
By Milton's side in the backfield, fellow freshman Jawon Hamilton got his third straight start at running back and performed well despite his limited attempts. He rushed for 65 yards on just 12 carries, which is good for a 5.4 yards-per-carry average. Hamilton and Milton were the only all-freshmen backfield to start this week in the entire country.
Wide receiver Tre'Quan Smith finished with eight catches for 114 yards and a touchdown, making several catches along the sideline during the game that would have been on a highlight reel in the NFL, much less as a sophomore at UCF.
"It's never good coming off a loss, but we have to look on the bright side from this," Smith said. "We basically were shooting ourselves in the foot the whole game and you can't do that against a Big Ten team like Maryland."
UCF's four turnovers were the difference in the game as three lost Milton fumbles and an interception ultimately doomed the team. He fumbled the ball twice in the first half at midfield, losing it both times, but Maryland didn't capitalize on either. That's a testament to the effort of the "UCFierce" defense.
The defense came out flying for a third straight week, forcing Maryland to punt on its first four drives, but the Terrapins made adjustments throughout the game, noticeably through a read-option attack in the fourth quarter that left UCF searching for answers.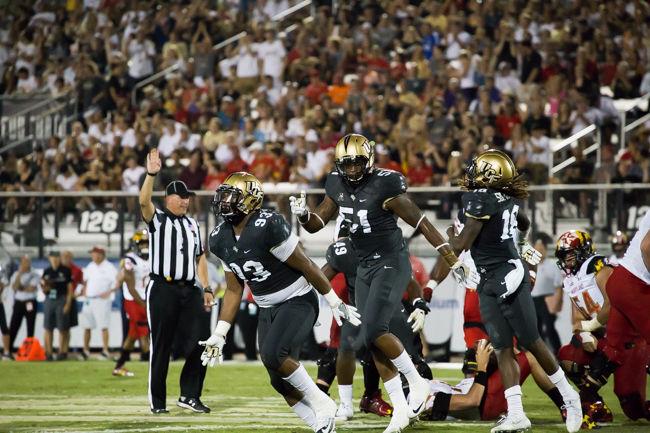 "The read option was a new play that they had put in that we had to adjust to on the sideline," UCF linebacker Demetrie Brim said. "We didn't really see it on film too much, so they started hitting us for big yardage, so it was a lose-lose situation for us."
In Milton's first career start, he looked the part. In particular his ability to throw on the run was effective throughout the contest. He made several plays with his arm that other UCF quarterbacks haven't been able to accomplish so far this season. 
Milton's 260 passing yards for the season now lead the team, and he's played in half of the games as Justin Holman and Nick Patti, the other quarterbacks in conversation for the starting job moving forward. 
Despite the turnovers and what may have looked like nerves, Milton wasn't intimidated in his first start.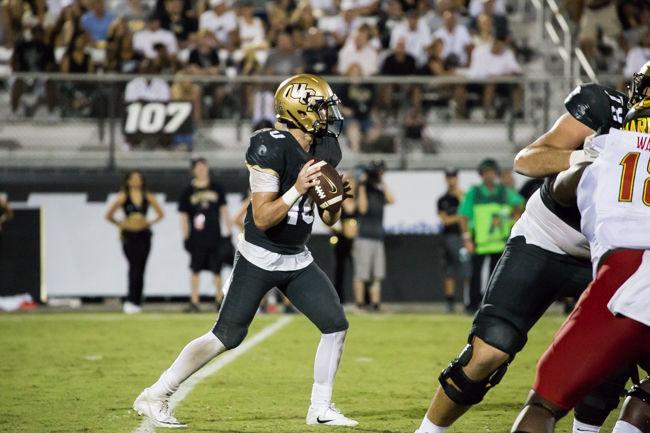 "There's a lot of big Polynesians back home, so [Maryland's size] is not too different," Milton said. "We struggled getting things going, but I feel like throughout any game you start to get more comfortable as the game goes on, and we'll have to start faster the next few weeks because if we do, we'll have a chance to win those games."
"I just have to cut down the turnovers," he said. "Period."
First published: Sept. 18, 2016.