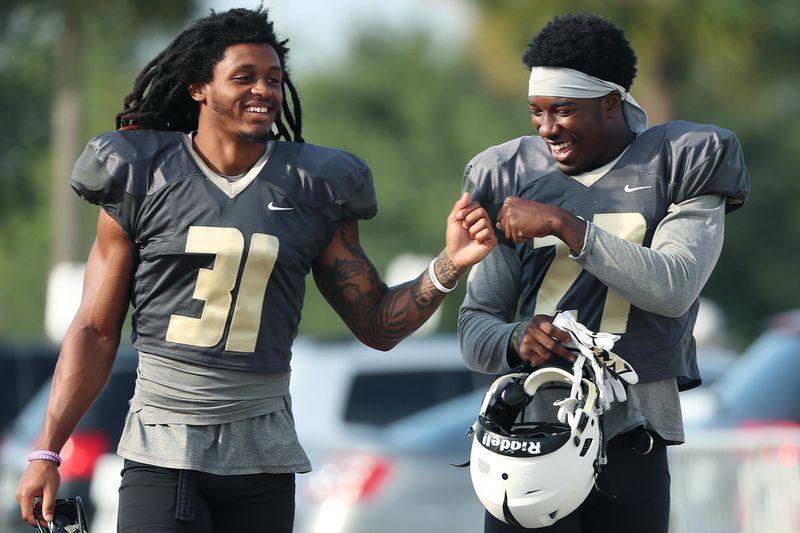 A trio of former UCF defensive backs were selected in the 2021 NFL draft this past weekend. 
Safety Richie Grant was first to hear his name called, being selected in the second round at No. 40 overall by the Atlanta Falcons on Friday.
Grant was a defensive star for the Knights in 2020. The redshirt-senior led the team with 72 total tackles, three interceptions and two fumble recoveries.
Grant was unanimously voted first-team all-conference by the AAC. He was also named a finalist for the Jim Thorpe award, which is awarded to the nation's top defensive back, and a semifinalist for the Bednarik award, which is awarded to the nation's top defensive player.
In 2018, Grant intercepted six passes, the third most in the country, to lead UCF to a Fiesta Bowl appearance.
Cornerback Aaron Robinson was the next Knight to hear his name called on Friday. The New York Giants selected him in the third round at No. 71 overall.
Robinson led the Knights defense with seven pass break-ups in 2020. He also forced a fumble and recovered another on his way to earning second-team all-conference honors from the AAC for the second straight season.
Robinson transferred to UCF after playing in a reserve role for Alabama in 2016. He was ranked as a four-star prospect by ESPN coming out of Deerfield Beach High School.
On Saturday, cornerback Tay Gowan joined Grant and Robinson as UCF defensive backs drafted in 2021. The Arizona Cardinals selected him in the sixth round at No. 223 overall.
Gowan sat out the 2020 season due to concerns for his health, as well as that of his daughter's.
In 2019, Gowan's lone season in a UCF uniform, he stepped into the starting role in week one and never looked back. He intercepted two passes and broke up eight more, both third-highest on the team.
Prior to arriving in Orlando, Gowan played at Butler Community College in Kansas. When he decided to transfer, he was ranked the No. 9 junior college cornerback in the country by ESPN.
UCF had five players drafted in 2021, the most in a single draft in school history, according to UCF Athletics. Grant, Robinson and Gowan were joined by wide receivers Jacob Harris and Tre Nixon as the Knights selected.