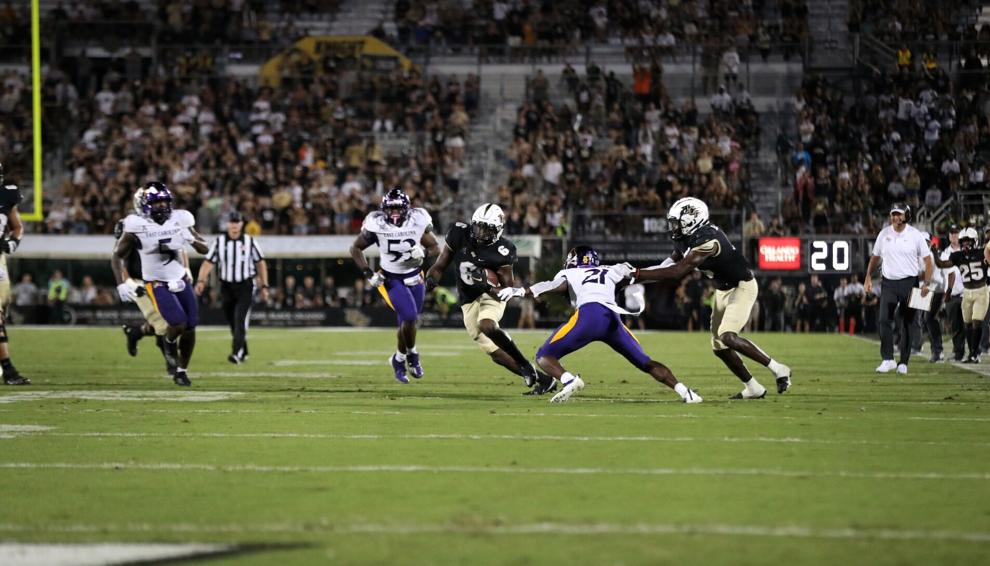 The Knights routed the East Carolina University Pirates with a last-minute touchdown to earn their first conference win of the season on Saturday.
While trailing ECU 13-16 late in the fourth quarter, UCF running back Mark-Antony Richards rushed for a 19-yard run to the ECU 8-yard line. Richards then found a hole in the ECU defensive line on third-and-1 for a 1-yard touchdown run to give the Knights a 20-16 lead with 23 seconds remaining.
"A win like this just really boosts our confidence," Richards said. "Our coach preaches adversity, and we have been through adversity before. We knew we had a great week of preparation leading up to this game, and it paid off." 
In a conference matchup that featured two high-powered offenses, it didn't show on the scoreboard. UCF true freshman quarterback Mikey Keene completed 23/35 pass attempts for 194 yards, while ECU's Holton Ahlers threw for 20/32 on pass attempts for 219 yards and one touchdown.
The Knights defense stepped up with four sacks, two forced fumbles and one interception. Knights linebacker Tatum Bethune recorded a career-high 17 tackles in a 20-16 win after missing last week's game with an injury.
"I talked to the defense and said, 'Everybody fight their fight and everybody do their job,' so I did my job, and the rest of the defense did their job and it completed the mission," Bethune said. 
East Carolina's offense started off strong, driving the ball down 65 yards on its first drive, when Knights defensive lineman Anthony Montalvo forced ECU running back Keaton Mitchell to fumble, which was recovered by defensive lineman Josh Celiscar. UCF could not capitalize on the forced fumble and punted on its first drive, yet the Knights still shut down the Pirates for a three-and-out on the assuming possession. The Knights scored the first points of the night following a 62-yard drive that ended with a 35-yard field goal by junior placekicker Daniel Obarski, which gave UCF a 3-0 lead with 14:57 remaining in the second quarter. 
The Pirates responded with a field goal of their own after a 10-play, 64-yard drive finished by a 29-yard field goal by ECU placekicker Owen Daffer, tying the game 3-3 with 10:25 remaining in the first half. Just before the end of the first half, UCF's defense forced its second turnover when linebacker Jeremiah Jean-Baptiste intercepted Ahlers.
In the opening drive of the second half, Keene forced his first interception to Pirates safety Juan Powell. East Carolina capitalized on the short field with a 23-yard field goal attempt by Daffer, giving ECU a 6-3 lead with 10:34 remaining in the third quarter.
The Knights answered with a drive sparked by running back Johnny Richardson, whose 38-yard run led to a 4-yard touchdown to give UCF a 10-6 lead with 7:59 in the third quarter. Richardson led the Knights' rushing attack with 107 rushing yards and one score on 16 attempts. 
The Pirates would take back the lead with a 27-yard passing touchdown from Ahlers to wide receiver Audie Omotosho, giving ECU a 13-10 lead with 2:43 remaining in the third quarter. After back-to-back punts from both teams, the Pirates drove 66 yards down the field to kick a 34-yard field goal, extending their lead to 16-10 with 7:01 remaining in the game.
On the assuming possession, Keene found Richardson out of the backfield for a 49-yard pass that set up Obarski for a career-long 40-yard field goal to cut the Pirates' lead to 16-13 with 5:06 remaining in the fourth quarter. 
The UCF defense came up big on the next drive, forcing a crucial three-and-out with 3:39 remaining in the game, which gave the Knights' offense a chance to take the lead. With everything on the line, Keene found Richards on fourth-and-8 to keep the Knights' hopes alive. The fourth-down conversion led to a 1-yard go-ahead touchdown. 
"(I'm) very proud of our team," Knights Head Coach Gus Malzahn said. "We've had two as tough losses I've seen back-to-back. Our guys, they didn't flinch: They practiced extremely well and were determined."