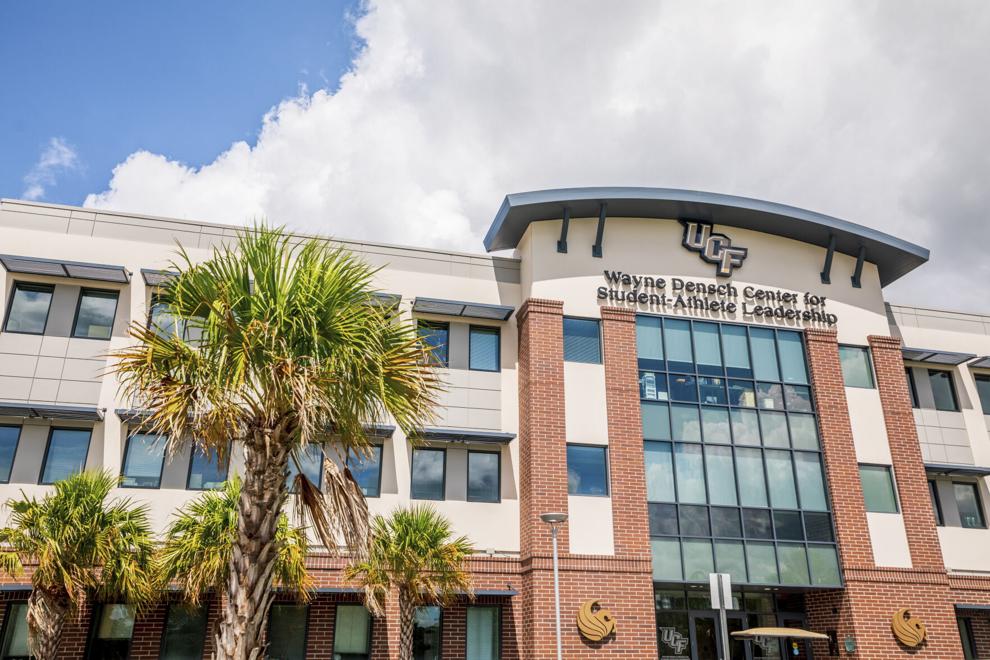 Wayne M. Densch and Leonard Williams not only had a great relationship, but also shared a burning passion for investment in UCF Athletics. 
After Densch passed away in 1994, the mission to invest in the Central Florida community and UCF Athletics was handed off to Leonard Williams through The Wayne M. Densch Charitable Trust. Williams managed the trust and served as executor. 
Although Williams passed away on Jan. 23, 2021, he managed to live out Densch's hopes and dreams for the UCF community while creating a legacy for himself. 
Back in 2014, UCF received a gift commitment of $4 million from the Wayne M. Densch Charitable Trust along with a $1 million donation from the Marjorie  and Leonard Williams Family Foundation. This marked a milestone in UCF Athletics history as one of the largest donations at the time. The donations supported the construction of the Wayne M. Densch Center for Student-Athlete Leadership which ended up having a projected cost of about $7 million. 
Williams was responsible for securing both donations as he oversaw the entire construction of the center and every dollar that went into it. Williams was inspired by the Densch legacy and aimed to continue it. 
Mark Wright, Deputy AD & Associate VP of Championship Resources, is in charge of the development and fund-raising department for UCF Athletics and had the honor of knowing Williams.
"Quickly once you step on campus, you notice the Wayne Densch legacy around UCF Athletics," he said.
Wright made it clear that there was a deep connection between Densch and Williams. He indicated that a safe assumption to make was that Williams was wholeheartedly inspired by the mission of Densch.
"He not only embodied the spirit of his former partner and friend, Wayne Densch," he said. "But he also carried out the mission of serving others through the Wayne Densch Charitable Trust and Marjorie and Leonard Williams family Foundation."
Wright describes the Wayne Densch Center for Student-Athlete Leadership as "the home to UCF football." He explained the purpose of construction was to provide a clean, comfortable, and convenient space for student-athletes to be served by professionals that help manage their time.
These professionals offer academic support and preparation for real-world events. There are three full-time non-academic support personnel that encourage students to engage in community activity and service. Also, there are around 12-15 academic support personnel that push students to fulfill their basic duties as athletes.
"Student-athletes have maintained a 3.0 or above GPA for 25 straight semesters along with an exceptional graduation rate," Wright said.
Many attribute the success of UCF Athletics to the development and investment made by people like Densch and Williams.
Manny Messeguer, director of the Wheels Club at UCF, has been around and serving the University since 1968. He learned of the donations after receiving a personal phone call from the foundation.
"Being around a long long time and seeing how we first started in football, without nothing, it really went from 0 to 1,000," Messeguer said.
Messeguer believes that the center has provided opportunities for UCF Athletics such as the two newly hired Terry Mohajir and Gus Malzahn.
"It's just been a very beautiful ride and I attribute that to a building like we have," Messeguer said.
The legacy of the Williams family is still very much alive here at UCF. The Marjorie and Leonard Williams Family Assembly Hall was constructed within the center to honor the family that contributed a lot to UCF athletics. 
"We use naming opportunities to recognize those donors that really make significant charitable investments in what we do," Wright said.
Those that had an opportunity to meet Williams and understand where his inspiration came from describe him as a rather humble and generous man. 
"Leonard Williams was very honest and very helpful," Messeguer said. "He really did everything not for him, but for Wayne Densch. He was the kind of gentleman that respected Wayne Densch and made sure that everything was done the way that Wayne Densch would have done it."