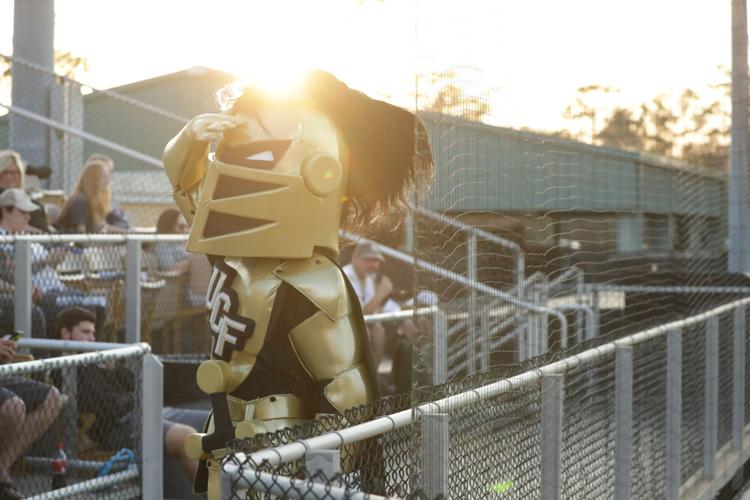 The search for the newest additions to Team Knightro cannot and will not be stopped by complications caused by the COVID-19 outbreak.
UCF students who are ready to showcase their school spirit and try out to be one of the next Knightros can still do so – with a twist.
This year's Knightro tryouts will be held via Zoom video conferencing.
"Because of the coronavirus and these very interesting times that we're in, we wanted to continue to operate life as normal as possible," mascot head coach Michael Callahan said in a phone interview with NSM Today. "Being as this was the weekend scheduled for Knightro tryouts, we decided to take to Zoom technology to interview and assess our candidate pool and see who is going to make the cut to be on the team this coming year."
A mandatory informational meeting will be held on Friday at 4:30 p.m. and tryouts will be held on Saturday and Sunday, according to a tryout survey intended for Knightro-hopefuls to fill out ahead of the weekend.
If this weekend's tryouts are any indication of the past years, upwards of 30 people are expected to audition, Callahan said.
Tryouts will be held like normal, the only difference being a computer screen dividing the auditionee and auditioner.
"A lot of the tryouts are going to be very similar to how we do it in person," Callahan said. "A difference we're going to have this year is some of the things that we would ask them to do in person, we're going to ask them to record a video of themselves doing it and submit the video of them doing it so that everybody doesn't have to watch everybody through Zoom do the same thing."
Callahan said he will assess the videos afterwards.
To be a part of Team Knightro, prospective mascots will stand out if they "can put the costume on and 'become' the Knightro," according to the General Knightro Audition Information flyer.
Those who try out will be evaluated on the following criteria: projection and showmanship, character development, skit idea, and an interview.
Team Knightro has eight mascots on its team. Callahan said the number of prospective mascots to be selected depends on the applicant pool, the number of events scheduled, and whomever proves to Callahan and UCF Athletics they have the work ethic and skills needed to represent UCF.
The deadline to fill out the survey and apply is Friday at 4 p.m., just 30 minutes before the mandatory informational meeting. Knightro hopefuls who are ready to "represent the university in a unique way" are encouraged to reach out to Callahan if they have any questions at michael.callahan@ucf.edu.