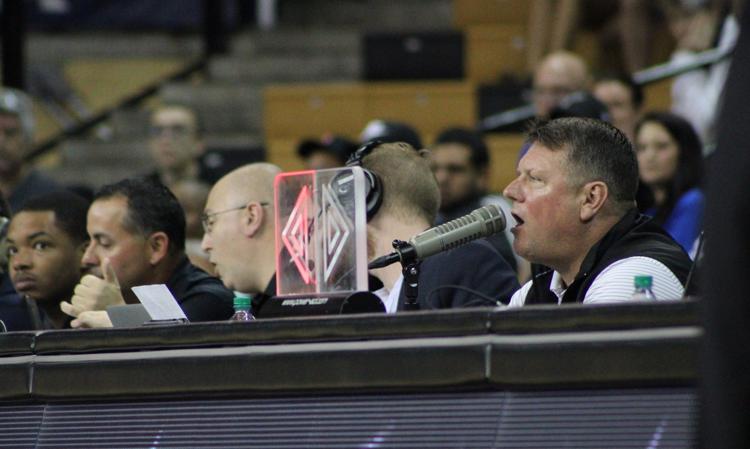 The Bounce House will sound different this season, and it is not just due to the reduced crowd capacity.
UCF's Saturday night home opener against Tulsa will mark the first game in the Bounce House's history to not have Erik Kohler in the public address announcer booth. Kohler announced via a Twitter post on Aug. 4 that he would be stepping down from his role as UCF's PA announcer for home football games. Kohler has filled the role since 2001 when the football team was still playing its home games in the then-called Citrus Bowl.
Dear Knight Nation, Thanks for the wonderful honor & privilege to serve as your stadium "Voice" for over 20 years🙏🏻 With all of the uncertainty in our present world, this is a good time to step away from my role as a long time PA for UCF to focus on my family👍💯 ✅✊...continued

— Erik Kohler (@eksports_radio) August 4, 2020
Kohler said that the lead up to the Tulsa game has been "a roller coaster of emotions" and that the feeling will be "bittersweet" as he watches from home.
"I'm going to be a little sad. I'm gonna be a little happy that our team is doing great," Kohler said. "I've kind of put that off my backside because I don't really want to face that just yet, but it's inevitable."
Kohler also stepped down as public address announcer for other sports, including men's and woman's basketball, baseball and woman's volleyball. Kohler said that the free time afforded to him by the pandemic led him to realize how spread out he was with his announcing work and how it was affecting his family life. His wife, Linda, works as a virtual-school teacher. He is also the father of two sons, one is a freshman at Boone High School while the other has Down syndrome.
"I didn't realize how many weekends I've given up for my family," Kohler said. "It just kind for hit me one day where it's like, I'm not going to get this time back."
Kohler established sound bites that have become staples of UCF stadium culture today, from "That'll move those chains. Good enough for another UCF FIRST DOWN!" to the elongated "Third Down!" to his concluding "Oh, and one more thing... KNIGHTS WIN!"
He said that he is "a big energy guy" and that he would bring that energy to each game he called. Students like junior communication sciences and disorders major Kara Nickol would respond in kind.
"I mean, whether you knew it or not, he was a big part of the games," Nickol said. "He got a lot of people hyped up and ready to go."
Thanks for keeping the energy high in the Bounce House! You kept that place rocking and got fans to generate insane noise levels for the defense.

— UCF Sports Info (@UCFSportsInfo) August 4, 2020
Such sentiment regarding Kohler's contribution to the game day environment extends to UCF alumni as well. John Nelson was a member of the first UCF marching band in 1980 and graduated with a degree in electrical engineering in Dec. 1986. He has attended many UCF games in the years since and praised Kohler's ability to distinguish himself as a play-caller. 
"You don't really pay attention to most PA announcers at a live football game, and I think he's been paid attention to," Nelson said. "He makes the games better and really brings them to life."
As public address announcer, Kohler has borne witness to several historic UCF sports moments over his career. Some of his favorites include calling the first games of new UCF facilities, such as the Bounce House's first football game in Sept. 2007, (a 35-32 loss to sixth-ranked Texas) and Addition Financial Arena's first men's basketball game in Nov. 2007 (an 86-78 exhibition win against St. Leo).
Kohler said that he has a "Black and Gold Hall of Fame Room," where he keeps some UCF football mementos. One that he highlighted was a piece of the Citrus Bowl goalpost that was torn down by fans after UCF beat Marshall, 23-13, snapping a 17-game long losing streak on Sept. 24, 2005. The win was the first of George O'Leary's career at UCF, and Kohler said he credits O'Leary with being a key voice in getting UCF an on-campus stadium. 
"I watched everybody storm the field; they took down the goalposts," Kohler said. "It actually gave me goosebumps thinking about that because I really felt like we were on the way."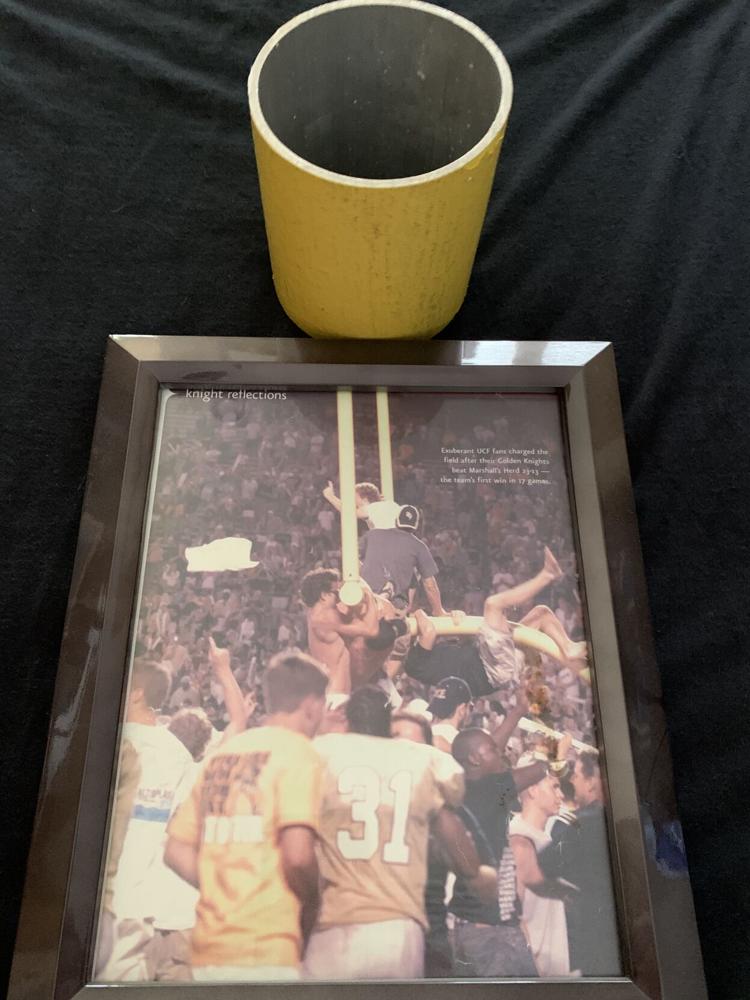 He looks back on his signature calls as huge life accomplishments, pieces of tradition that he sees as his contribution to the University.
"On behalf of me and my entire Kohler family, thank you so much for this unique and awesome opportunity," Kohler said. "I'll never forget you guys and once a Knight, always a Knight."
While Kohler may be stepping away from public address announcing for UCF, he said will still be around UCF sports via his radio show "EK Sports" on 96.9 The Game (WYGM). He would still consider public address announcing for games such as The Cure Bowl and the Bahamas Bowl, but for now, he said he was just going to enjoy this season as a fan.
"My journey continues with UCF, it's just I think it's time to hand off the torch," Kohler said. "I think someone else deserves a piece of the pie."
The 2020 season will see former "UCF SportsKnight" host Jeff Sharon take up the mantle as the Bounce House's public address announcer, per Senior Associate Athletic Director John Heisler. The hire was made by the brand advancement department.
Associate Athletic Director of Brand Advancement Jimmy Skiles did not respond to a request seeking comment.
Kohler said that he approved of the choice, remembering Sharon from a UCF SportsKnight segment in 2008 that spotlighted his public address announcing work. Kohler offered congratulations to Sharon and some words of advice.
"Just keep being you, don't be anybody else," Kohler said. "Create the calls you feel organically within you."
Through the decades, Kohler provided the commentary for the UCF game day experience. While he said his family is happy to have him around again, he hopes his voice will still echo in the memories of Knight Nation for years to come.
"In my faith, I just believe things happen for a reason," Kohler said. "I think this was a good time for UCF to get the next voice, but I hope people don't forget the original voice."
Thanks for bringing the energy and atmosphere to the bounce house and dungeon. Gameday wont be the same without you pic.twitter.com/H43HQlWpYl

— ⚔️ Adam ⚔️ (1 and 0) X 2 (@AdamTara) August 4, 2020