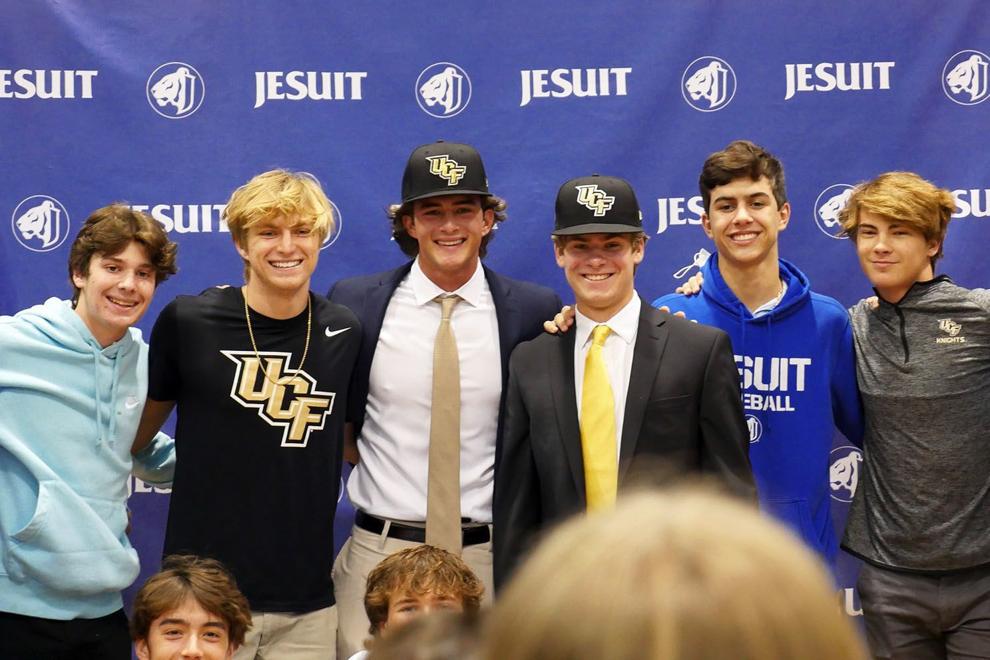 In UCF's backyard, the Knights dipped into Tampa's talented baseball pot and grabbed not only three teammates, but friends too.
Cole Russo, Dominic Castellano and Kris Sosnowski are all future 2021 graduates out of Jesuit High School and have all committed to play baseball at UCF.
The trio knows how to win as they helped the Jesuit Tigers bring home a state title in 2019, en route to another this season. But while they know how to get it done on the diamond, they also know how to be close friends.
"They play golf together, they go fishing together, they're at each other's houses every weekend," said Pat Russo, Cole's dad and travel ball coach for the trio. "It's just a camaraderie that is really taught at Jesuit, but just their friendship is something special, and those guys definitely know how to win."
Along with sharing a friendship, the trio also shares a desire to continue their baseball career at a place that was not only close to home, but where they felt at home the most. Enter UCF.
The first to bring Jesuit's winning habits to Orlando was Russo, a natural third baseman who took on a catching role for the Tigers this year.
I am truly blessed to say that i will be continuing my academic and athletic career at the University of Central Florida. I wanna thank God, family, coaches, and friends along the way!!!! #ChargeOn #Knightmare #GoKnights pic.twitter.com/qAR7oUMEvn

— Cole Russo (@ColeRusso22) October 21, 2019
According to MaxPreps, Russo is hitting at a .237 average so far this season with eight runs batted in, but his best season came as a sophomore in 2018-19.
There, Russo batted in 27 runs and averaged .342 at the plate, having the mentality of the mental.
"The game is a lot of the mental aspect," Russo said. "Hitting is just a little part of it. I feel like if I train my mind and train my body to do certain things like that in the game, it's just going to come like second nature."
2021 Cole Russo @JesuitBaseball 2 good at bats today so far with a hard line drive to center and a Great 2 strike 2 out approach keeping the inning alive with a hard hit ground ball by the 1st basemen.#MLBDraft @ShooterHunt @NathanRode pic.twitter.com/dwxBNlMEzv

— Jesse Litsch (@JesseLitsch) March 24, 2021
Jesuit head coach Miguel Menendez said leading also comes second nature to Russo, who's one of the Tigers' team captains. Whether it's behind the plate catching, or in the box batting, Menendez said Russo is the guy to set the standard.
"I think the biggest thing with Cole is he's just kind of that alpha dog," Menendez said. "He's a leader everybody looks to, and he's just a very confident young man. Everybody kind of looks to him to get them going."
Another natural leader and Jesuit team captain is left-handed pitcher Dominic Castellano, the second of the three to commit to UCF.
Extremely blessed to announce that I will be continuing my academic and athletic career at the University of Central Florida. Thankful to God, my family, my coaches, my friends and all of the people who have supported me along the way. #goknights pic.twitter.com/cTe8i96iuQ

— Dominic Castellano (@domcastellano01) October 23, 2019
While on the mound, Castellano often throws to Russo catching behind the plate, displaying a chemistry of good teammates and friends.
Castellano said that chemistry leads to better pitching performances and, according to MaxPreps, has led Castellano to hold a 0.82 earned run average this season, striking out 41 and giving up just three earned runs on 25.2 innings pitched.
"I've been playing with [Russo] for a while now," Castellano said. "He knows I like to work quick and he knows what pitch I like to throw in certain counts. I think having that with a catcher, and having a lot of trust in him, just helps you feel more confident on the mound."
2021 Dominic Castellano @JesuitBaseball Absolute dominant inning here by the @UCF_Baseball commit striking out all 3 batters on mainly fastballs. So far through 2 innings he has no runs with 6 K's.Shows repeatable mechanics and the ability to pitch to both sides of the plate. pic.twitter.com/sf8fr0EG5m

— Jesse Litsch (@JesseLitsch) March 25, 2021
With that chemistry, Castellano's numbers have shown he has felt confident this season. That confidence is shared with Menendez, who called him Jesuit's number one pitcher and greatest competitor.
"We might have guys with a little better pure stuff on our team, but as far as a competitors go, [Castellano] is the best competitor we have," Menendez said. "He's just a bulldog on the mound."
But Castellano won't be the only talented arm from Jesuit coming to UCF, as right-hander Kris Sosnowski, the third and latest Tampa commit, announced his eventual Orlando arrival on March 22.
Extremely blessed to announce that I will be continuing my academic and athletic career at the University of Central Florida. I want to thank my family, friends, teammates, and coaches! ⚔️@UCF_Baseball #goknights pic.twitter.com/vRGcuCU5HG

— Kris Sosnowski (@KristopherSosn1) March 22, 2021
Menendez said Sosnowski's ability to command the ball, inside and out, is what makes him great, but only recently did the righty start to focus his abilities on the mound.
"[Sosnowski] was a two-way guy before, where he was hitting and doing other things," Menendez said. "He's battled some injury problems throughout his career, so he's really done a good job this year of focusing on pitching, getting healthy and really taking advantage of the opportunities he got."
Those opportunities have mainly come out of the bullpen this season, where Sosnowski, according to MaxPreps, has thrown a 0.35 ERA, striking out 22 and allowing just one earned run in 20 innings pitched.
2021 Kris Sosnowski @PBR_Uncommitted 6-foot-1 210Sosnowski has a strong bodied frame w\ repeatable mechanics, flashed some are side sink on FB w/ feel for CH.FB: 88-89 (2500 rpm)CB: 72-75 (2580 rpm)CH:82-832 IP, 2 K's, 1 H, 0 BB#PBRpsc21@PBRFlorida @JesuitBaseball pic.twitter.com/Pw6NzzbGJo

— Cayden Hatcher (@C_Hatcher_PBR) February 13, 2021
Sosnowski took those numbers into the semifinal round of the Saladino Tournament against Wharton High School on March 16, a highly competitive tournament featuring the best of the best from the Tampa area.
Against Wharton, Sosnowski tossed six strikeouts on 5.2 innings pitched, helping Jesuit to a 6-5 victory. The Tigers then went on to win the tournament, an accomplishment Sosnowski praised his fellow UCF commits for.
"Just winning that tournament in general was a big accomplishment for us as a team, so we're very proud of it," Sosnowski said. "Playing with Cole and Dominic, they're both great teammates, both great people, and people that everybody at UCF should love."
However, Castellano said that Jesuit is not done, with eyes on another state championship. He said he also has his eyes on helping UCF to a College World Series appearance when the trio arrives in Orlando.
But the new commits won't do it alone, as they'll be stepping into a team already filled with friendships.
Before the start of this year's season, UCF redshirt senior Jordan Rathbone said every Knight is best friends with one another, having a chemistry of teammates on and off the field.
Pat Russo said the Jesuit commits have that chemistry too, something that will help them achieve their goals both in high school and with the Knights.
He said regardless of any individual effort, the team is what gets the job done. For the Tampa trio, that team is now UCF.
"It's not the team with the best players that win, it's the players that have the best team that wins," Russo said. "Nobody is going to win a game because Dominic Castellano's pitching or Cole's hitting. The team has to buy into what the coach is trying to sell, and if you do that, you have an unbeatable team."