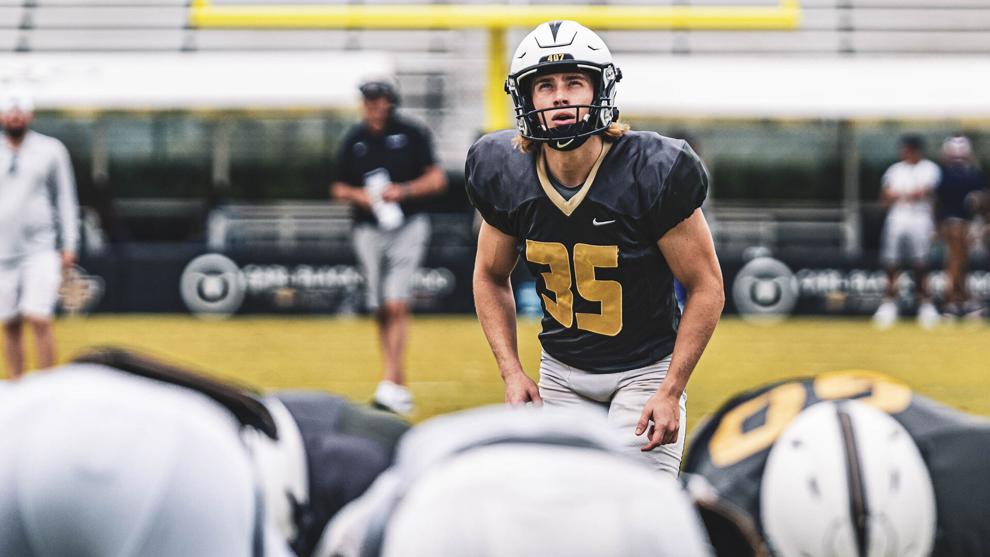 Opposing kick returners might not see the ball much during the upcoming season against UCF football's Colton Boomer.
"It's the fastest kicking leg I've ever seen," Fifth-year long-snapper Alex Ward said in a press conference on April 5. "He kicks and his right foot's right back in the ground. We have no idea how he even gets the ball off the ground, but he does, and so its kind of impressive to watch."
Boomer, a class of 2022 five-star kicker, joined the Knights' special teams room as an early enrollee for spring practice. Before joining UCF, Boomer averaged 53.3 yards per kickoff with a long of 70 during his senior year at Lake Mary High School.
He also recorded 39 touchbacks on 100 kickoffs throughout his high school career and is the fifteenth ranked kicker and the fifth best punter in the country for the class of 2022, according to Kornblue Kicking.
What an incredibly proud moment - congratulations @BoomerColton & @12Gunnarsmith! @UCF_Football @LMRamsFootball #goknights #chargeon #boom pic.twitter.com/jAsC0RwbKC

— Samantha Boomer (@Samboomer1) December 15, 2021
Outside of kickoffs, Boomer made 15 of 24 field goal attempts during his three years on Lake Mary's varsity team, with 43 yards being his longest make. He also made 102 of his 107 extra point attempts. 
With his strong leg, Boomer was selected to the 2021 Cure Classic All-Star game, which brings together the best players in Central Florida area-based high schools.
Lake Mary head coach Scott Perry had front row seats to the development of the now 5-foot-10-inch, 175 pound kicker from his freshmen to senior season.
"The most impressive thing about Colton is his leg strength", Perry said. "By his senior year, his leg was really strong and he was very consistent, so our team could always count on him."
Boomer is not only credited for his strong leg but his leadership qualities as well. Perry said Boomer played a vital role in helping lead his team to a 10-2 record and into the 8-A Florida State Championship game during the 2021 season.
"Coaches loved having him around," Perry said. "He was a great part of our team's success and he had a leadership role on our team. We looked at him to do his job and he always did it well."
During his time with the Rams, Boomer played a part in reversing the fortune of the team. After ending his freshmen season with a 5-5 record, Boomer helped bring Lake Mary to the state championship during his senior year.
"He's a leader by example," Perry said. "He is always the first one in and last one out of the locker room."
It's LIVE: K @BoomerColton during Thursday's @UCF_Football Spring Camp Practice. #UCF pic.twitter.com/0TdY6dalG5

— Trace Trylko (@seinpez) April 7, 2022
Now, Boomer comes into a UCF locker room with veteran leadership on special teams. He will compete with senior Daniel Obarski for the starting kicking job in the fall.
Obarski made 57.1% of his field goal attempts in 2021 and was 53 of 54 for extra points made.
UCF head coach Gus Malzahn said Boomer has already started to compete with Obarski and turned heads during spring practice.
"Our freshman Boomer, he's challenging him now I mean he's putting some pressure" Malzahn said in a March 29th press conference. "There's some really good competition with those two guys"
Malzahn said the coaching staff held kicking competitions during spring practice, challenging all the legs on the team.
"Daniel got a chance after practice, and I think we put the ball 45 yards back and got everybody up, and if he misses everybody gets ten (laps), including coaches," Malzahn said. "He made it. We'll give Boomer a chance next time we scrimmage and we'll check his oil and see what he's about."
It was a great day at the @UCF_Football Spring Game! Colton Bryant got to meet his new favorite player @_coltonboomer ! pic.twitter.com/HMY9IS1G5I

— Todd Bryant (@ToddABryant) April 16, 2022
Outside of kicking, Boomer displayed his athleticism in other ways, impressing teammates during UCF's off-season mini-camps.
"He ran like a 4.3 when he came to a camp, so we got him in and thought this kid is going to be fast," Ward said. "He's fast."
While the Knights have struggled historically in the kicking category, UCF has produced NFL-level talent with alumni Matthew Wright and Matt Prater going pro. Boomer looks to reverse UCF's special team's fortune, coming in as one of the highest-rated kickers to ever commit to play in Orlando.
While impressing coaches and teammates as an incoming freshman in spring practice, Boomer will continue to compete to be UCF's starting kicker. With a big leg and strong work ethic, Perry said Boomer will work hard and help his team no matter the situation.
"He loved the weight room, which is unusual for kickers," Perry said. "His strong leg flipped the field and always gave us an advantage."