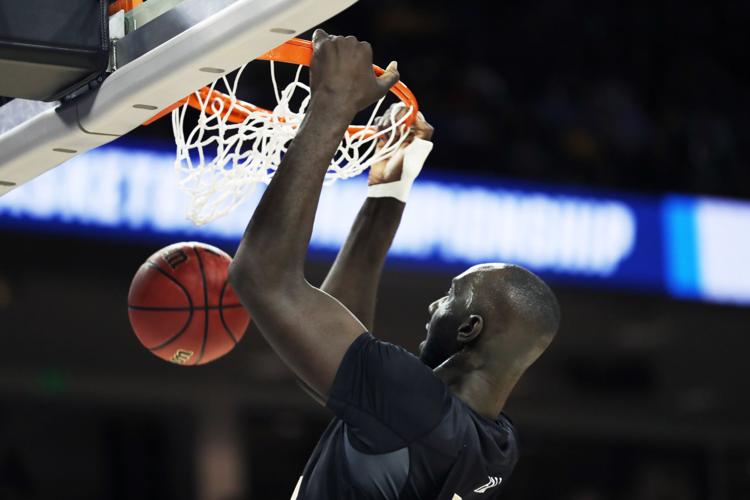 UCF men's basketball alumnus and Boston Celtics' center Tacko Fall has been surging up the NBA's fan community ballot as the 69th NBA All-Star Game approaches. 
Upon early returns, the Knights' legend and Celtics' sensation ranks sixth among Eastern Conference frontcourt players with over 540,000 votes, which has climbed since Jan. 2 when he had just 110,269.
The 7-foot-6 Senegalese big man has played in four games for the Celtics, splitting time with the team's G-League affiliate, the Maine Red Claws. 
Fall has logged 21 minutes on the court, averaging four points and three rebounds per game. The stats may not be all-star worthy; however, fan-ballot numbers differ.
Fall ranks behind Giannis Antetokounmpo, Joel Embiid, Pascal Siakam, Jimmy Butler and teammate Jayson Tatum.
If the undrafted rookie is voted an NBA All-Star, Fall would be the first Knights' men's basketball player honored with a trip to the NBA All-Star Game. It would give the national audience a chance to check out the center from UCF as he showcases his skills on one of the league's biggest stages.
As voting concludes Monday, Fall's selection for Chicago is not set in stone. 
While fan balloting accounts for 50% of the vote, 25% is comprised of current players and the remaining votes come from a panel of media members, all for a chance to play for the chosen All-Star captain's team at the United Center on Sunday, Feb. 16 in Chicago.
TNT will reveal the All-Star Game starters on Thursday, Jan. 23, during "NBA Tip-Off." The network will announce the reserves on Thursday, Jan. 30.