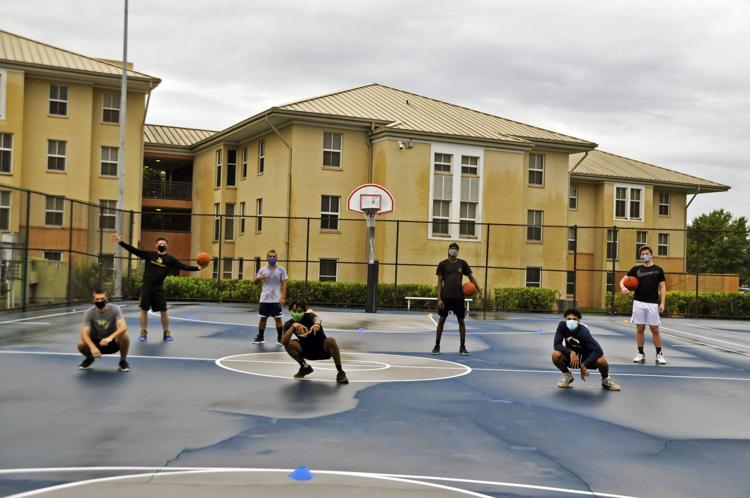 When Breyonn Davis-Carter, an originating member of UCF's Basketball Club, heard he would be on the courts again after sport clubs were postponed for months due to COVID-19, he was relieved.
"When I first found out, I was excited because I haven't been able to play sport clubs since the spring," Davis-Carter said. "I just really wanted to get back into it."
The Recreational and Wellness Center, with approval through university officials, announced on Oct. 10 it was allowing sport clubs to return with official guidelines from the RWC.
Andrea Snead, sport club's assistant director, said the decision was part of phase two in the RWC's reopening plan. Every sport club submitted a risk management plan to the sport club council, who then evaluated the plan to make sure it fell under the RWC guidelines.
"All the clubs had to develop one, and then those had to get approved, and if they weren't approved then they had to get revised," said Konnor Crocco, president of the Basketball Club. "It's kind of a back and forth process until it gets approved, and you had to be very specific on a bunch of stuff."
According to the club's risk management plan, members must now maintain a physical distance of 12 feet without a mask, take a self-screen questionnaire and use sanitized equipment.
On top of that, the plan limits basketball practice to one hour on the outdoor courts, and players must separate into small groups of no more than three players per basket.
Davis-Carter said it was a challenge at first getting used to the regulations, but after two weeks, he has gotten used to them.
"It was a little bit of an adjustment to play basketball with a mask on and all that, but it kinda feels like regular now, like the new normal," Davis-Carter said.
While Davis-Carter feels most of the regulations are fair, he said he wishes they could have more time to practice.
"If I had to say one thing I'd probably wish for, it would be for more time, because it's kind of hard to fit everything in and have a full workout in just an hour," he said.
Davis-Carter is grateful to be back with the basketball team, because it reminds him of life prior to COVID-19. He said he feels the Basketball Club is instrumental in giving him a sense of normalcy.
"At the end of the day," he said, "I feel like it's a safe environment where we can work on our craft and still be able to improve as basketball players."