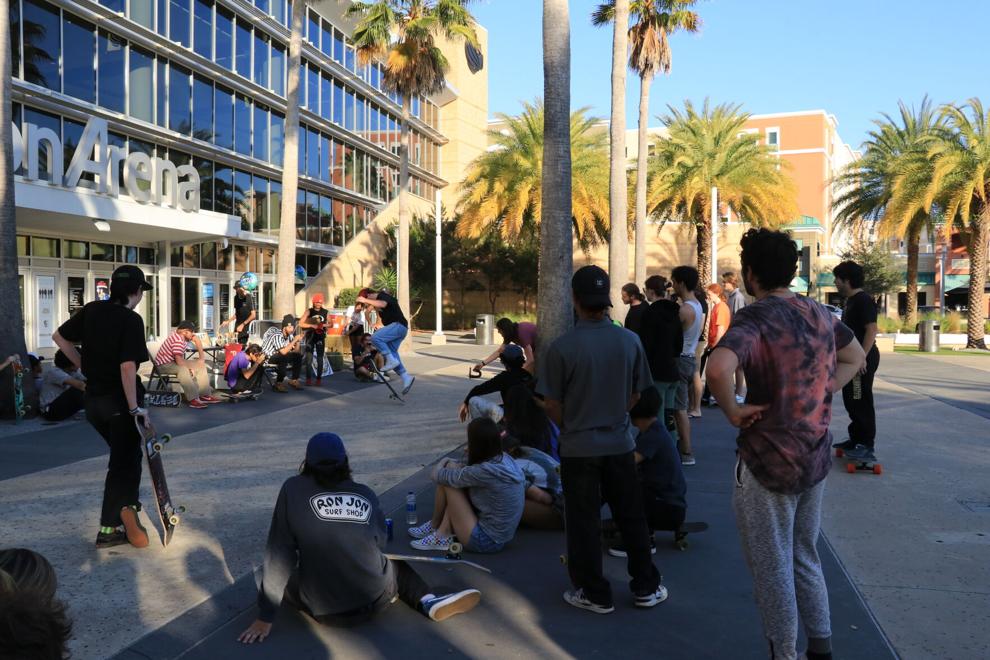 Under the blazing hot sun, the UCF and Florida State University skateboarding communities came together for an unforgettable day of tricks, flips and friendship.
With music playing through a speaker and the sound of wheels hitting the ground, skateboarding club members at UCF stood around watching eagerly as they competed against FSU. With every point or trick made, students banged their boards on the concrete, forming a round of applause.
"If you show up at the skate meets, you're part of us," said Dan Munhoz, UCF alumnus and former UCF Skateboarding Club president. "You're family."
The UCF Skateboarding Club, alongside the Skateboarding Club at FSU, hosted a university Game of Skate, the first of its kind among separate collegiate skate communities, Saturday afternoon in front of Addition Financial Arena. There was an estimate of nearly 75 to 80 attendees.
The competition lasted four hours with intermission and lunch breaks. After the competition concluded, a free Game of Skate began that involved anyone who wanted to join.
Mariah Aponte, UCF Skateboarding Club president and senior environmental studies major, said the event not only allowed skaters to participate in a competition but gave the skating community a step in the right direction.
"I hope this gives them a chance to really realize that they can compete," Aponte said. "If they decide they want to get better, there's a reason because they have a chance to show off their skills."
Aponte also said that being the first female president of the club gave her the power and incentive to create the competition, proving to others that anything is possible and that the club is serious about their craft. She said she wanted to be remembered for doing the unimaginable as coordinating the game was difficult.
"I'm just so happy it's happening, and I'm happy that I was able to be the face of it," Aponte said. "I can represent the skateboarding community, the UCF skateboarding community."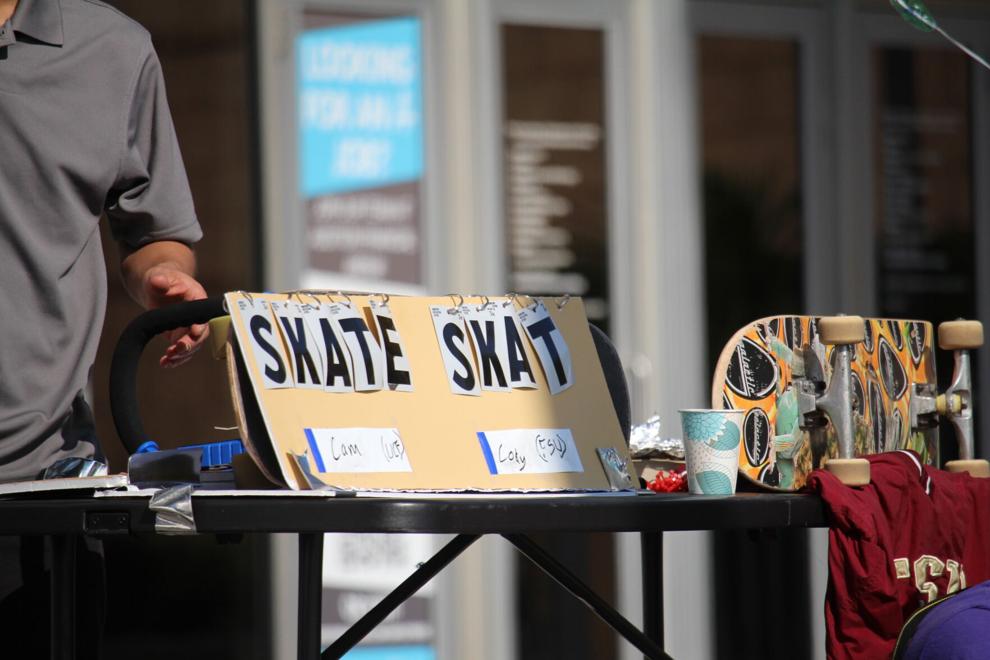 Although there is a National Collegiate Skateboarding Association, both clubs organized the Game of Skate tournament completely on their own. Aponte said without the help and support from Maximiliano Ordenes, president of the Skateboarding Club at FSU, the event would not have been possible.
Ordenes, junior psychology major, said that the skating tournament was important to have on an inspirational basis, and it is also just the start of something much bigger.
"A lot has to do with recognition, and it has to do with having fun," Ordenes said. "It has a lot to do with just growing skateboarding as a whole."
Traveling from Tallahassee, Ordenes said he felt welcomed and at home when visiting UCF. He said he felt the love and support and cannot wait to come back.
Representing FSU, Ordenes won first place while two UCF students won second and third place. Ordenes said his win meant more than representing his school and skate club. It provided a win for everyone in both skateboarding communities.
Nine students represented each university, competing against one another in a tier of three sub level games and an additional game for the women's section.
Galactic G Skateshop and Necessary Skate Co., respectively based in Orlando and Tallahassee, provided prizes for the top three winners, including items and gift cards.
Munhoz, participating as a referee, said he couldn't feel prouder for those in his community and club.
"They would probably think differently about decriminalizing skateboarding and just making it a cool, legitimate sport," Munhoz said. "It will motivate people to practice more and perfect the art of skateboarding so they can represent their schools."