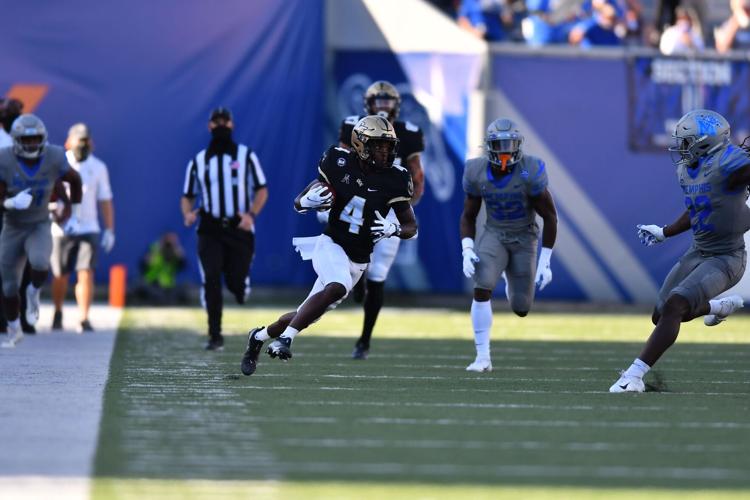 UCF was in need of an answer starting their first fourth quarter drive from their own seven-yard line. 
Two Memphis touchdowns had brought the Liberty Bowl crowd to life and the Tigers' within six with just over 12 minutes to play.
What happened next was the longest pass and completion in UCF's history. 
You could hear the roar of the Memphis home crowd drown out as sophomore wide receiver Ryan O'Keefe crossed the end zone on Saturday. One block by Marlon Williams was all O'Keefe needed to take a screen pass 93-yards down the right sideline to the house.
O'Keefe was fast on the play, UCFast. 
How fitting that the first person to make it down the field to celebrate with O'Keefe was fellow wide receiver Jaylon "Flash" Robinson. 
"Dude is fast, fast, fast," Robinson said. 
It was O'Keefe's first touchdown for UCF. Entering the Memphis matchup, sophomore O'Keefe had 123 receiving yards in 10 games for the Knights. Four receptions and 175 yards later, O'Keefe now has 224 receiving yards this season, third most on the team. 
"You talk about a guy in our program that is as improved or more than anyone else in our program, and that's Ryan O'Keefe," said Anthony Tucker, UCF co-offensive coordinator. "And that's just a testament to his character."
O'Keefe has seen his opportunities grow as fellow wideout Tre Nixon has been on the sideline, following the last three games due to injury. Stepping up for an injured player is nothing new for the Lone Star State native from Austin, Texas. Back at Round Rock High School, O'Keefe served as a Swiss Army knife under head coach Jeff Cheatham. 
"His junior season, he was starting off at corner, and the quarterback got hurt," Cheatham said. "And at halftime, we had to stick him in to play quarterback, and he had 300-yard rushing games and 200-yard passing games."
O'Keefe lined up all over in high school, playing quarterback, running-back, wide-receiver, kick-returner and cornerback for the Dragons. 
Cheatham said the strategy was clear: get the ball to O'Keefe. 
"He's the best player on the field," Cheatham said. "And so, what we decided to do is make sure he touches the ball as many times as possibly could. Just like he did the other night, once he gets in open area, he's gone. Nobody's going to catch him."
O'Keefe's usage came to a peak during his senior season of high school in 2018, when he amassed 3,167 yards and 32 touchdowns playing multiple positions. 
For UCF's offense, O'Keefe represents another speedster who can make plays in the open field and stretch a defense vertically. O'Keefe is the latest in a program that prides itself on its speed.
O'Keefe's long score in the 50-49 to Memphis has only created competition within the receiving room going forward. 
"It's like a friendly little competition," O'Keefe said. "Like me and Marlon after, we're joking and talking about how he got an 85 and how he wanted to beat mine, so it's like a friendly competition. But I mean it was a blessing, and I gotta give glory to God for giving the ability to finally show my talents."
This competition is something that Cheatham said will only make O'Keefe better. 
"There is no substitute for competition and having people around you," Cheatham said. "You know, when he was here, he was the guy. Not to say that he would ever take anything lightly or take anything back, but also too I think it takes a little pressure off too, knowing that you've got other guys around you."
The competition has led to bonds for O'Keefe, specifically with the fellow Texas native in Robinson.
"We're both Texas boys, and we're trying to come out here and show these Florida boys what we got," O'Keefe said.
The 93-yard catch and run scratched the surface of O'Keefe's potential, something that Tucker knew was coming in only a matter of time. 
"You know, I've been waiting a while to see him in the open field and eat up angles or run away from people," Tucker said. "So I was really excited for him."