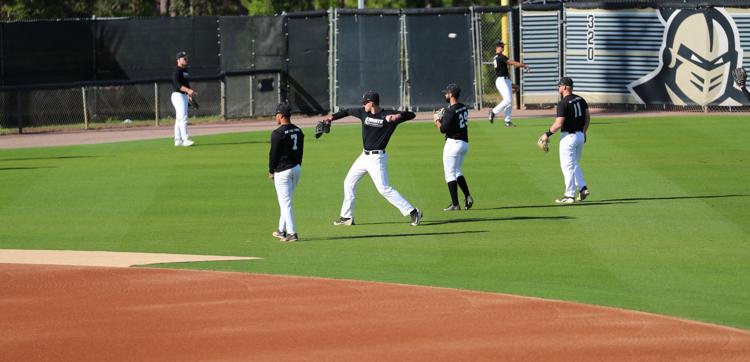 The UCF baseball team suffered a letdown season in 2018, missing the 64-team NCAA Tournament field just one year after winning the American Athletic Conference.
Even with an overall record of 35-21 and a 13-10 record in AAC play, the Knights were on the outside looking in when regional play came around.
UCF baseball head coach Greg Lovelady, who is entering his third season of leading the program, said Friday that what happened last year should serve as a wake-up call for his team.
"We talk about it a lot...We can't let days slip away," Lovelady said. "We can't just show up and throw our gloves out there. We can't say 'Oh, this game doesn't matter.' Every game matters. Sometimes it takes a punch in the face for you to really realize that."
Heading into 2019, the Knights aren't ranked in any of the national preseason polls and finished fourth in the AAC's preseason poll.
East Carolina, Houston and UConn were picked to finish first, second and third, respectively.
It's here! Here's the 2019 #AmericanBSB preseason poll!📝: https://t.co/qzfh60oV4W pic.twitter.com/PJgnK2Z8kR

— American Baseball (@American_BSB) December 27, 2018
After falling short of the postseason last year—and losing some key players to the MLB draft—there will be a different feel for UCF when the season gets going in mid-February. But redshirt senior utility player Tyler Osik said the expectations inside the program will remain high.
"Here, we have high standards," Osik said. "It's pretty much championship or bust every year. If you don't win a conference championship or get to a regional, you didn't do what you're supposed to do."
Like most teams entering a new season, the Knights need to address vacancies in their roster. J.J. Montgomery, Thad Ward, Cre Finfrock, Bryce Tucker and Eric Hepple were drafted into either the major or minor leagues, and the pitching staff has their work cut out for them. 
Junior left-handed pitcher Joe Sheridan is still working toward recovery after he was diagnosed with a torn shoulder labrum at the end of the 2018 season. There is no set timetable for his return.
Redshirt senior right-handed pitcher Chris Williams will miss the first nine games of the season due to a compliance issue with NCAA, but he said he hopes to be the team's Friday night starter when he returns.
Lovelady said a number of guys will get a chance to assume the Friday starting role in his absence and stick around in the weekend starting spots when he returns.
Two transfers, junior right-handed pitcher Trevor Holloway and redshirt senior left-handed pitcher Grant Schuermann, are in the mix, along with senior right-handed pitcher Jordan Spicer.
"[Trevor] has been great," Lovelady said. "He's really methodical, really analytical. Grant Schuermann has logged a ton of starts in Division I. He brings the experience and that moxie that a Friday night guy needs to have...Spicer, with the experience of last year, is definitely an option. I think all three of those guys could start on Friday night for us."
On the offensive side, the top focus for the Knights is replacing two-time all-AAC first baseman Rylan Thomas, who was drafted by the Cincinnati Reds.
Thomas was the team's main source of production last season, hitting .343 with 13 home runs and 55 RBIs.
With his departure, the team will turn to Osik, junior catcher Dallas Beaver and sophomore infielder Griffin Bernardo to fill the void in the middle of the lineup.
While UCF sorts out the rest of its lineup, it will get a boost from the return of its top two base-stealers from a year ago: senior second baseman Matthew Mika—who went 27-for-33 in steals—and redshirt junior outfielder Ray Alejo—who went 34-for-39 in steals.
"Me and Matt, we focus on base running a lot," Alejo said. "We know we're gonna have a target on our backs after last year, but we're definitely gonna still do the same thing. We're gonna be aggressive on the base paths and we're gonna make things happen."
Despite the disappointment of 2018 and the roster turnover, Lovelady said he feels like his players have already shown they can build team camaraderie in an effective way, something that he said is totally different from last year.
"The culture this year has really been all about that," Lovelady said. "The more they care about each other, the less time they have to worry about themselves. They're really always about each other and always about the team."
UCF will open its 2019 season on Feb. 15, starting a three-game weekend series with the Siena Saints at John Euliano Park. First pitch is set for 6 p.m.